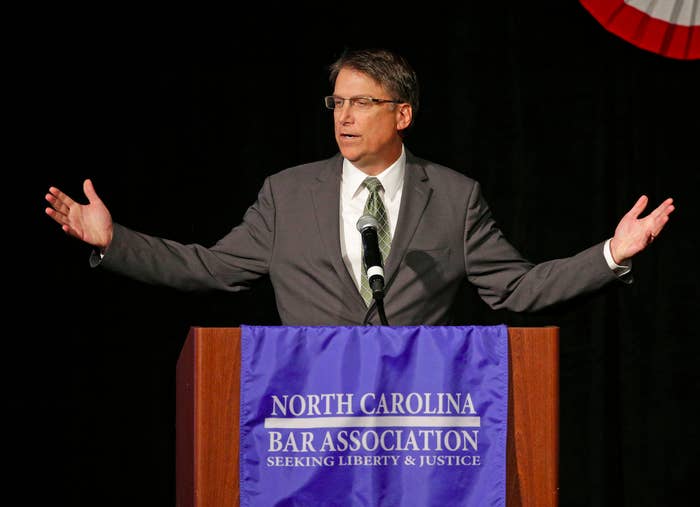 North Carolina lost tens millions of dollars from boycotts over a law that banned transgender people from certain public bathrooms. But one type of worker saw a financial windfall: lawyers.

Records obtained by BuzzFeed News this week show the state paid $690,151 for three private law firms to handle litigation over the law, known as HB2, which attracted lawsuits shortly after Republican lawmakers passed it last spring.

The governor's office and Department of Public Safety paid a combined $278,376 to Millberg Gordon Stewart PLLC, a firm based in the state capital of Raleigh, according to the state's records.
The firm McGlinchey Stafford-DPS got another $178,819, the state's records show, while Bowers Law Office-DPS was paid $232,956 for its services.
Several transgender people sued the state in federal court last spring, alleging HB2 violated their civil and constitutional rights, and the Justice Department under former President Obama filed its own lawsuit alleging the state violated the Civil Rights Act of 1964. North Carolina also sued the Justice Department.
"The General Assembly has a truly terrible track record of passing unconstitutional laws and then leaving North Carolinians to pay."
Chris Brook, a lawyer for the ACLU of North Carolina, which represented transgender plaintiffs in one of the cases, told BuzzFeed News that state taxpayers were getting stuck with a bill for the legislature's mistakes.
"Whether it's discriminating against LGBT people, restricting abortion access, or attacking the right to vote, the General Assembly has a truly terrible track record of passing unconstitutional laws and then leaving North Carolinians to pay millions for them to defend the indefensible in court," he said.
BuzzFeed News requested records from the state's executive branch for legal costs associated with HB2 last November. Since then, the Republican governor who initially backed the law, Pat McCrory, was defeated by Democrat Roy Cooper.

This spring, Cooper negotiated a deal to replace HB2 with another law that also blocks LGBT protections in cities and bans nondiscrimination policies for public bathrooms — which was widely seen as yet another anti-transgender policy. But still, with that change to the law, and with a new president in the White House, the federal government withdrew its lawsuit against the state. The ACLU's lawsuit is still proceeding.
Several corporations retracted investments from North Carolina over HB2 last year, including PayPal and sports franchises, which led Forbes and the AP to estimate the state lost hundreds of millions of dollars in business.
Gov. Cooper's office furnished two spreadsheets on Tuesday — one from the governor's office and one from the Department of Public Safety — showing dozens of payments to the law firms. But the records did not say which dates payments were made, so it's unclear if any occurred after Cooper took office in January.
Cooper's staff did not answer follow-up questions from BuzzFeed News about when the payments were made and why the office did not provide other records, as requested, on expenditures for government workers who helped defend HB2.
The records do not cover additional litigation costs for the state over HB2 by other state branches; the University of North Carolina and the leaders of the state legislature, Sen. Phil Berger and Speaker Tim Moore, paid other law firms for help.