GOP Candidates Clash Over Same-Sex Marriage, Religion, And Kim Davis
Sen. Rick Santorum and Gov. Bobbly Jindal defended the Kentucky clerk who objected to issuing marriage licenses to same-sex couples – but Sen. Lindsey Graham and Gov. George Pataki cast their opponents as out of step with the law.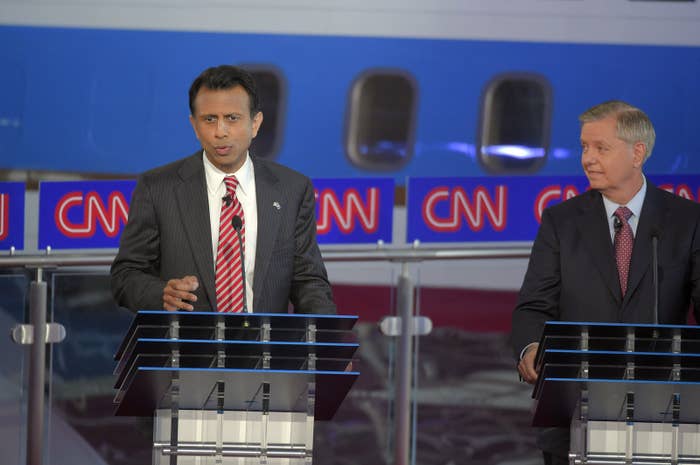 Gov. George Pataki had tough words at Wednesday's Republican presidential debate for Kim Davis, the Kentucky clerk who refused to issue marriage licenses to same-sex couples: "I think she should have been fired, and if she worked for me, I would have fired her."

"An elected official can't say that I am not going to follow that law if it conflicts with my beliefs," the former New York governor argued. "We have to uphold the rule of law."
Central to Wednesday's high-profile clash is the formerly low-profile Rowan County clerk — an elected official who cannot be directly fired — who has argued that issuing marriage licenses to same-sex couples would violate her Christian beliefs. When Davis disobeyed a federal judge's order to issue them this month, she was jailed and later released. When she returned to work, her clerks issued the licenses and she didn't interfere.
"How many bakers, how many florists, how many pastors, how many clerks are we going to throw in jail because they stand up and say, 'I cannot violate my what my faith says is against it's teachings?'" asked former Sen. Rick Santorum of Pennsylvania in his response to Pataki.
An ABC News/Washington Post poll release this week found Americans overwhelming disagree with Davis.
The poll found 74% of adults across the U.S. believe that when a conflict arises, treating everyone equally under the law is more important than an individual's religious beliefs. In Davis's case, 63% said she should be required to issue marriage licenses despite religious objections.

That sentiment diverges from former Arkansas Gov. Mike Huckabee, who rehashed similar points on Wednesday to those he made at a rally with Davis when she was released from jail. Calling the Supreme Court's marriage decision "judicial tyranny," Huckabee said jailing Davis amounted to the "criminalization of her faith."
Jeb Bush tried to tried to walk a tightrope between allowing same-sex marriage and religious freedom.
"In a big tolerant country, we should respect the rule of law," Bush said. However, the former Florida governor continued, "I was opposed to the decision, but we can't just say, 'Gays can't get married now.' But there should be some accommodation for her conscience, just as there should be for people who are florists who don't want to participate in weddings, or bakers."
If Davis is morally opposed to signing marriage licenses, Bush continued, "then there should be someone in her office to be able to do it, and if the law needs to be changed in the state of Kentucky, which is what she's advocating, it should be changed."

Santorum went further, saying that he supported the First Amendment Defense Act, a bill in Congress that would ban the federal government from taking adverse action against those who act in accordance with their religious or moral beliefs. Santorum also took aim at the Supreme Court's June ruling to strike down state same-sex marriage bans.
"We need as a president someone who is going to fight a court that is abusive, that has superseded their authority," Santorum argued.
In a similar note, Gov. Bobby Jindal of Louisiana pivoted from a question about a Muslim boy arrested in Texas this week to comparisons of private business owners who refused service to same-sex couples — and were subsequently fined.
"Let's talk about the Christian florist, the caterer, the musician, who simply wants to say ... 'Don't discriminate against us, don't shut down our businesses, don't fine us thousands of dollars for believing marriage is between a man and a woman.'" he said. "Lets talk about not discriminating against Christians."
"But," South Carolina's Sen Lindsey Graham countered, "there is a huge diffidence between an individual standing up and saying, 'I am going to stand for my religious freedom and my religious rights.' I would applaud them. This is America. You should be able to engage in your religious belief in the way you see fit. But when you are an elected official and you when you take an oath of office to uphold the law, all the laws, you cannot pick and choose, or you no longer have a society has a rule of law."
Likewise, Pataki argued some of his party counterparts represented a radical view in defending Davis.
"Imagine if … that was a Muslim who said, 'I don't believe in gay marriage,'" Pataki said. "We wouldn't have had that outrage. There is a place where religion supersedes the rule of law. It's called Iran."

Correction
Bush is the candidate who said, "[T]hen there should be someone in her office to be able to do it, and if the law needs to be changed in the state of Kentucky, which is what she's advocating, it should be changed." The quote was originally attributed to New Jersey Gov. Chris Christie due to an error in the transcript.