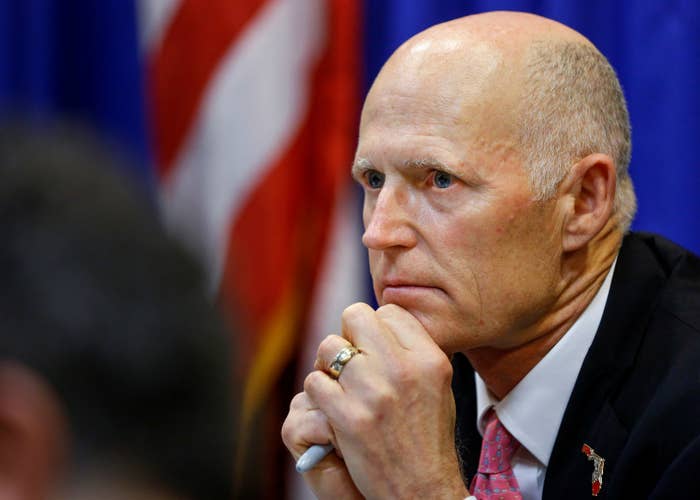 FORT LAUDERDALE, Florida — US District Court Chief Judge Mark Walker ruled on Friday evening that Florida election officials can continue to ignore vote-by-mail ballots sent within the United States that arrived after 7 p.m. on Election Day, a deadline set by state law.

The ruling rejects an effort from Democrats who claimed those voters were being unconstitutionally disenfranchised because certain factors, such as late mail delivery, were beyond their control.
"The fact that there might be problems with the mail does not outweigh the state's important interest in delineating finality in elections," said an order by US District Court Judge Mark Walker, siding with Republicans who have argued in several cases this week that deadlines must remain rigid. "To hold otherwise could call into question the entirety of the vote-by- mail system itself."
He added the state must have a "deadline after which vote-by-mail ballots may not be counted."
The decision further imperils chances for Democrats, who have embarked on a campaign to count as many eligible votes as possible in Florida's race for US Senator, where Democratic incumbent Sen. Bill Nelson narrowly trails Republican Gov. Rick Scott amid a statewide recount.
Judge Walker has ruled in several cases against Democrats this week, including by refusing to push back the election's final certification. Scott's campaign hailed the Friday night decision, saying in a statement, "There is simply no path for Senator-elect Rick Scott's insurmountable margin to be overturned."
The case considers two legal issues. First, it asks if the 7pm Election Day deadline to receive mail-in ballots unduly burdens on the right to vote. Second, it considers if the fact that ballots sent from overseas can be received 10 days after the election, while those sent domestically cannot, creates an unconstitutional form of inequality.
The complaint was filed Monday by VoteVets, a national voter advocacy group of military veterans that claims 40,000 supporters in Florida, along with the Democratic National Committee and the Democratic Senatorial Campaign Committee. They allege the deadline violates First Amendment and Fourteenth Amendment rights, and is also unnecessary, demonstrated by numerous other states that do count mail-in ballots that arrive after Election Day.
"The outright rejection of such ballots, based on arbitrary conditions — namely the timeliness of post office delivery — outside the voter's control unlawfully infringes upon the fundamental right to vote," says the complaint, which cites 10 states that accept valid ballots as many as 10 days after the election.
The plaintiffs note that mail delivery can be delayed several reasons, such as when police evacuated a mail distribution center in Miami-Dade county in late October due to a bomb scare. "The 7 p.m. receipt deadline on Election Day for those whose vote by mail ballots are postmarked before Election Day is not justified by any legitimate state interest, let alone any compelling state interest that is narrowly drawn."
They also say the timeline for delivering first class mail extended from three to five days recently, with little publicity. "Mail delivery can be delayed due to weather emergencies, human error causing bags of mail to be sent to the wrong transfer facility, traffic delays resulting in behind-schedule mail transfers, and understaffing at postal facilities," the complaint says.
Mohammed Jazil, who is representing the Secretary of State's Office, said in a phone conference with Judge Walker on Nov. 13 that the deadline for unofficial ballot returns was on Nov. 10, so adding more ballots now would require starting over from scratch. This is because the unofficial returns were already the basis for whether to conduct a recount — changing the underlying numbers after the fact could require or negate the need for a recount.
But Florida law already allows ballots to be counted up to 10 days later if they were sent from overseas, Uzoma N. Nkwonta, a lawyer for the plaintiffs, noted in the hearing, and as such, there's no reason to ignore ballots sent domestically that arrive in the same timeframe. He said numerous ballots were discovered in Miami-Dade County, apparently the result of a postal problem, and the issue must be addressed urgently in order to avoid disenfranchising those voters.
The plaintiffs asked the court to declare that "all ballots postmarked before November 6 and received by the supervisor of elections within 10 days after Election Day should be counted in the general election," while suspending state laws with the earlier deadlines.
But Walker said, "The deadline disparity does not deprive domestic voters of the opportunity to vote on equal terms with overseas voters. Just the opposite. The law gives overseas voters the opportunity to vote on equal terms with domestic voters."
"The state's regulatory interest is sufficient to justify the deadline," he added.
Further, the plaintiffs asked the court to find that Secretary of State Ken Detzner must tell county election supervisors that "all vote by mail ballots postmarked before Election Day and received by the supervisor of elections within 10 days of Election Day must be counted" while temporarily delaying a Nov. 15 deadline to count any of those late-arriving ballots.