Employer To Pay Transgender Woman $115,000 In Job Discrimination Settlement
Britney Austin had alleged her employer used slurs, denied her access to the women's restroom, and refused to change her name on company records.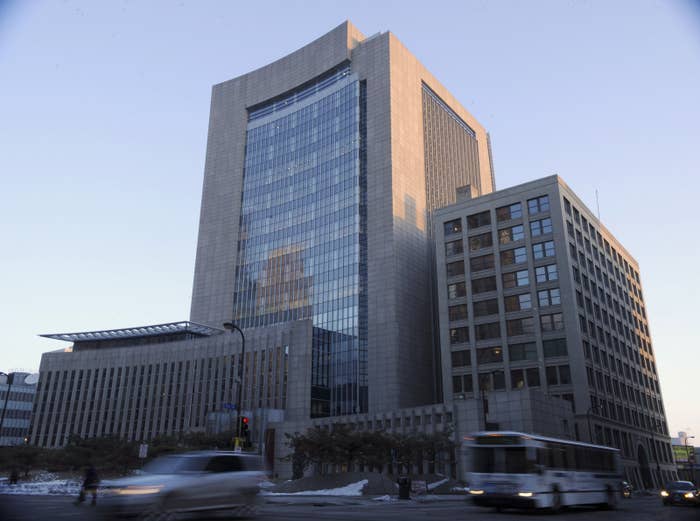 A national check-printing company will pay a transgender woman $115,000, plus issue her a personal apology and change its policies for transgender employees, under a settlement agreement approved by a federal judge in Minnesota on Wednesday.
Under the consent decree, Deluxe Financial Services, Inc. denies that it violated Title VII or that it treated Britney Austin unlawfully, but has agreed to take several steps to improve the work climate for transgender employees.

In 2011, Austin told her employers at Deluxe's facility in Phoenix, Arizona, that she was transitioning to become a woman, which she alleged led managers and coworkers to use anti-transgender slurs and ban her from the restroom that corresponds with her gender identity.
In addition, Austin alleged that the company refused to change her name on company records — arguing that sex reassignment was required to change her name — even though the company denied her health insurance coverage for transition-related care. When the company laid off employees at that location, which has since closed, Austin argued, the company denied her severance pay and COBRA benefits.
Represented by private attorneys, Austin was backed in federal court by the Equal Employment Opportunity Commission (EEOC), the federal agency charged with investigating complaints of employment discrimination. In their court filings, the EEOC and Austin argued Deluxe illegally discriminated against her in violation of Title VII of the Civil Rights Act of 1964.

Austin also said the company denied her medically necessary care under the Americans with Disabilities Act (ADA).

While the settlement does not establish precedent in other cases, it reflects the EEOC's ongoing efforts to advance its 2012 decision finding that transgender discrimination is illegal as a form of sex discrimination under Title VII. While the decision is not binding on courts, it is binding on federal agencies and is being applied by the EEOC in its role investigating and seeking resolution of employment discrimination complaints.

Even in states that lack a ban on transgender discrimination and despite the absence of federal law explicitly banning transgender discrimination, the settlement shows that there already can be consequences for employers who discriminate against transgender employees.
"We are extremely grateful to the EEOC for taking on this important case on behalf of our client and working side by side with us to achieve a settlement that marks yet another Title VII victory for transgender employees," Jillian T. Weiss, a private attorney who represented Austin along with attorney Ezra Young, told BuzzFeed News in a statement.
In terms of the larger message, Weiss said, "Discrimination against transgender employees is illegal under federal law everywhere in the United States. This case adds to the growing number of EEOC victories with the same conclusion."
Beyond a cash settlement, the Minnesota-based company provides other concessions in the agreement. Among them, Deluxe agreed to remove all transgender exclusions in its health care plan and let transgender employees to use restrooms "commensurate with their gender identity."
In an apology to Austin, which was included with the settlement agreement, Deluxe Financial Services senior vice president of human resources Julie Loosbrock writes, "We want to ensure you that we have made changes to our internal policies, including how we treat transgender employees' requests to change biographical information or use a restroom commensurate with their gender identity."
The apology continues: "The company has changed its policies to ensure that transgender employees may use a restroom commensurate with their gender identity, that the company will promptly correct that employee's sex designation and name in our internal records and systems, and that we will take hostile comments based on sex- stereotyping seriously, investigate them, and take prompt corrective and remedial action."

Read the agreement:
Download PDF