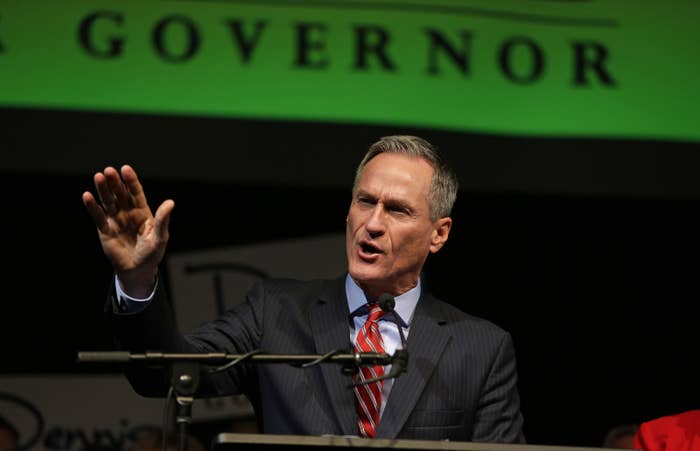 South Dakota Gov. Dennis Daugaard on Tuesday vetoed a bill that would have banned transgender students from using school restrooms that correspond with their gender identity, heeding to pressure from LGBT advocates and a fear of lawsuits.

South Dakota would have been the first state in the nation with such a policy — risking a legal clash with the Obama administration, which has argued similar rules constitute illegal discrimination when enacted by local school districts in other states.
"This bill broadly regulates in a manner that invites conflict and litigation."
Republican backers of the bill — who control both chambers of the legislature — had said they were responding to the federal government's recent advocacy for transgender students. They argued the bill was needed to protect student privacy and safety from transgender students in restrooms.
But Daugaard countered in a veto letter that local school officials are best positioned to address those rare situations if and when they arise.
"Instead of encouraging local solutions, this bill broadly regulates in a manner that invites conflict and litigation, diverting energy and resources from the education of the children of this state," Daugaard wrote.

"House Bill 1008 does not address any pressing issue concerning the school districts of South Dakota," he added. "Local school districts can, and have, made necessary restroom and locker room accommodations that serve the best interests of all students, regardless of biological sex or gender identity."
LGBT advocacy groups, businesses, and activists had in recent days pressed the Republican governor to block the measure, contending it would stigmatize transgender kids who are already ostracized and harassed.
The groups — including the National Center for Transgender Equality, the ACLU, Freedom for All Americans, and the Human Rights Campaign — hailed the governor on Tuesday for his decision.

Daugaard, meanwhile, asked state lawmakers to refrain from overriding his veto with a two-thirds majority vote.
Leaping over that bar appears simple in the House, where the bill passed 58 to 10, but overcoming the governor's pen may be harder in the Senate, where the bill passed 20 to 15. That means at least three senators would need to reverse their votes to reach the two-thirds threshold.
"This bill seeks to impose statewide standards on 'every restroom, locker room, and shower room located in a public elementary or secondary school,'" the governor wrote in making his case to the legislature. "It removes the ability of local school districts to determine the most appropriate accommodations for their individual students and replaces that flexibility with a state mandate."

For his part, Rep. Fred Deutsch released a statement appealing to his Republican colleagues to uphold the governor's veto.
"I still believe an objective reading of the proposed law is consistent with my intent to be non-discriminatory and fair to all students and parents," he wrote. "However, because I think the national focus on South Dakota should be on our positive business environment, strong labor market, and excellent work our schools do. I am going to ask my legislative colleagues to concur with the governor's veto."
With his veto Tuesday, Daugaard also parted with national leaders of his own party.

In January, the Republican National Committee passed a resolution in January that said "these Obama gender identity policies are a federal governmental overreach."

That resolution also "encourages state legislatures to enact laws that protect student privacy and limit the use of restrooms, locker rooms and similar facilities" to students based solely on their birth sex.
House Bill 1008 — which applies only to public schools — states that "every restroom, locker room, and shower room located in a public elementary or secondary school that is designated for student use and is accessible by multiple students at the same time shall be designated for and used only by students of the same biological sex."
The bill defines "biological sex" as "the physical condition of being male or female as determined by a person's chromosomes and anatomy as identified at birth."
The bill does not mention transgender people specifically, but it is the latest step in a march to ban transgender people from using restrooms that reflect their gender identity. Conservative organizations have united around a battle cry of banning "men in women's bathrooms" to push such policies — and to block LGBT nondiscrimination laws — arguing that they are protecting women and girls from sex predators.
However, in the 17 states and roughly 225 cities with LGBT nondiscrimination laws, there are no documented incidents of the laws being used as a defense for such nefarious restroom behavior.
Under Obama, the justice and education departments have argued that Title IX of the Education Act of 1972 — which bans discrimination in publicly funded schools on the basis of sex — also bans transgender discrimination as a form of sex discrimination. The agencies have advanced that Title IX interpretation by pushing several school districts into compliance when local officials attempted to deny transgender students access to school restrooms and locker rooms reflecting their gender identity.

In courts — again citing Title IX — the Justice Department has weighed in to support a transgender student in the country's most advanced lawsuit over student restroom access. Federal lawyers filed an amicus brief before the 4th Circuit Court in October backing a transgender boy trying to overturn a Virginia county school district's policy.
In South Dakota, the bill makes a gesture to providing a "reasonable accommodation" for transgender students — such as providing a single-person restroom — but that could not include allowing trans students to use restrooms that reflect their gender identity.
Senate Democrats raised concerns during a floor debate last week that the bill may risk the state losing federal education funding for violating Title IX.
"Preserving local control is particularly important because this bill would place every school district in the difficult position of following state law while knowing it openly invites federal litigation," Daugaard said. "This law will create a certain liability for school districts and the state in an area where no such liability exists today."