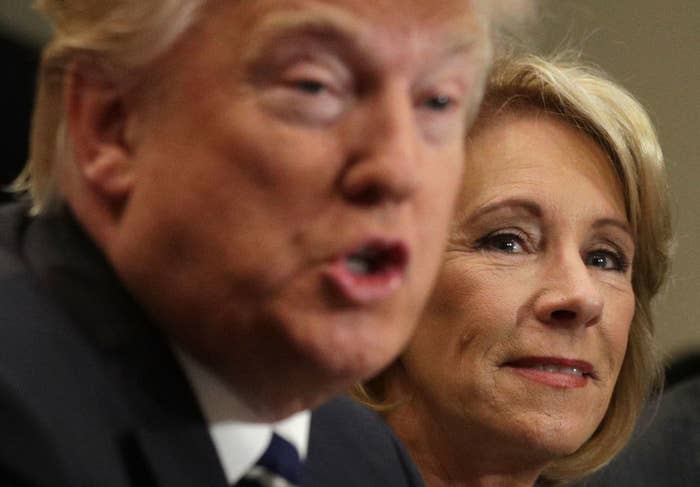 Thirty-four Senate Democrats chastised President Trump's education secretary in a letter on Tuesday, accusing Betsy DeVos of diminishing enforcement of civil rights laws for students in publicly funded schools — underscoring their long-simmering concerns that DeVos would not protect people of color, LGBT people, and other minority students from unfair treatment.

"You claim to support civil rights and oppose discrimination, but your actions belie your assurances," said the 34 lawmakers, led by Sen. Patty Murray of Washington state. They said recent actions by DeVos had made them "extraordinarily disappointed and alarmed."

In a budget proposal last month, DeVos's department said it wants to cut the equivalent of 46 full-time positions at the Office for Civil Rights, which investigates sex, race, disability, and age-based civil rights complaints.
Furthermore, under DeVos's leadership the agency has rescinded protections for transgender students to use facilities that match their gender identity, lightened some civil rights investigations in the name of efficiency, reduced oversight of regional offices, and invited an anti-LGBT group, the Family Research Council, to participate in a department-sponsored event.

"You have also appointed staff who have fought against the Department's 2011 Title IX Guidance clarifying schools' responsibility to address campus sexual assault and against expanded protections for survivors of sexual violence on campus," said the senators, referring to the decision to bring on Adam Kissel, a senior program officer at the Charles Koch Foundation.
"These actions appear to reinforce the Trump Administration's efforts to curtail civil rights protections for students and families," they continued.
Concerns are not limited to the Education Department. The United States Commission on Civil Rights announced this month that it would begin a two-year review of the Trump administration's civil rights enforcement, citing cuts and changes across numerous agencies — including a proposal from the Justice Department to cut the equivalent of 121 full-time staffers from its civil rights division.
"The dangerous reduction of civil rights enforcement across the country, leaving communities of color, LGBT people, older people, people with disabilities, and other marginalized groups exposed to greater risk of discrimination," the commission said.

Echoing the civil rights commission's concerns, the senators' letter asks DeVos to hand over by July 11 information that shows how the agency is processing complaints of anti-transgender discrimination and sexual assault, manuals that show how investigators handle complaints, and records detailing the rationale for budget cuts.