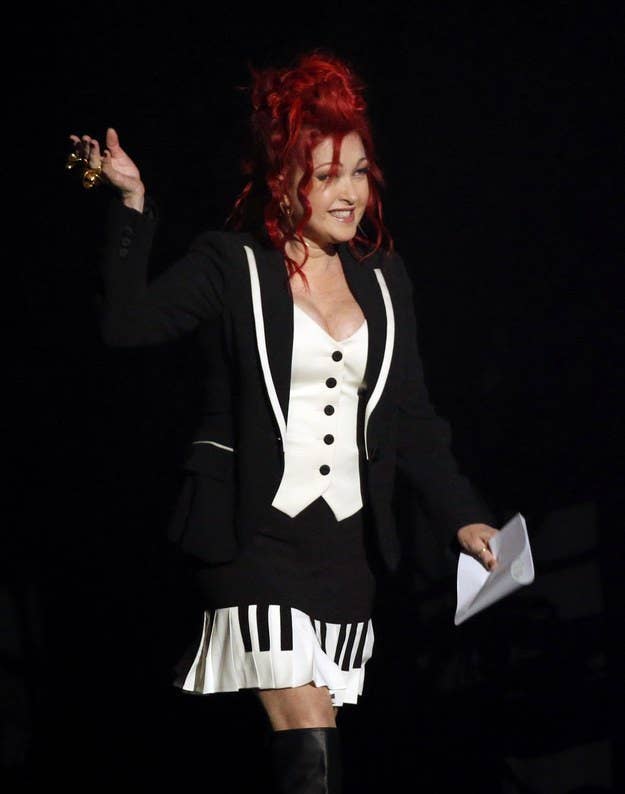 Two figures you may not expect to share the limelight will appear together this Saturday at New York City's Beacon Theatre: rapper 50 Cent, who has made headlines in past years for anti-gay comments, and a young woman who spent her teenage years on the streets after coming out.
At a concert organized by pop icon Cyndi Lauper, Daniella Carter, 20, will talk about being a person of color struggling with gender identity in a hostile household before striking out on her own. Telling Carter's story is part of a broader campaign being announced Saturday to elevate the often-unknown experiences of homeless LGBT youth to a national platform — in their own words.
"Let the kids tell the stories themselves, what it's like to be gay and homeless," Lauper told BuzzFeed news in an interview this week. "Most of them were thrown out or ran away for fear of rejection or violence. If you share your own story, people can understand what it's like."
Lauper is co-founder of the True Colors Fund, which hosts the annual Home for the Holidays show to raise money for homeless LGBT youth. A study issued in October by the Family and Youth Services Bureau reported that lesbian, gay, bisexual, and transgender youth make up 37% of homeless youth; a National Gay and Lesbian Task Force report estimated that as many as 40% of the homeless youth population is LGBT, despite LGBT people making up only about 3-5% percent of the general population. LGBT youth on the street are also more likely than straight homeless youth to be victims of physical and sexual assault. "People don't realize it's a crisis," Lauper said. "All these wonderful kids being tossed out, thrown away. You don't throw away kids."
Instead of focusing on high-profile LGBT issues like same-sex marriage, Lauper has spent years helping homeless LGBT youth, including opening a shelter in New York City. "It isn't a popular cause," Lauper said. "They can't stick up for themselves. They need someone with a big mouth, and I have one."
But Lauper's newest project, which is driven by homeless youth themselves, gives kids a louder voice. Called 40 of the Forty, it features 40 LGBT youths who have been homeless, representing the 40% of homeless youth who are LGBT. They will tell their stories in online interviews, YouTube videos, and on stage this weekend. One interview will be released each week for 40 weeks. "The kids came up with this, and it's a really great idea," Lauper said.
One of them is Carter, who tells BuzzFeed News that in a religious community of color, "I was experiencing gender expression discrimination from my family. I was dealing with a lot of physical abuse and sexual abuse growing up." Carter's situation exemplifies a common background for LGBT youth who, even without being evicted, feel forced to leave home. In that hostile environment, she said, "You can go home, but a home without acceptance and love is not a home."
Asked about sharing the stage with 50 Cent, who once suggested on Twitter that gay men should "just kill your self damn it," Carter welcomed him. "A lot of LGBT youth come from urban backgrounds," she said. Carter said they want to see a "black heterosexual male showing that he supports us," and prove that "masculinity is not attached to sexual identity."
This weekend's concert includes Patty Griffin, Salt-N-Pepa, and a raft of other musical icons. But asked who is most surprising to have join her on stage, Lauper said, "50, god bless him — he's a good guy."
"People evolve," Lauper went on. "That is what you have to leave yourself open for. You change the world when you change your mind."
Changing minds, Lauper explained, also requires transforming narratives about homelessness from stories of dead-end tragedies into true stories of success. "I want to inspire kids to show that they have hope," she said.
Carter stuck it out through school, graduated, and now has her own apartment. "I would say I'm pretty successful," Carter said. The next challenge is "to make myself vulnerable, and get out on stage and share truth and identify as someone formerly homeless. I am no longer in the mindset of unworthiness. A lot of times, you feel that you're not worthy enough to be successful. They are giving us a platform so we can use our voice, because often we've been told our voice is not valued."
"I mean, listen," Lauper explained. "It's not only for people to understand what it's like. It's also to inspire some hope for the kids who are homeless and reduce some of the stigma that goes along with being homeless."
A previous version of this story misstated the percentage of homeless youth cited in the Family and Youth Services Bureau who are LGBT. It is 37%, not 30%.