Couples Sue To Block North Carolina Law Allowing Magistrates To Opt-Out Of Marriages
Senate Bill 2, passed by the legislature in May, lets magistrates refuse to perform marriages on religious grounds. Three couples, in a lawsuit filed Wednesday, argue the law should be found to be unconstitutional.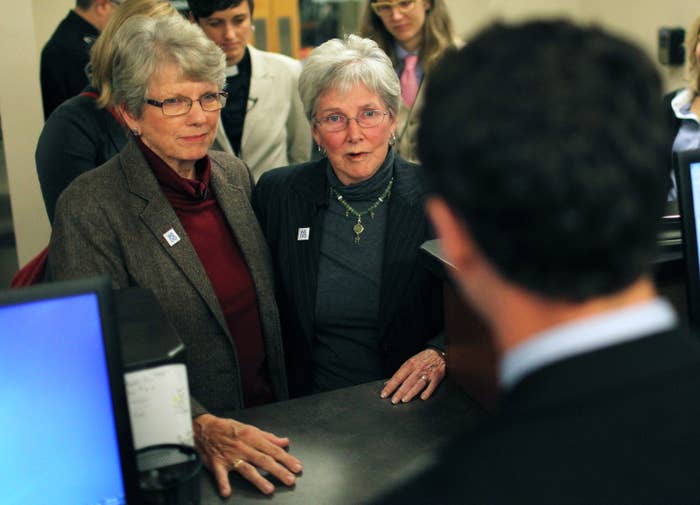 Citing their religious objections, at least 32 court magistrates have recused themselves from performing marriages under a North Carolina law that was designed to let officials shun same-sex couples, according to a lawsuit filed Wednesday.
Lawyers representing three couples argue that the law is unconstitutional and must be nixed.

Filed in the same federal court that struck down North Carolina's ban on same-sex couples marrying in 2014, the suit argues the state's magistrate-recusal law violates the First and Fourteenth Amendments by promoting a religious viewpoint at taxpayer expense and lets public officials violate their oath to uphold the Constitution.
"They are embracing judges who believe as a matter of religious faith that gay people are second-class citizens," Luke Largess — a lawyer at the firm Tin, Fulton, Walker, & Owen, which is handling the case pro bono — told BuzzFeed News.
LGBT rights groups Equality North Carolina and Campaign for Southern Equality are backing the lawsuit.
"Everyone in the state knows that the purpose of this law was to rebuke the courts for approving same-sex marriage."
Passed in May as Senate Bill 2, the law allows court magistrates who claim "any sincerely held religious objection" to opt-out of performing marriages. If they do so, they cannot perform any marriage for six months, same-sex or opposite-sex, and the state must find another official to perform the marriages in their absence.
The measure was one of numerous bills introduced by legislatures around the country to promote religious freedom at the same time legal rights for same-sex couples rapidly advanced.

In practice, the North Carolina statute has allowed all four of the court magistrates in McDowell County to recuse themselves.
County Register of Deeds Tonia Hampton told BuzzFeed News in September that while marriage licenses were still being issued, magistrates from other counties had been shipped in to perform the marriages.
According to the law, the state must pay to shuffle court officials from county to county as needed.
Lawyers contend the law allows officials to violate a sworn oath to uphold the U.S. Constitution — noting that a federal court in North Carolina and the Supreme Court have found same-sex couples have a constitutional right to marry.
Furthermore, the suit contends, the law "harms third parties because it compromises, impairs, and violates the constitutional integrity of the judicial system to the detriment of the citizens of North Carolina by protecting the employment of magistrates unwilling to recognize and protect the constitutional rights of a segment of the public: gay and lesbian citizens of McDowell County and every other county in the state."
Finally, plaintiffs allege, the law denies due process and equal protection rights because magistrates — who area also required to adjudicate legal matters unrelated to marriage — hear cases involving gays and lesbians. In those cases, they say in the complaint, gays and lesbians must endure judgement from a magistrate "who believes they are not full citizens as a matter of state sanctioned religious belief."
The plaintiffs include two same-sex couples and one mixed-race couple. They argue magistrates could also opt-out from marrying other mixed-race couples, a violation of established case law.

They are asking the court to declare the law unconstitutional, find that magistrates cannot disavow their obligation to perform their duties, and block the state from spending money to implement the law.

"I think a lot of people who are not avid supporters of gay rights agree that once the law is the law, judges are obligated to uphold the law," said Largess, adding, "Everyone in the state knows that the purpose of this law was to rebuke the courts for approving same sex marriage."
Lawmakers repeatedly said they supported the legislation broadly as a matter of religious freedom. However, in 2014, Senate President Pro Tem Phil Berger indicated in media reports that it was motivated by objections to same-sex couples marrying.
Lawmakers approved the law by overriding a veto by Gov. Pat McCrory, who warned at the time that "no public official who voluntarily swears to support and defend the Constitution and to discharge all duties of their office should be exempt from upholding that oath."