Congressional Dems Urge TSA To Change Screening Procedures For Transgender Passengers
The 32 lawmakers were alarmed by the treatment of Shadi Petosky, a transgender woman who was detained and searched on Sept. 21 at the Orlando airport.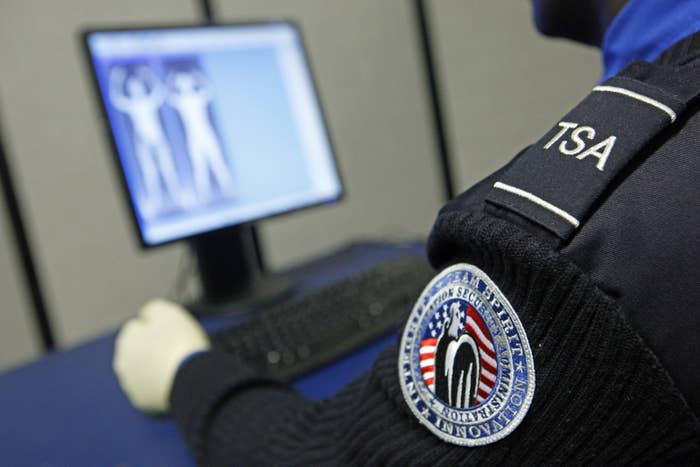 Federal officers who staff security checkpoints at U.S. airports need more training on how to screen transgender passengers and should adopt new procedures to ensure transgender people can travel without "humiliation or degradation," 32 Democratic members of Congress wrote in a letter to the Transportation Security Administration on Thursday.
"While being mindful of enacting the appropriate security precautions to keep all travelers safe, the TSA must also take steps to ensure that its employees are prepared to serve transgender individuals with the dignity, discretion, and respect that they, like all Americans, deserve," says the letter to TSA Administrator Peter Neffenger.

The letter is from Reps. Adam Schiff, Mark Pocan, and Brian Higgins, along with 29 more Democrats in the House.

The missive comes two weeks after Shadi Petosky, a transgender woman, was detained in the Orlando airport when her a body-scanner image apparently conflicted with her female gender. "When I stepped out, they said they had detected an anomaly," Petosky told BuzzFeed News in an interview at the time. "I told the officer that I was transgender and that was my penis."
TSA agents called her a man, she said, and kept her for a security inspection and pat-down. She detailed the experience on Twitter, including missing her flight.
TSA officials insisted their officers had complied with agency standards.
Troubles can arise when TSA officers select a blue or pink button to configure security scanners for travellers based on their apparent gender — blue for men or pink for women.
Changing those standards is the goal of lawmakers, who wrote that the Departments of Homeland Security and Health and Human Services have launched an investigation into the case to determine whether the TSA violated Petosky's civil rights.

"While we understand the importance of vigilant airport security, we cannot countenance a security protocol that subjects transgender travelers to this level of indignity," they write.

"Unfortunately, Ms. Petosky's experience is just the latest of a string of reports from travelers across the country," the lawmakers continue. "In the days since Ms. Petosky's story became public, we have heard from numerous members of the transgender community describing harassing and humiliating experiences while going through airport security."
Troubles can arise when TSA officers select a blue or pink button to configure security scanners for travellers based on their apparent gender — blue for men or pink for women. That practice, the letter explains, can result in "singling out transgender or gender nonconforming individuals whose physical appearances may not necessarily match their biological sex … thereby unduly requiring them to undergo a 'pat down' — an additional procedure which many have found to be extremely invasive and degrading."
The lawmakers urged TSA Administrator Neffenger to review those procedures and establish a new screening protocol that does not rely on officers making "often-subjective decisions about an individual's gender identity."
Despite requests from BuzzFeed News, the TSA has not provided details of the "strict guidelines" that agency officials say that officers use with transgender passengers or explain how those officers are trained to properly screen transgender passengers.

Lawmakers criticized the TSA's opaque, minimal guidelines for transgender passengers, which currently say a passenger can request private screening without explaining what that may entail. "[T]here exists no public guidance to reassure transgender travelers that they will not have to reveal the use of any prosthetic devices or binding materials while in a public area," the letter says.
Instead, lawmakers urge the agency to publish a detailed explanation of guidelines, as well as the civil rights of transgender passengers, online. Officers should also have in-person trainings that "specifically cover the particular sensitivities and vulnerabilities of transgender travelers."
Here's the full letter: