Judge Hears Case On Blocking Federal Protections For Transgender People
Texas and 10 other states are trying to freeze federal rules that ban discrimination in workplaces and schools.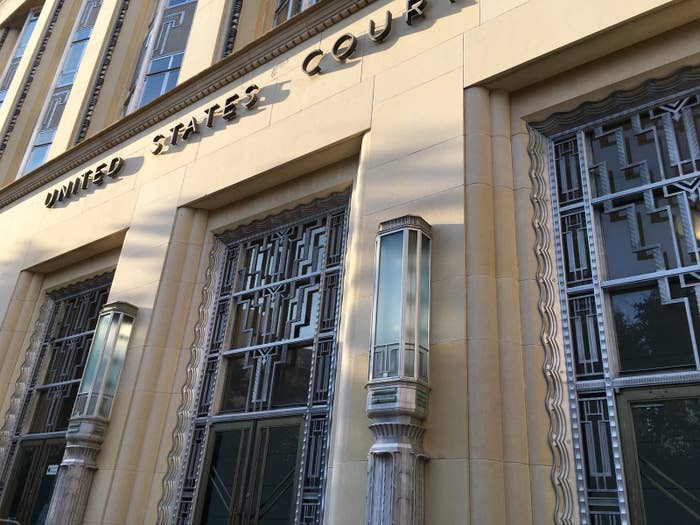 FORT WORTH, Texas — A judge tried to figure out Friday if federal policies that protect transgender students and workers actually cause harm to Texas and 10 other states behind a lawsuit trying to block those rules and regulations.

"These guys say, 'I'm going to have to change my bathrooms and get new signs,'" U.S. District Court Judge Reed O'Connor said at a court hearing, pointing his comment to a government lawyer defending the transgender protections. "They are saying they risk losing federal funding."
The 11 states had sued the federal government in May after the Obama administration issued guidance on accommodating transgender students in restrooms and other facilities. They have asked O'Connor to suspend that guidance, and policies covering transgender workers, across the country while their case plays out in court.
But O'Connor was not entirely sympathetic to the states. His line of questioning tended to focus on whether they had a legitimate claim to bring the lawsuit at all — whether guidance protecting transgender people causes the states harm, and if there was a legitimate conflict that served as basis for a legal challenge.
"They are saying they risk losing federal funding."
"Lots of procedural issues here," he said, asking how soon schools would begin classes. "I will reflect on that."
O'Connor aimed many of his questions in the lofty art deco courtroom to the government's lawyer, Benjamin Berwick, who argued the regulations require no changes to restrooms and there was no specific threat of federal money being withheld from schools.
Disputes over federal transgender protections have ramped up in the past four years, and court cases generally involve alleged discrimination or a state government resisting federal enforcement — such as cases pending in North Carolina.

But the hearing in Texas on Thursday was different. The case, filed in May, is the first in federal court to generally challenge the government's growing body of legal interpretations, based on civil rights laws that ban sex discrimination, to protect transgender people. Several weeks after Texas filed its lawsuit, another group of states, led by Nebraska, filed a separate but similar lawsuit; that case has not been heard.
In a brief filed in July, the coalition led by Texas called the policies "new mandates."
The guidelines and underlying rules are not new, however.
The Obama administration has interpreted Title VII of the Civil Rights Act of 1964 and Title IX of the Education Act of 1972 — which ban discrimination "on the basis of sex" — to also ban discrimination on the basis of gender identity. As a result, agencies and a patchwork of courts have found that anti-transgender discrimination is a form of illegal sex discrimination in workplaces and publicly funded schools.
The Equal Employment Opportunity Commission (EEOC) began implementing the policies in 2012 when it issued a ruling involving a transgender woman. And by 2014, officials issued guidance protecting students on the basis of gender identity in cases of sexual violence, and the Justice Department announced it was backing the EEOC's view of Title VII. In April of this year, the 4th Circuit Court of Appeals found the Education Department had deference to interpret Title IX to cover a transgender student.
But the states argue Congress never meant for civil rights laws on "sex" to cover gender identity — that the term "sex" is a static biological state of being male or female. In requesting a preliminary injunction, the states say they face irreparable harm because the federal government has used these interpretations with the force of law. They argue the feds may dock education funding, and rules could allow people to "commit untoward acts" in restrooms and locker rooms.
Yet the states' briefs do not directly acknowledge the existence of transgender people — only using the word "transgender" when quoting others — and instead describe transgender women as male, and vice versa. In one brief, for example, the states refer to a transgender woman as "a male employee who demanded to be treated as a female." Their case contends that allowing people to enter facilities that conflict with their birth sex amounts to letting men enter women's rooms, thereby conflicting with the civil rights laws providing separate facilities for men and women.
The defendants include the Education, Justice, and Labor departments, as well as the Equal Employment Opportunity Commission.
Lawyers for the government contend the plaintiffs' motions fall short of an injunction, stressing that current rules are nonbinding. Any enforcement would be based on Title VII or Title IX, not the guidance documents.
But Judge O'Connor asked, "If the Equal Employment Opportunity Commission, the Department of Education, and the Department of Justice are saying this is the definition of 'sex,' do you not expect schools and employers to look at their policies and consider changing their policies?"

The government is not currently pursuing enforcement action against those 11 states, Berwick said, rendering any harms theoretical. Thus, the policies cause the states no irreparable harm — one of the standards required for an injunction. Even if the feds and a state were in conflict over a specific incident, the parties could litigate that dispute court, the government says, and any threats to school funding would first go through an administrative appeal.
They government also argue that the broad, nationwide injunction being sought here is inappropriate, given other pending litigation and the state of the law in other parts of the country.
The states, however, bristled at the idea the rules are nonbinding — the federal government has pushed school districts into settlements and supported transgender workers in lawsuits, they point out.
Austin Nimocks, a lawyer who used to work with the conservative group Alliance Defending Freedom, now works for the Texas Attorney General's Office and represented the states on Friday in court.
The other plaintiffs include Alabama, the Arizona Department of Education, Georgia, Louisiana, Maine Gov. Paul LePage, Oklahoma, Tennessee, Utah, and Wisconsin.
Nimocks argued that the transgender regulations, which he called "dark matter," carried the force of law because federal agencies routinely take enforcement actions against school districts that failed to comply. Filing a preemptive lawsuit became necessary, he said, after the Department of Justice sued the state of North Carolina this spring over its anti-transgender law.
"The game changed dramatically," he said, arguing that the states are on solid ground in this case based on the conflicts between their local policies and federal regulations — even if the government is not yet taking an enforcement action against them.
Five legal groups entered a friend-of-the-court brief supporting the government's position, including the ACLU and Lambda Legal, arguing that a nationwide injunction would be problematic because the states didn't specify what, precisely, they wanted to stop. It could also interfere with several active cases in other courts that may ultimately inform a potential Supreme Court decision.
They also said 10 of the states have no business in a Texas court, calling out in particular West Virginia — part of the Fourth Circuit, which recently gave a favorable ruling to a transgender student.
Judge O'Connor did not probe the states for details about the scope of their request for an injunction — details mostly absent in the court briefs — which likely would have been a topic of discussion given the federal government's arguments on the issue if he was considering blocking the regulations nationwide.
In his opening statement, Nimocks volunteered that the states want the transgender guidance to "have no legal effect," and that federal agencies not conduct investigations based on the guidance. In litigation, he said, the government should not be allowed use the guidance as the basis for its cases.
Speaking for the government, Berwick responded by saying enforcement against schools and states is based on civil-rights laws anyway, not the guidance issued to employers or to schools.
"Even if the letter [to schools in May] never existed, agencies could bring enforcement actions under the law," said Berwick.
In Texas, Judge O'Connor — an appointee of George W. Bush — has not always been sympathetic to LGBT causes, nor is it a coincidence this case on transgender rights is in his courtroom.
As the Texas Tribune reported, Texas Attorney General Ken Paxton approached the Harrold Independent School District about passing a policy to ban transgender students from single-sex facilities that match their gender identity. The district, in rural North Texas, passed the policy two days before Paxton filed his lawsuit, which named the school district as one of the plaintiffs.
As it happens, the Harrold Independent School District is inside the Wichita Falls division of Texas federal courts — and O'Connor is the only judge who takes cases in that division, so by bringing in this school district, the case would go before O'Connor.
In 2015, O'Connor blocked married same-sex couples from taking advantage of the Family and Medical Leave Act, regardless of their state of residence, despite the Supreme Court having struck down the federal Defense of Marriage Act two years prior.
Asked by BuzzFeed News if the attorney general's office pressed this school district into passing these policies in order to get a judge more likely to issue a ruling against transgender protections, a spokesperson said by email that the office does not comment on pending litigation.