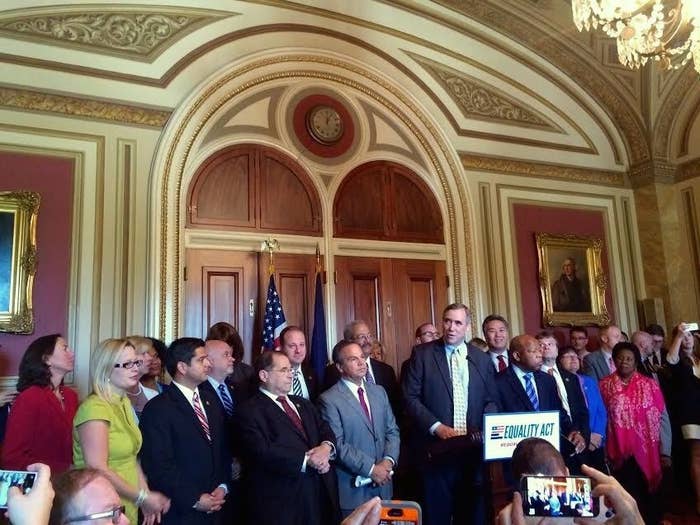 WASHINGTON — Although Democrats hold a minority in both chambers of Congress, they packed the Lyndon B. Johnson room of the Capitol on Thursday with members and supporters of LGBT rights in a show of force to announce details of a long-awaited bill to establish sweeping nondiscrimination protections for LGBT people nationwide.
The Equality Act is being introduced Thursday by Sen. Jeff Merkley of Oregon in the Senate and by Rhode Island Rep. David Cicilline in the House. The bill has 40 co-sponsors in the Senate and 157 co-sponsors in the House, the sponsors said — but none are Republicans.
"The time has come for us as a nation to be bolder and better in ensuring full rights for our LGBT brorthers and sisters," said Merkley. He noted that 31 states still lack comprehensive protections for LGBT people, leading to people fired from jobs and denied services for their sexual orientation and gender identity.
In expanding rights of LGBT people, the lawmakers also attempt to settle fiercely contested issues of religious liberty and transgender restroom use. The measure says that a federal religious freedom law cannot be used as a defense in discrimination cases and that transgender people could use public restrooms that correspond with their gender identity.

The full text of the bill is here.
"This legislation is what justice demands," said Rep. John Lewis, a civil rights leader "It is long overdue."
Broadly speaking, the Equality Act would bar discrimination against people on the basis of their sexual orientation or gender identity by amending a band of existing statutes — which already protect individuals on the basis of race, religion, and national origin. It would be the most comprehensive law to date to protect LGBT rights in housing, workplaces, schools, public accommodations, financial institutions, and other settings.

On the heels of June's landmark ruling for marriage equality, the bill charts the next step for LGBT movement. But codifying federal LGBT nondiscrimination rights faces a political slog that may take years. Without any Republican backers — including key supporters of past efforts like Sens. Susan Collins and Mark Kirk and Rep. Ileana Ros-Lehtinen — the bill appears to lack the votes necessary to pass in either chamber during the current Congress.

Cicilline was hopeful that could change, however, saying of gaining Republican supporters, "I think in the House for sure," and adding that he hoped to get the remainder of House Democrats on board. As for the Senate, Merkley said that the bill would pick up Republican votes "in the same fashion" that ENDA picked up Republican votes. ENDA passed in the Senate in 2013 with support from 10 Republicans.
Four people spoke at the press conference about their experiences with discrimination: a lesbian couple who could not get a doctor to see their infant daughter, a man fired from his job after a workplace visit from his boyfriend, and a transgender man fired after co-workers confronted him about his gender identity.

Numerous LGBT organizations are backing the bill — including the Human Rights Campaign and National Center for Transgender Equality. But sponsors have yet to to shore up key constituencies from communities of color, as the bill will function by amending existing law, most notably the Civil Rights Act of 1964.
Rep. John Lewis, a civil rights leader, emphasized Thursday that expanding LGBT protections is a continuation of the same movement. "This legislation is what justice demands," Lewis said. "It is long overdue."
But at a closed-door briefing with reporters Wednesday, Merkley explained that some of those groups have yet to sign on. "We are not going to have every civil rights rights organization on board from day one." He noted that lawmakers and organization leaders had yet to see the bill. But he said it was critical to add LGBT people to the county's cornerstone civil rights law in order to build on established legal precedents and demonstrate the rights of LGBT people are equal to other protected classes.

"This is going to be a process," Sen. Cory Booker added at the briefing, explaining his approach to bringing civil rights groups onboard. "There has been extensive contact and discussions with African-American leaders. But please understand, it is a time in our country when African-Americans are seeing a rollback of critical rights. We are losing ground in voting rights, for example. There is an understandable concern, a legitimate fear that we can't afford to lose anymore ground and so the first principle for my colleague as well as African-American leaders is to do no harm."

"You are certainly not compelled to be in the wedding cake business, and if you are in that business, your door is equally open," said Sen. Merkley.
The Equality Act would also add to the breadth of existing federal laws. Two of the provisions go to the heart of LGBT debates about religious freedom and transgender restroom use, which are playing out on a local levels around the country.
In terms of restroom use, the Equality Act would codify recent interpretations by the Obama administration that protect transgender students under Title IX, which bars discrimination on the basis of sex, clarifying that students could use single-sex facilities in schools in accordance with their gender identity.
Not only applying to schools, congressional staff said the Equality Act would apply to all single-sex public facilities — from restrooms in restaurants to airports.

Addressing religious liberty, the Equality Act would bar individuals from citing the Religious Freedom Restoration Act as a defense in cases allege discrimination against any protected class. Noting that he was not lawyer, Merkley could not predict how courts would rule but he believed the federal law would also prevent individuals or companies from using state religious freedom laws as a defense in discrimination cases.

"I think the vision is that if you are in the baking business and you are in a commercial public offering setting, you cannot say, 'I am only going serve Caucasians and not people of other races,'" he said. Likewise, Merkley continued, "You can't say, 'I am not going to serve people who I perceive to be part of the LGBT community.' You are not compelled to be in the baking business. And you are certainly not compelled to be in the wedding cake business, and if you are in that business, your door is equally open."
"Open for business means open for business for all," Sen. Tammy Baldwin, the only out LGBT senator and another leader on the bill, said at the briefing.
Cicilline also addressed recent criticism, which has been expressed by some conservatives, that an LGBT bill could be a gateway to limits on religious freedom. "There is not nor could there ever be a law would require a religious institution, a church or synagogue or mosque, to violate their religious freedom to engage in marriage," he said in the briefing.
"It cannot happen. It will not happen," he continued. "There is nothing in this bill that attempts to make that happen."
The bill would also take a step toward expanding existing civil rights laws to protect the rights of women.
As reported Wednesday by BuzzFeed News, the bill would add sex — in addition to sexual orientation and gender identity — to the groups of protected classes in public accommodations. The measure states federal funds cannot discriminate on the basis of sex, in addition to sexual orientation and gender identity, in programs such as health care, child welfare, nutrition assistance, public education, or financial assistance for higher education.
On Tuesday, a BuzzFeed News article described the how the bill would bar discrimination in education, federal funding, employment, housing, and more.
Other lawmakers who spoke on Thursday included House Democratic Leader Nancy Pelosi; out LGBT lawmakers Reps. Jared Polis, Mark Takano, Mark Pocan, Kyrsten Sinema, Sean Patrick Maloney; and Rep. Mike Honda, who has a transgender grandchild.