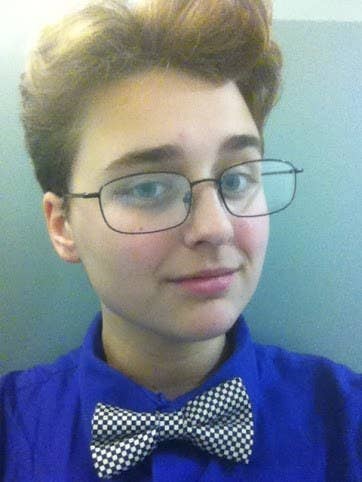 After three months of negotiations, a public high school in New Jersey will allow a transgender student to use the boys restroom starting this month, school officials told BuzzFeed News.
But given state and federal laws that grant transgender students access to facilities in public schools that reflect their gender identity, 16-year-old Rubin Smyers, his family, and LGBT advocates wonder why they had to fight this battle at all.
"I wasn't as excited as I expected to be," Smyers told BuzzFreed News about the decision, which he heard from his principal on Dec. 9. "They were telling me that I had permission to do something I already had permission to do."
Nancy Weber-Loeffert, the assistant superintendent at Ocean County Vocational Technical School, said school officials told Smyers to use single-stall unisex restroom because they did not want to be "violating the civil rights" of other people who "may be offended" by Smyers using the boys restroom.
But the civil rights law appears to support Smyers' position — particularly in light of guidance issued earlier this year by the Department of Education stating that anti-transgender discrimination is banned under Title IX, the federal law that bans sex-based discrimination in public education. Under the guidance, transgender students should be able to use the restrooms and locker rooms that reflect their gender identity.
Weber-Loeffert is also the school's compliance officer for Title IX. After Smyers raised complaints with the school, Weber-Loeffert went on, "We sought legal advice and we did research in regard to Title IX and civil rights law on what was the best solution to this problem." She said that the school then agreed his civil rights granted him access to the boys room.
"We made a decision, based on what was happening across the country, that the student could use the bathroom they were identifying with their gender identity," she explained.
Although the decision resolves Smyers' complaint, the broader issue did not appear to be resolved.
When the Ocean County Vocational School Board of Education responded to Smyers' complaint, it issued a policy that said "issues regarding transgender students will be resolved on a case-by-case basis."
"I find that policy highly problematic," Andrea Bowen, the executive director of Garden State Equality, told BuzzFeed News. In addition to federal rules, she said New Jersey law gives transgender students full access to public accommodations in public schools without negotiating those rights with school administrators — and certainly without negotiating rules on a case-by-case basis. "There should not have to be a meeting process and there should not have to be an appeal," she said. Bowen said she likely will follow up with the district about the policy.
Ever since the school year began in September, officials at Ocean County Vocational Technical School have instructed Smyers to use a single-stall unisex restroom in a far corner of the sprawling school, which is housed in an airplane hangar. According to Weber-Loeffter, the school district never told Smyers he "absolutely cannot" use the boys room, but, rather, they they thought they resolved the issue by directing him to the unisex restroom.
But Smyers argued, "It is really isolating to be shoved in one corner of the school and be separated from other students like that."
A junior in school's performing arts academy, Smyers said he had used the boys room without complaints during the 2013-14 school year. (Weber-Loeffter also said she did not know of any student complaints about Smyers using the boys room.)
But just before summer break, Smyers explained, a school counselor told him that if he had to choose between restrooms, he should choose the girls rooms. "But the counselor said she would prefer I stayed out of those and just use unisex facilities," he recalled. Smyers complied when the school year began in September, while raising the issue with his counselor repeatedly, he said. "As I got progressively more fed up with it, one day I figured I had to do something."
Smyers launched a petition that argued it was "unethical" and "wrong" for the school to discriminate against a student's restroom use based on gender identify. He was stunned when 2,000 people signed on in support. The other arrows in his quiver: Garden State Equality and his mother.
"My frustration as a parent, obviously, is that something as simple as my son being able to use the bathroom associated with his gender identity should have been a no-brainer," said Jolene Smyers. "It was a courageous thing to come out and reveal his true persona."
"He was relegated to this little stall," she continued. "I felt they were undermining his self esteem and confidence. It was upsetting to him, and it was upsetting for us. I had been in school trying to reason with these people." Mother and son had numerous exchanges with school officials, who deferred a decision for months.
When the district did reach a conclusion, "our joy was muted" because the school board said it would handle future complaints on a case-by-case basis, said Jolene Smyers.
"I am a hard pressed to believe there isn't another kid who will come along with the same issue," she added. "Why should they have to jump through these hoops when it's already the law? It's just wrong."
Despite repeated emails, Weber-Loeffert did not comment on those concerns before this article was published. The US Department of Education said it could not respond in time for publication to questions about whether schools must publish explicit policies for transgender students.