Donald Trump said three times while campaigning that pot legalization should be left "up to the states." But after five weeks in the White House, his former press secretary, Sean Spicer, announced that recreational marijuana — which was legalized by eight states without resulting in a crackdown by the Obama administration — has zero leeway under federal law. "I do believe you'll see greater enforcement of it," Spicer told the press corps.
Since then, lots of conventional wisdom says the White House can — and probably will — try to shut down America's pot experiment.
That wisdom looked particularly valid given that Trump's chief law enforcement officer, Attorney General Jeff Sessions, has sharpened the attacks. He said in February that distributing pot remains illegal "whether a state legalizes it or not," and turned the screws in March by warning federal prohibition "applies in states where they may have repealed their own anti-marijuana laws."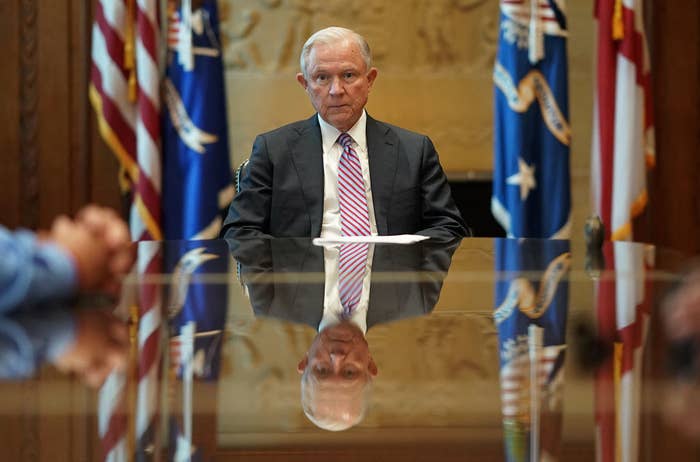 "If the Trump administration wanted to shut down our industry, he could say the word and have every dispensary door kicked in simultaneously," Travis Nelson, president of the Colorado Cannabis Growers Association, told BuzzFeed News. The press has heeded the threats, too: The Washington Post​ ​said the stern warnings Sessions sent to several governors this month show he "might begin​ ​prosecutions," while​ ​​Slate​ predicted he ​"will​ ​probably crack​ ​down."
How, exactly, the Trump administration will approach this is TBD. The Justice Department is currently considering its options.
At any time, though, Sessions and Trump could begin raids in Alaska, Colorado, Oregon, Nevada, and Washington state — where thousands of state-licensed pot businesses are already operating in the open. The administration could then argue in court that even issuing pot licenses is superseded by federal law.
Raiding farms and stores may seem simple, at first, but unlike federal pot busts in past years, targeting regulated state systems would present new legal disputes over states' rights.
BuzzFeed News' interviews with law enforcement, former federal prosecutors, state officials, and conservative leaders show a crackdown would give rise to a hydra that pulls Trump into logistical, political, and legal traps — replicating his most humiliating setbacks like the travel ban (legal) and Obamacare (political).
Not only is legalization unprecedentedly popular, a crackdown has grown even more unpopular — and Trump would be destroying jobs in rural districts that voted for him. Possibly most damaging for Trump, though, is that he can't fully win, because state decriminalization of marijuana cannot be completely stopped.
"They have very limited tools, and I think none of them would be successful," Jenny Durkan, who served as US attorney in Washington state in 2012 when legalization took hold there, told BuzzFeed News. "I just don't think they can stick the genie back in the bottle."
There are several paths Trump could take if he wanted to try anyway. Here's why each one would be difficult, or even impossible.
1. Trump can't bust all the legal pot businesses because there are way too many already.
Trump can't possibly conduct raids on every pot business simultaneously.
In Alaska, Colorado, Oregon, and Washington combined, state officials have approved 4,769 licenses for recreational pot businesses, according to a BuzzFeed News analysis of reports from state agencies.
"Who would be kicking in all these doors?" asked John Walsh, who was the US attorney in Colorado from 2010 to 2016, in an interview with BuzzFeed News.
The Drug Enforcement Administration maintains about 5,600 employees for domestic enforcement across the country, budget figures show. That's roughly equal to the number of pot businesses in operation, and thus hardly enough staff to raid them all at once. Adding to the math, the number of doors is growing. Farms and stores are applying for licenses now in Nevada, where voters passed a law last November. Officials in California, Maine, and Massachusetts will launch their systems in 2018 — and California's market alone will dwarf the rest.
"It's not as if there are unlimited cadres of federal agents with nothing to do but take down state-compliant businesses," added Walsh, who was the top federal prosecutor in Colorado when stores opened there.
"It would shut down the criminal docket."
But it might be possible, theoretically, for Trump to reassign federal agents from other regions to make sweeps, said Durkan. Yet in that far-fetched scenario, raids would only lead to an unworkable court logjam.
Even with more prosecutors on deck, also shipped in from around the nation, each case would require building up evidence, issuing indictments, scheduling trials or negotiating plea deals, and then going to hearings. Federal courts would then need to find judges and staff for those thousands of cases — and courts lack that capacity.
"It would shut down the criminal docket," Durkan said, arguing that prosecutors and the general public would fume at seeing nonviolent pot cases prioritized over human traffickers and violent cartels. "If they wanted to do a law enforcement crackdown, they will lack both the resources and the will to get it done."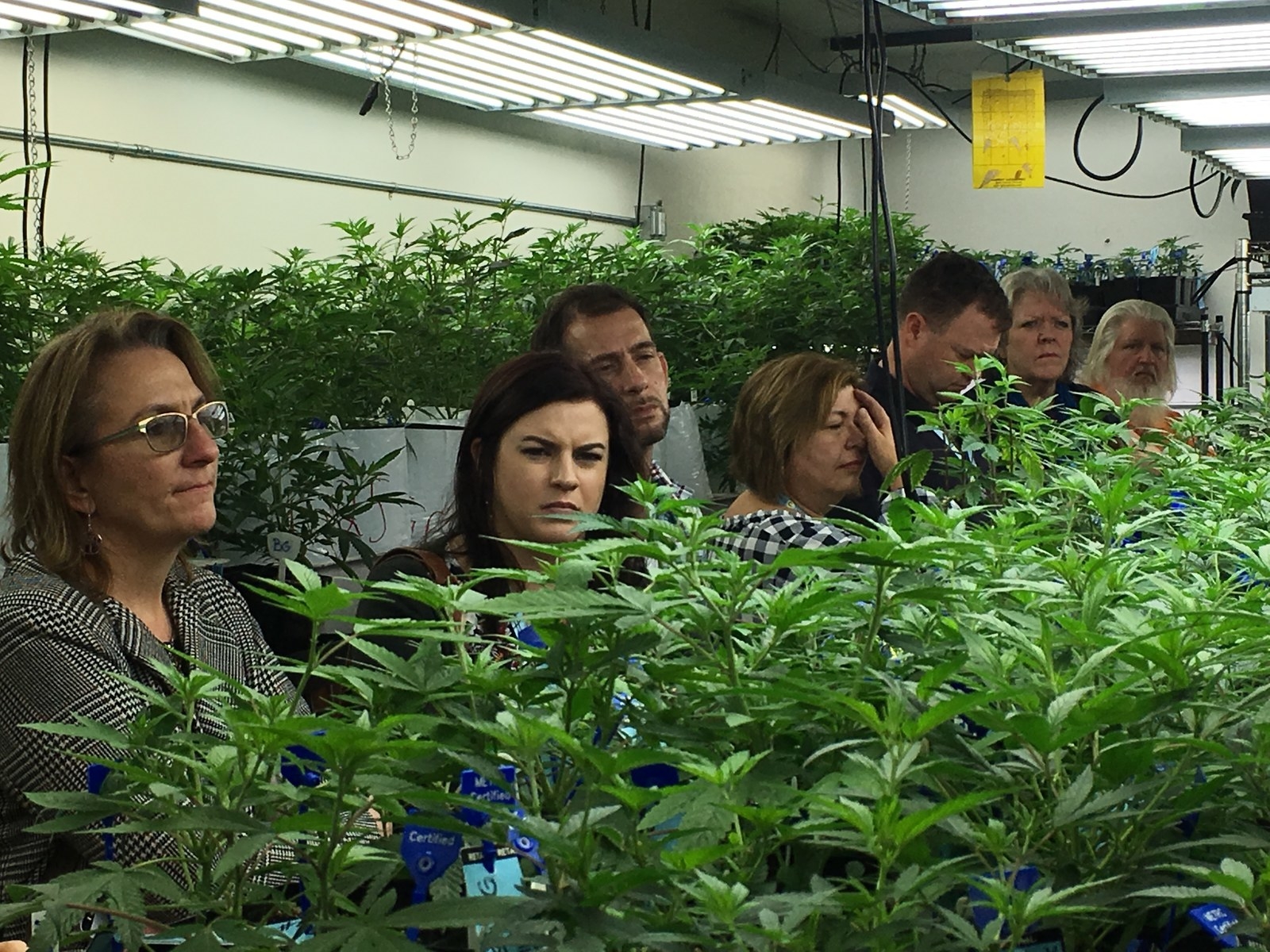 2. If Trump were to even threaten pot businesses, he would still end up in brutal court battles.
The least strenuous way for Trump to try to bring weed to heel is by sending letters that threaten every business owner with a lawsuit if they don't close.
Durkan sent similar letters to medical marijuana dispensaries in Washington state a few years ago — but that won't work now.
"There were no legal dispensaries at that time, so they had no defense," she explained. "If you send a letter now against any of the existing legal dispensaries, you basically are attacking the state system itself." That gives defendants a stronger hand in court, she added, "and it tees up the question of whether the state has a legal right to do that."
The Justice Department's Task Force on Crime Reduction and Public Safety is considering the best way to proceed, including whether to rewrite Obama's 2013 policy for pot. A subcommittee reported back to Sessions last month, saying it wanted to study the issue more, according to an Associated Press report. Ian Prior, a spokesperson for the Justice Department, declined to comment to BuzzFeed News on its approach, saying, "We'll make announcements on policy changes as appropriate."
The White House didn't respond to a request for comment.
But the problem with simply scaring businesses into shuttering is that many won't close even under pressure.
"I'm not going to give up easy," Shilo Morgan, owner of the Lucky Leaf Co. in Spokane County, Washington, told BuzzFeed News. She's built a coalition with dozens of nearby pot businesses called the Eastern Washington Cannabis Association, in part to brace against Trump and Sessions. "We'd have to call in the troops and put together our crew and fight as a whole."
"We have all worked our tails off to get to where we are," she said. "We have a lawyer on standby."
Hardly an anomaly, the pot industry is built on former activists used to risking jail, explained Taylor West, the spokesperson for the National Cannabis Industry Association. "They've fought before and they can do it again if they have to — and now with a lot more allies on their side."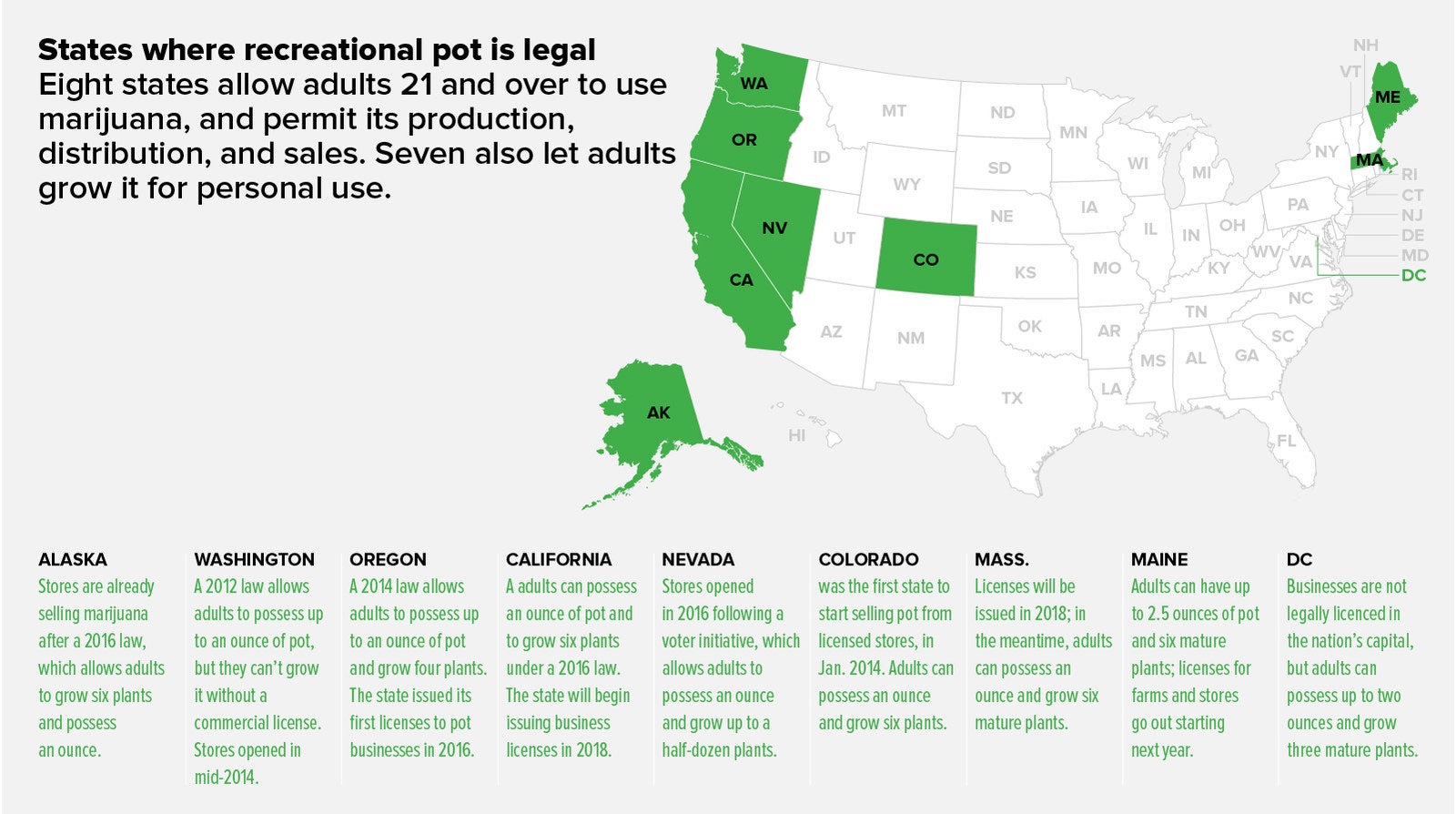 3. Even if Trump only makes a few busts, the states will get involved and fight Trump, too.
West's idea about allies is critical: They're state governments.
Washington state Attorney General Bob Ferguson told BuzzFeed News that, since 2012, his lawyers have been preparing to fend off any federal intrusion that would disrupt the regulatory machinery there — possibly even if the Justice Department targets just a few licensees complying with state law.
"If they truly wish to shut down legal marijuana in Washington state, whatever mechanism they choose, they would end up in court," said Ferguson. "I would litigate that. This is a priority for our office."
Ferguson and his local counterparts have repeatedly humbled the Trump administration, successfully freezing parts of Trump's travel ban and orders on sanctuary cities. Most notably, Ferguson was behind the lawsuit that led to the broadest restraining order against Trump's first travel ban executive order. "I think we state AGs are the most important counterbalance to the administration."
"The federal government cannot avoid a fight with my office if they are seeking to dismantle marijuana legalization," he said. "There is zero chance we are caught flat-footed."
But Sessions is sharpening his glare, telling governors this summer that a White House drug enforcement agency found legalization has exacerbated drug problems. In response, Washington state Gov. Jay Inslee this month fired back that Sessions' "allegations...are outdated, incorrect, or based on incomplete information."
"The federal government cannot avoid a fight with my office if they are seeking to dismantle marijuana legalization."
Yet the Justice Department hasn't let up, with Prior, the spokesperson, telling BuzzFeed News that reports about states with legal pot "foreshadowed troubling developments." He said evidence shows residents are driving with some level of impairment, more schoolchildren are expelled for marijuana-related reasons, and "Washington's purported legalization did not diminish or eliminate the black market."
Targeting one business — thereby creating a domino effect of closures — was a topic for Sessions and radio host Hugh Hewitt in March. That approach could let the Justice Department "take all the money from one retailer, and the message would be sent," Hewitt remarked. "I mean, if you want to send that message, you can send it."
Sessions said he would "be evaluating" that option, but also acknowledged the limits of his reach, saying, "It's not possible for the federal government, of course, to take over everything the local police used to do in a state that's legalized it."
Prosecuting a lone individual who's fully complying with state law could raise obstacles in the courtroom, provoking "hostility, not just from the jury, but from the judge," Walsh said. When prosecutors have tried to single out defendants before, he explained, "We found that federal judges wanted to know why we brought criminal charges against some people when there are so many other people engaged in this conduct under state law."
A defendant facing down Trump could find backing from numerous states, too. The National Association of Attorneys General created a working group among the eight states with legal marijuana, which holds conference calls every couple of months to coordinate. All eight of the state AGs offices have participated, individuals familiar with the process told BuzzFeed News.
Janet Mills, the attorney general of Maine, declined to speculate on how her office would respond to any scenario, but said by email, "I would hope [Sessions] has more important things to do with his time and position, like fighting terrorism and violent crime and combatting the deadly opiate epidemic." A spokesperson for the Colorado attorney general, likewise, didn't commit to any action, but said the office held a "productive meeting" recently with the Justice Department.
"I think if the federal government tried to target a specific state, other states that legalized marijuana could rally to the defense of that state," said Ferguson. "You have red states, blue states, you have purple states — and that number is growing."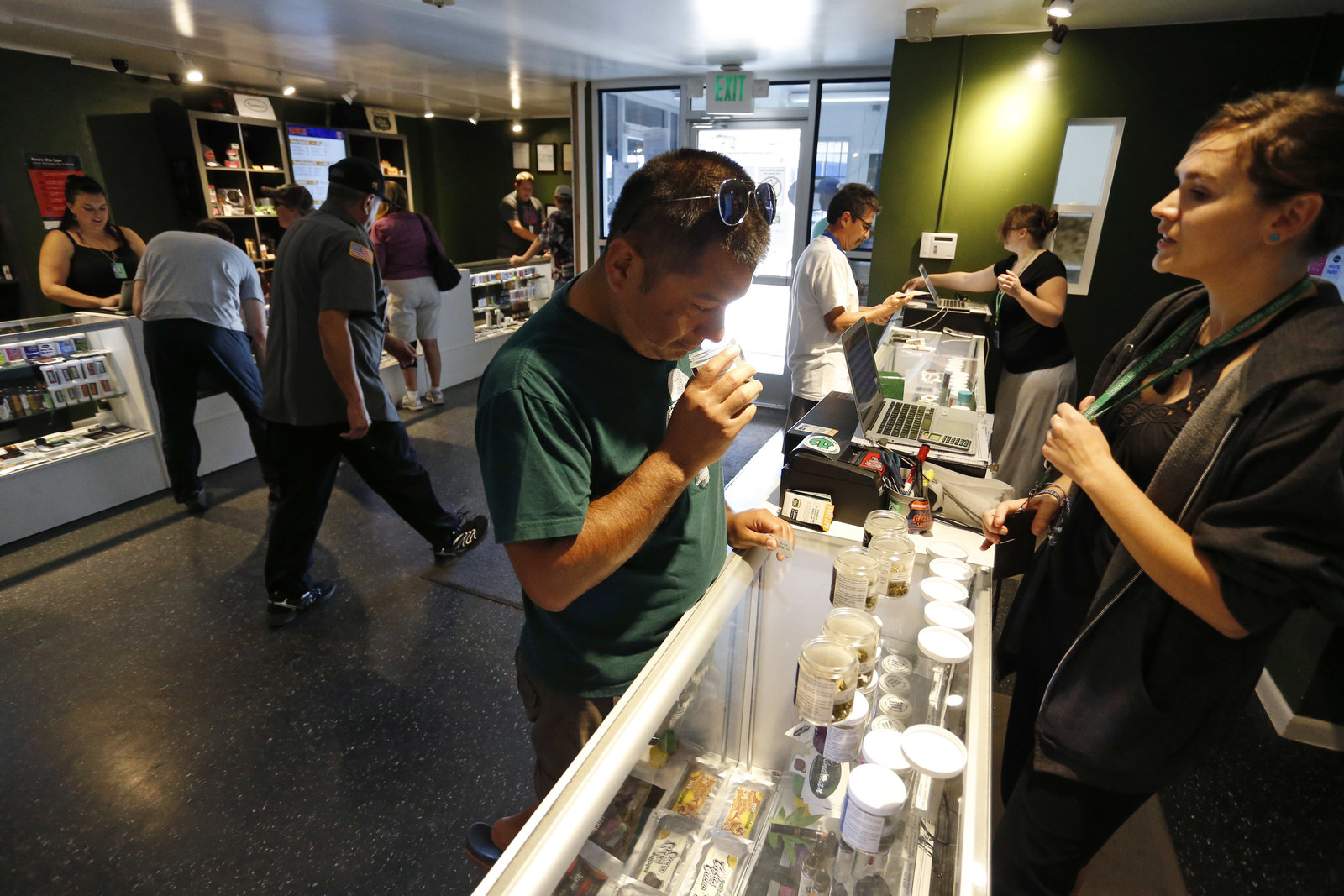 4. Trying to overturn state legalization laws themselves would be difficult and time-consuming — and could still fail.
Here's the big, linchpin question: Do courts think the Controlled Substances Act, or CSA, preempts state systems that allow legal marijuana to be grown and sold?
Just so there's no ambiguity here: The dispute is not whether the Justice Department can bust people for recreational pot. It can. The unanswered question is if the machinery of regulation — that is, the state bureaus issuing permits, inspecting premises, collecting taxes, etc. — is illegal. It's whether that system conflicts with federal law.
Could the Trump administration win this argument? It's a toss-up, according to several legal experts who spoke to BuzzFeed News.
A key problem for the Justice Department is that the CSA doesn't speak directly to this question. Nor does the CSA require states to mirror federal law. In fact, Congress, when it passed the law in 1970, made clear states can have their own drug laws, including their own criminal penalties. The CSA says state laws aren't preempted — they may indeed exist — "unless there is a positive conflict…so that the two cannot consistently stand together."
What, then, is a positive conflict?
There are two strains. The first is a direct conflict, when a person cannot comply with both state and federal rules. This was a prime consideration when pot initiatives were crafted by lawyers like Alison Holcomb, the author of Washington state's legalization law, who sought to avoid that clash. As she explained in a 2013 class for lawyers, the state law doesn't require anyone to deliver or use pot. So this is considered an uphill argument for the Justice Department.
The second strain is called "obstacle preemption" — and several legal experts believe this is more likely to become the 50-yard line of any big court fight. In this scenario, the Justice Department would assert that pot systems undermine the purposes of the CSA. Federal prosecutors, thus, would argue that state pot systems undermine the federal law's goal, not its tactics.
What is the law's goal? The CSA's preamble says it's to reduce harm and strengthen police power:
"AN ACT...to provide increased research into, and prevention of, drug abuse and drug dependence; to provide for treatment and rehabilitation of drug abusers and drug dependent persons; and to strengthen existing law enforcement authority in the field of drug abuse."
Holcomb's dictum for lawyers points out states aren't required to have any pot law on the books. And they cannot be forced to enforce federal laws, per two Supreme Court decisions in the 1990s and a 9th Circuit Court of Appeals decision in 2002.
So if a state chooses to have a pot law, what would boost or obstruct the goals of the CSA?
Holcomb contends that regulating the legal market so buyers must be 21 or older — while creating clear penalties for driving stoned — actually nurtures the CSA's goals more than broad criminal penalties. Further, pot tax revenues fund anti-addiction programs. "How can it be said that a law creating a tightly regulated system….poses a greater obstacle to achievement of the CSA's actual purposes?" Holcomb asked. "It cannot."
The Justice Department basically acknowledged the benefits of regulation over a free-for-all in 2013 in a memo former deputy attorney general James Cole issued that August.
Cole placed a low priority on businesses that stuck to a set of guidelines — like stopping pot from crossing state lines, funding cartels, or falling into the hands of minors. As he later testified to the US Senate, simply quashing the regulatory systems in those states while adults continued to use pot legally is "probably not a good situation to have." It could, he said, lead to a black market with revenues flowing to "organized criminal enterprises instead of going into state tax coffers."
State AGs declined to share their legal strategies. But you can be certain this will be a cornerstone argument if it comes to it: States will contend their systems actually do a better job of achieving these goals than prohibition.
5. Fighting long legal battles would be unpopular for Trump, and it would grow more toxic by the day.
While Trump's approval rating plummets — to 33% as of early August — support for legal pot is on the upswing, according to Quinnipiac University. In April, the university found 60% of US voters support legalizing pot, the highest level in its polling history, up from 51% in 2012.
But activists like Jeff Hunt, the vice president of public policy at Colorado Christian University, hope people who witness legalization firsthand can dissuade others. He advanced that strategy in an essay on Fox News this month, writing that legalization is responsible for a spike of marijuana-related hospital visits and people driving while high. "We've seen the effects in our neighborhoods in Colorado, and this is nothing we wish upon the nation."
But direct exposure seems to have the opposite effect on public opinion.
In April, a scientific report published in the journal Drug and Alcohol Dependence found enthusiasm for marijuana legalization in Washington state has shot up. Sixty-four percent of adults supported legalization when researchers asked in January 2014, six months before the pot stores opened their doors. By spring of 2016, support for legal marijuana was up to 77.9%.
These trends suggest that as Americans become more familiar with how legal pot systems operate, their popularity will keep growing — making it increasingly politically perilous for Trump to try stopping them.
Meanwhile, Michael Collins at the Drug Policy Alliance said legalization could come to Michigan, Rhode Island, and Vermont by 2018.
Voters across party lines are also hostile to federal interloping, according to the April Quinnipiac poll, which found 73% of US voters opposed busting people for medical or recreational pot offenses where it's legal. Among Republican and independents, 53% and 79% oppose it, respectively. Trump would run up against those people — his own voters — if he tried.
If you made a Venn diagram of places that voted for Trump and legalization, you'd find thousands of square miles of overlap.
"I'd say 30% of my customers are Trump supporters," said Morgan, the store owner in Spokane County, which voted both for legalization and for Trump. Although Morgan backed Libertarian candidate Gary Johnson last year, she likes much of Trump's agenda, including his stance on terrorism. "I have two kids, so of course I want to protect them," she said. But if he clamped down on pot and ran for reelection, "I probably would not — definitively not — vote for him."
If you made a Venn diagram of places that voted for Trump and legalization, you'd find thousands of square miles of overlap. Take Alaska: Pot passed with a larger percentage of the vote in 2014 than Trump got when he won there last year. Likewise, in Colorado, 13 counties went for Trump and pot; in Washington state, there were eight.
"I like some of what Trump is doing," said Sam Calvert, owner and founder of Green Star Cannabis, which is also in Spokane County. He said he serves plenty of Trump voters. "I like the fact that he stands up for what he believes in, and he doesn't fall for the political language," he added, though Calvert is an independent and picked a write-in last year. "I like his leadership style overall — it's different, it's refreshing, and don't care that it creates conflict."
But Calvert wouldn't like Trump's style of conflict if it put him and his eight employees out of business. "It would be crushing. It would mean unemployment."
Not only would layoffs in Trump territory play terribly on TV, the president would be waging war on popular conservative values about state independence and the Constitution.
"It should absolutely be left to the states under the 10th Amendment," Mark Holden, general counsel of Koch Industries, told BuzzFeed News, saying the Justice Department should focus on major violent drug networks, such as cartels, and other problems squarely within federal purview. "That's how it's supposed to be in the Constitution, and that's a conservative principle."
Plenty of lawmakers have already rebuffed the Trump administration's threats, particularly those who served alongside Sessions in the Senate. Among them are 11 US senators from states with recreational marijuana laws, including Republican Lisa Murkowski of Alaska, who sent Sessions a letter in March urging him to leave current rules intact, saying, "It is critical that states can continue to implement these laws."
Sen. Rand Paul, a Republican from Kentucky, also "believes that it should be left up to the states to make their own determination," his spokesperson, Sergio Gor, told BuzzFeed News, echoing similar statements made by Republican Sens. Ted Cruz and Mike Lee about state pot laws in recent years. "This issue is better handled at a local level."
Of course, leaving it to the states was Trump's own message a year ago. And if he reversed course, it may suddenly be weaponized against him.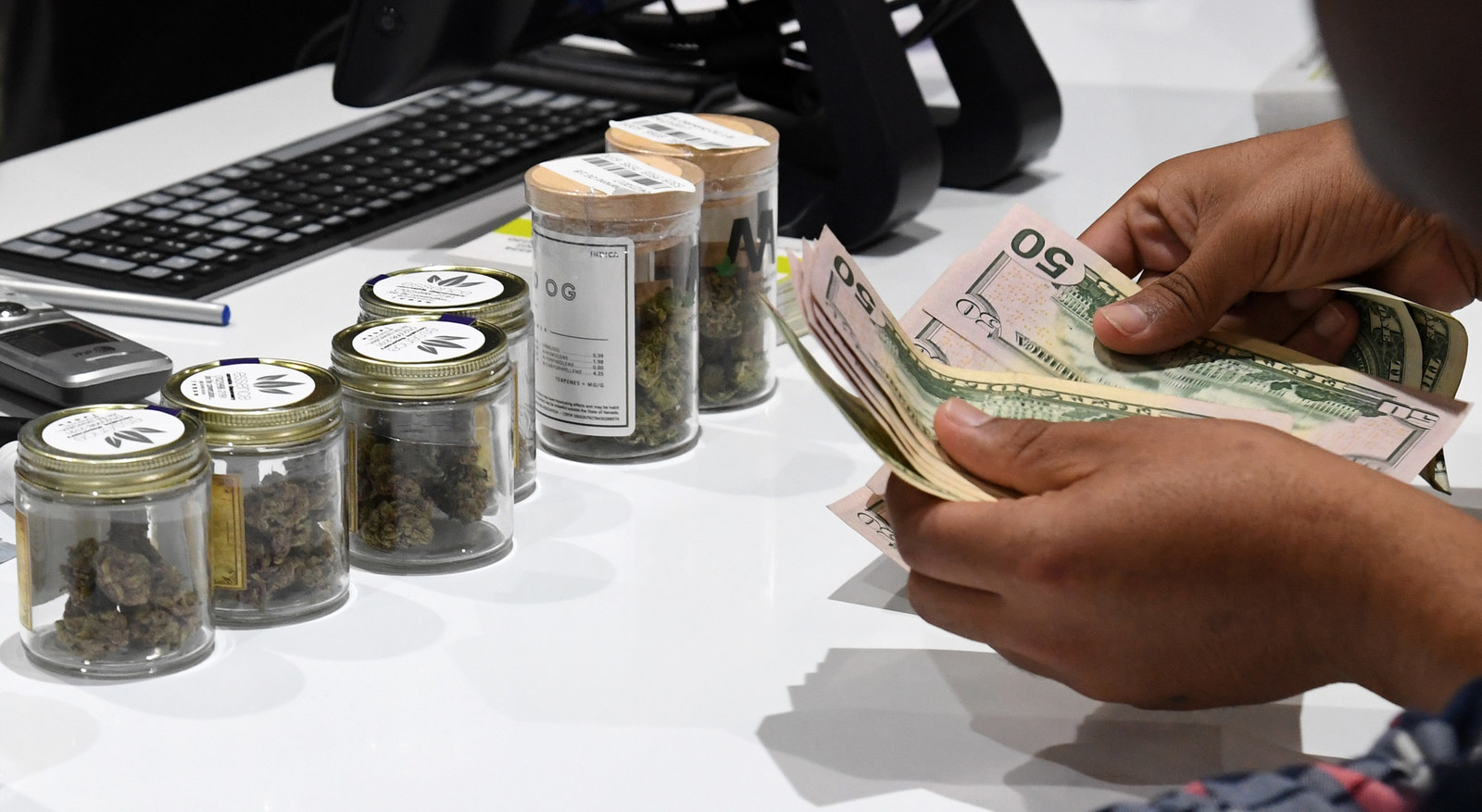 6. Trump could never stop people from using and growing pot with impunity, even if he won in court.
Trump could muscle past these obstacles, inflicting political wounds on himself as cases wind through federal courts, and possibly win. In this scenario, courts — possibly the Supreme Court — would declare that state systems violate federal law, and demand they shut down. Permits for farms and stores would stop.
But even after that fight, Trump wouldn't stop millions of people from smoking and growing pot with virtual impunity.
"Anyone who is operating with the boundaries of the state law is not going to be subject to any local enforcement regarding marijuana," Sergeant Sean Whitcomb, a spokesperson for the Seattle Police Department, told BuzzFeed News.
He said his cops can't be conscripted to help federal agents either, saying, "To ask us to circumvent the Washington state law we have sworn to uphold, and the will of the community we have sworn to protect — it just isn't realistic."
Local police conduct all but a fraction of drug enforcement, and they derive their authority from state law. These cops and prosecutors would lack jurisdiction to charge someone complying with local rules. When these eight states approved pot systems, they also decriminalized possession of an ounce or more. And all of them, save for Washington state, also removed penalties for growing a few plants.
People could still be busted federally for those offenses, yes. But would the DEA actually bust someone it encountered with an ounce of pot?
"That's pretty unlikely," said Durkan.
According to the Pew Research Center, there were 5,158 federal marijuana prosecutions in 2016 — total — which is less than 1% of all the pot busts nationally. The US Sentencing Commission says only about 2,300 possession cases were charged federally in 2013, and that almost all involved large volumes near the US–Mexico border (the remaining handful were mostly on military bases and in national parks). And in a situation where federal agents tried to make more arrests, federal courts simply aren't situated to handle lots of new low-level pot offenses.
"Even if you had the federal law enforcement and prosecutorial resources available," Walsh said, "there aren't enough federal judges to handle the volume of cases." ●
Outside Your Bubble is a BuzzFeed News effort to bring you a diversity of thought and opinion from around the internet. If you don't see your viewpoint represented, contact the curator at bubble@buzzfeed.com. Click here for more on Outside Your Bubble.