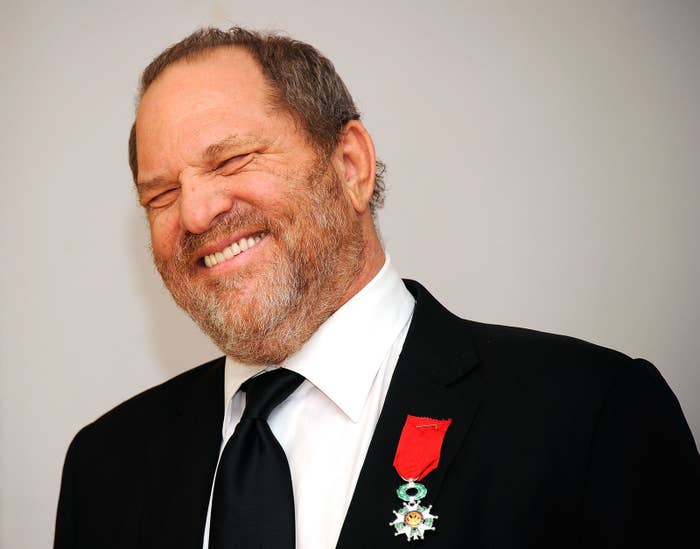 Hollywood producer Harvey Weinstein has been accused of sexual assault and harassment by numerous women over the course of the past week. He was fired by his production company, The Weinstein Company, and was also suspended from the British Academy of Film, which hands out the prestigious BAFTA awards each year, due to his "unacceptable" behavior. Now, France has moved to withdraw Weinstein's Legion of Honor, bestowed on him by then–French president Nicolas Sarkozy in March 2012, shortly after the release of The Artist.
On Sunday, French President Emmanuel Macron tweeted that he had begun the process of revoking the honor from Weinstein.
For Sarkozy, the decision to honor Weinstein was a gesture to pay tribute to the producer who, in 1979, had cofounded the Miramax company and then The Weinstein Company in 2005. Among the feature films he produced are Pulp Fiction (1994), Shakespeare in Love (1998), and The King's Speech (2010).

In a letter to the producer, Sarkozy had shared with Weinstein "the admiration of millions of French citizens":
"The prestigious distinction, that I give to you in person, is a testament to the admiration of millions of French citizens for the exceptional quality of the films you have produced.

I would like to express my appreciation to you. You have always demonstrated a deep friendship for our country and our cinema that you have introduced to so many Americans."
Several of Weinstein's alleged victims are French, such as Judith Godrèche, Emma de Caunes, and Léa Seydoux. "We were talking on the sofa when he suddenly jumped on me and tried to kiss me. I had to defend myself. He's tall, and fat, so I had to resist vigorously. I left, completely disgusted," Seydoux told The Guardian.

On its website, the Grand Chancellery explains in fact that the distinction can be removed in the case of a criminal conviction and when the recipient has committed acts "contrary to honor," or detrimental to the interests of France. It explains also that the exclusionary act is announced by decree.
On Thursday, the New York Police Department opened an inquiry into a potential sexual assault from 2004. But for now, Weinstein has not been criminally convicted.
"The general rule is to wait for a final criminal decision before starting a disciplinary procedure," explains the Chancellery to BuzzFeed News. It adds:
"This procedure involves the Grand Chancellor and council of the Order of the Legion of Honour, as well as the Minister of Foreign Affairs and the President of the Republic, Grand Master of the Legion of Honour."
Can the Legion of Honour therefore be taken from him for having harmed the honor? On this, the Chancellery explains:

"Regarding acts contrary to honor, this is generally done on a case-by-case basis. But at this time, it is too early to know what will happen. It is not a decision to be taken spontaneously. We have to leave time to see things more clearly."
"We cannot decide a withdrawal like this without a condemnation or an act contrary to honor," the Élysée told BuzzFeed News. "What is certain is that we are now in this second case with Harvey Weinstein."
This is not be the first time the order of merit has been revoked from its recipient. In 2014, cyclist Lance Armstrong was deprived of his distinction (received in 2005) for "failure contrary to honor," after being convicted of doping. British designer John Galliano also lost his Legion of Honour in 2012 (he had received it in 2009) after being condemned for anti-Semitic insults in 2011.
This post was translated from French.
UPDATE
This story was updated with comment from the Élysée that they are initiating discussions on whether to revoke the award.