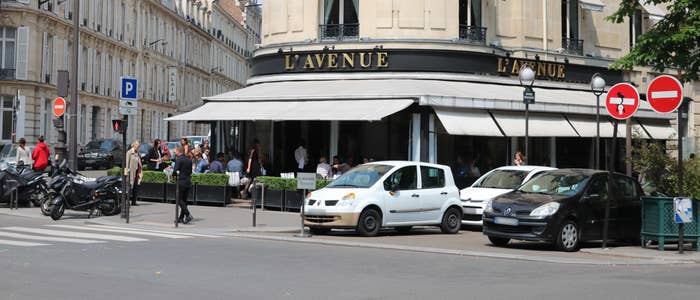 L'Avenue, a Paris restaurant popular with celebrities like Kim Kardashian West and Rihanna, has a system in place to keep out people with Arabic-sounding names and women in headscarves, an investigation by BuzzFeed News in France shows.

BuzzFeed News spoke with four servers who worked at L'Avenue for several years, one until very recently. The four former employees claim that their management routinely instructed them not to make reservations for people with names "of Arab origin" or tourists from the Middle East, especially those from Qatar, the United Arab Emirates, Bahrain, and Saudi Arabia.
The four former staffers, all women, also claimed that if a veiled woman showed up to the restaurant, they had to be told that the restaurant was full, even if it was not, a system they say is still in place today.

"The restaurant's director, Alexandre Denis, often says he prefers to have two blonde people, beautiful, on the terrace, with two coffees, rather than veiled women, even if they are rich," one woman, who worked in the restaurant for more than 10 years, told BuzzFeed News. "Those, we had to refuse, and every time a hostess took a reservation of a customer with an Arabic name, he asked who had made this reservation and reminded the staffers of their instructions: to refuse them as much as possible by pretending that the restaurant is full."

She and the three other women who spoke with BuzzFeed News asked that their names not be printed to avoid backlash from coming forward.
The restaurant is owned by Jean-Louis Costes — named the 231st richest person in France in 2017 — who founded the brasserie alongside his brother, Gilbert. Over the years, L'Avenue has become popular with US celebrities and French politicians alike.
If a veiled client who booked a table on the phone or online approached the hostess on duty, the instructions were to deny that the reservation was ever recorded, one woman, who was a manager at L'Avenue, told BuzzFeed News. That same standard went even for women who booked through whatever upscale hotel they were staying in, the first former server said.
If a customer insisted on being seated, they were forced to take a table upstairs, tucked out of sight and away from the glamorous visage that the restaurant was trying to cultivate.
Denis, when reached by BuzzFeed News, denied the accusations. "All cultures, all nationalities come here. There are people from the Middle East, there is everything you want," he said. "If you want to denounce us as racist people, that's... We'll manage as much as we can, but that's not it. ... I can say something, but I do not know how the chicks [sic] will interpret it. ... What is certain is that I never gave instructions to refuse customers."
But BuzzFeed News has reviewed WhatsApp exchanges between L'Avenue staff, dating back to the beginning of the year, that confirms the discriminatory rules in place.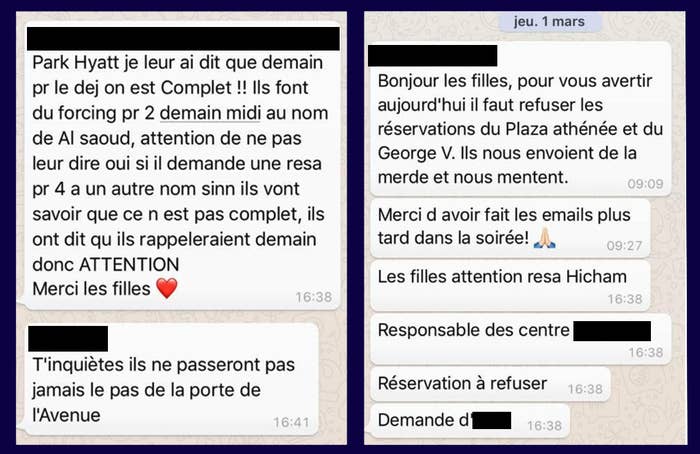 "Park Hyatt [a Parisian hotel], I told them that tomorrow for lunch we are full !!" one message reads. "They are pushing for two [people] tomorrow afternoon in the name of Al Saoud, be careful not to say yes if they ask for a reservation for 4 to another name, otherwise they will know that we're not full. They said they would call back tomorrow, so be careful. Thank you girls."
The restaurant also keeps a list of country codes in its list of bookings at the front of the restaurant, so hosts can determine at a glance if a reservation from a certain phone number should be rejected. When asked about the country code warning, Denis told BuzzFeed News that it was the first he was learning of the system.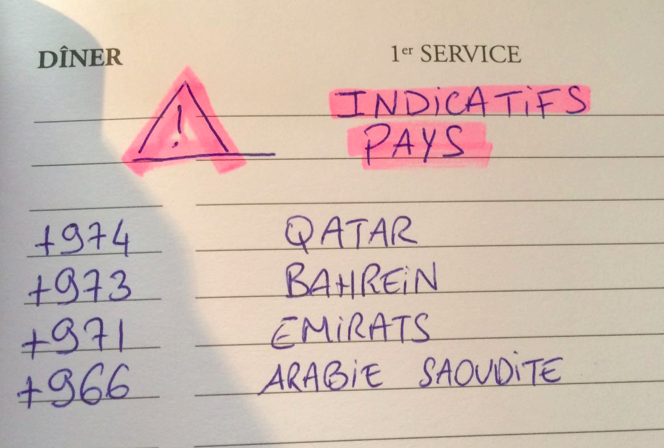 BuzzFeed News, when investigating L'Avenue, had a reservation attempt under the name "Ahmed" rejected by the restaurant. When attempting to be seated at L'Avenue while accompanied by a woman in a headscarf, BuzzFeed News was initially told the reservation did not exist before finally being seated upstairs.
Word of L'Avenue's discrimination hasn't gone totally unnoticed before now. Several reviews on TripAdvisor and Google, while unverified, speak to the restaurant's pattern of refusing service to diners from the Middle East. A 2007 documentary also cited a Parisian restaurant that refused to seat black diners on the ground floor, instead relegating them to the upper levels. BuzzFeed News has determined that that restaurant was L'Avenue.

In a letter obtained by BuzzFeed News, six former servers complained of the discrimination to France's Labor Inspectorate, which is in charge of monitoring working conditions for workers throughout the country. The Inspectorate did not respond to a BuzzFeed News request for comment and does not seem to have responded to the letter's authors.

The racial discrimination isn't the only issue that L'Avenue has been confronted with over the years: Denis, who also runs La Société, another Costes restaurant, has also previously been accused of sexual harassing a server in 2010. That complaint was dismissed but a labor court in 2013 found that harassment had occurred.
During the investigation into the complaint, the labor inspector alerted the police that a true "climate of terror" existed at L'Avenue. Asked about it, Denis claimed he was being slandered and said that he "does not force anyone to work here."
In any case, the business is flourishing: Denis and Costes have signed a partnership with the department store chain Saks Fifth Avenue to export their restaurant L'Avenue to New York, where it will open soon. Saks Fifth Avenue did not immediately respond to a request for comment.
Read the full investigation in French here.