An executive employee in one of France's leading financial institutions was harassed and discriminated against because he is gay, according to documents from an independent rights group provided to BuzzFeed France.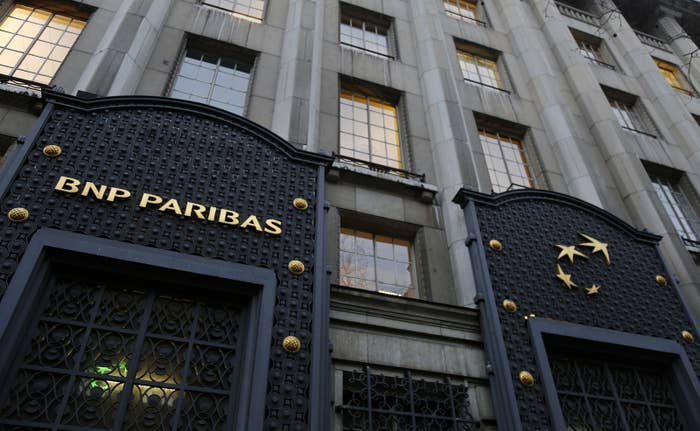 An investigation by the Defender of Rights, a French administrative body that operates independently, says BNP Paribas humiliated and discriminated against one of its senior employee because of his sexual orientation.

Nicola Rombi, who had been working in the corporate finance department at BNP since 2004, said that during his time at the bank — he said he was forced to accept a voluntary buyout in 2012 — his colleagues and his supervisor made "humiliating, degrading, and offensive" remarks against him.
"I am very angry and hurt by the execrable treatment you inflicted on me in recent years and especially in 2012," he wrote in a letter addressed to BNP when he terminated his employment contract.

Rombi also said that his sexuality explained "the difference in his pay compared to other employees." According to documents from 2011, Rombi's annual salary was 21% less than that of a colleague with the same duties.

Following his departure, he demanded that BNP recognize the discrimination and harassment, nullify the termination of his employment, and pay compensation for damages. When the Labor Court dismissed his demands, Rombi appealed in the Court of Appeal in Paris, which heard his case last Thursday. The Defender of Rights, which investigated Rombi's case upon his request, said "several concordant elements show that Mr. Rombi was the victim of discriminatory harassment motivated by sexual orientation, which led to his marginalization and had an impact on how his pay was decided and forced him to join a voluntary separation plan."
The 15-page report, which was prepared late June, was sent to the Court of Appeal but has not been made public yet.
During its investigation, the Defender of Rights looked at several emails sent to Rombi. This one, for example, was sent to him by one of his superiors on June 18, 2009:

"What gender are you? Are you a woman or a man? To find out, look at the bottom! (...) But not at the bottom of the e-mail, idiot."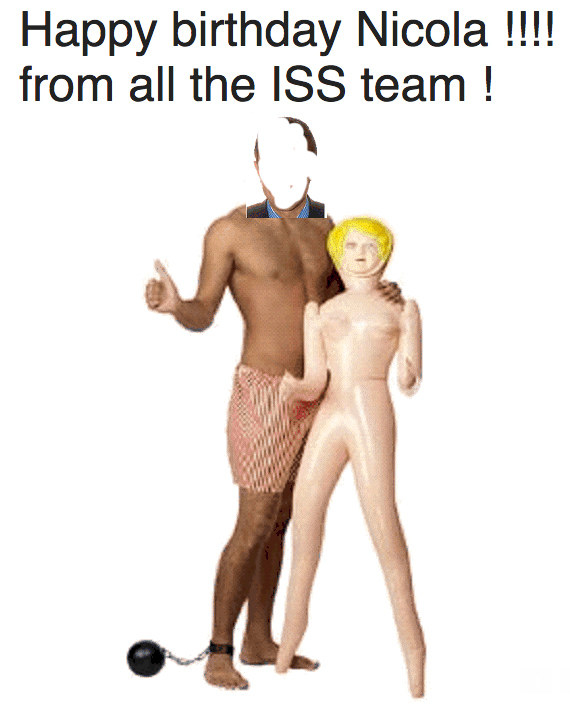 In 2010, another colleague sent an email to Rombi to wish him "happy birthday on behalf of the whole team."
The message included an image with Rombi's face photoshopped onto the face of a man wearing only shorts, standing with a metal ball chained to his leg while holding an inflatable doll. The entire department of 15 employees were CC'ed on the email.
Other emails seen by the rights group show that employees in Rombi's department knew he was gay and used it to mock him.
"In these emails, they do not explicitly accuse him of being gay, but there are references. This contributes to a sexist and homophobic climate," said Emmanuelle Boussard-Verrecchia, Rombi's lawyer, in an interview with BuzzFeed News.

Elisabeth Assogba, the staff representative at BNP, told the rights group that several employees had talked to her "about comments that denigrate homosexuals, [and about] inappropriate and homophobic comments."
"Being gay in BNP Paribas could and still can be very penalizing."
According to the report signed by Jacques Toubon, the head of the Defender of Rights, BNP said these accusations are "not supported by factual evidence presuming the existence of an employer's failure." For the bank, it was simply "jokes that Mr. Rombi participated to as well." BNP has not been able to prove any of this.

"Yet it is clear that the above emails, supported by several witnesses, are specific factual circumstances ... that lead to assume the existence of a discriminatory harassment," according to Toubon's report.
One of Rombi's colleagues, a manager in another department of BNP, testified to the Defender of Rights:

He [Nicola Rombi] came to talk [to me] early 2011 because he was very upset about what was going on around him in his team. At that time, he told me that one of the analysts ... had gone to see him in order to inform him that William F. [a colleague] had questioned him and wanted confirmation of his homosexuality.
BNP Paribas told BuzzFeed News it would not comment on the matter because the Court of Appeal hasn't ruled yet. Instead, the company pointed to the several awards it has won for its commitment to the LGBT community.

BNP also said it ardently fights against discrimination in the workplace. Last October, the bank signed the l'Autre Cercle LGBT Commitment Charter — which aims to fight against homophobia and discrimination based on gender identity.

"BNP hires striptease services during farewell parties."
In its report, the Defender of Rights says that in addition to the emails and comments made against Rombi, other parts of the work culture reinforced sexism and promoted a hostile work environment for gay employees at BNP.
Rombi said that BNP Paribas "reimbursed its employees when they visited a strip club in Champs-Élysées" and that the company hired striptease services during farewell parties. A copy of a request for reimbursement by one of Rombi's colleagues showed he had spent €240 (about $265) at "Sport Bar," the name of a popular "Hustler club." According to Rombi's lawyer who quoted him, "It's a common practice" at BNP.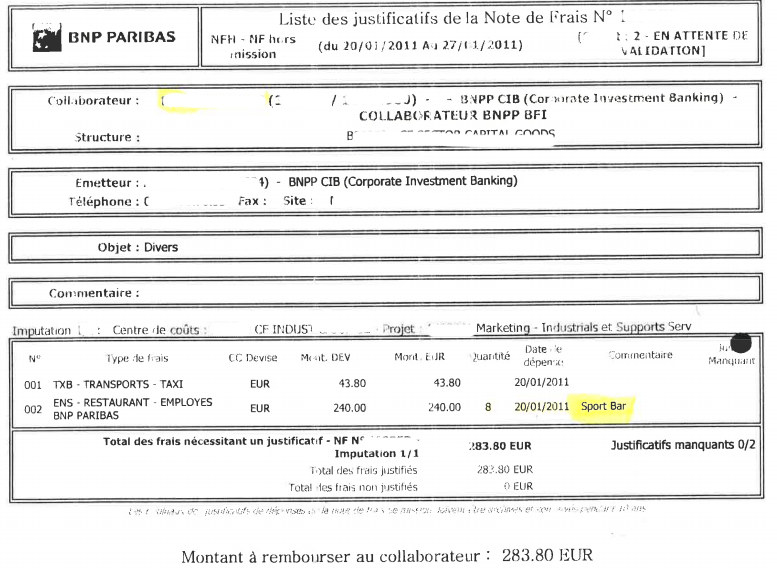 BNP declined to comment on questions related to sexism, including whether the company reimbursed its employees for their expenses at strip clubs.
Rombi, who is now waiting to hear the decision from the Court of Appeal, said he was very moved by the report presented by the Defender of Rights. "I've been in a lawsuit with BNP for four years and they keep denying," he said. "It was getting to the point of me doubting the reality of what I had lived through."