Marine Le Pen, the far-right politician who recently lost to Emmanuel Macron in the second round of the French presidential election, declared it her mission to "de-demonize" France's National Front, a party long known for its racism and anti-Semitism.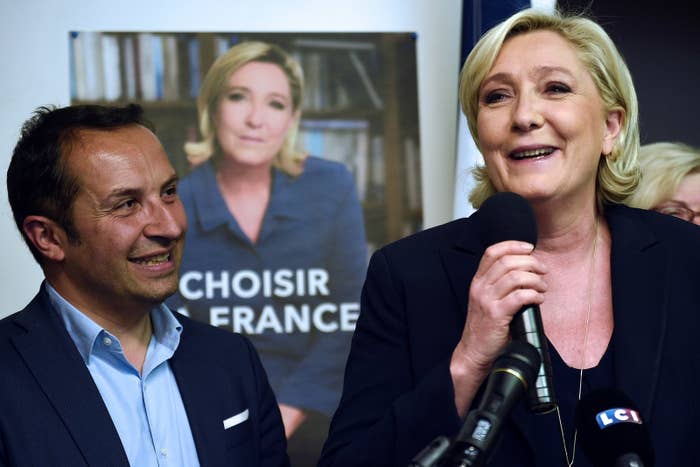 In January 2016, Le Pen appointed a National Front official to root out legislative election candidates whose outrageous remarks would tarnish the party's image. The official, Jean-Lin Lacapelle, told Le Figaro he would review National Front candidates across France and dismiss any who were out of line.
French voters go to the polls this Sunday for legislative elections to select the National Assembly.
A BuzzFeed News investigation of the social media activity of 573 National Front candidates found that the party's process of policing its own members has failed.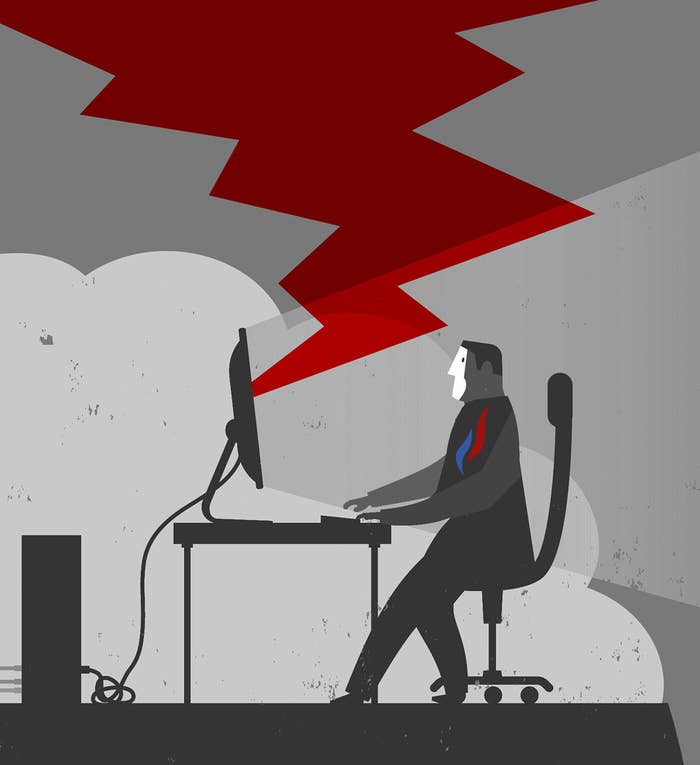 BuzzFeed News reviewed what each candidate posted online, what they commented on, and the posts they liked on Facebook and Twitter. All the information collected here is from their public social media accounts and statements they gave to the local press.

Nearly 100 of the 573 candidates made statements that are particularly incendiary and directed against LGBT people, Jews, Muslims, immigrants and people of color. Some of their comments are considered hate speech under French law. The selection below presents a window into the "de-demonized" National Front of 2017. (You can read the full investigation in French here.)
Nicolas Bay, the legislative elections director for the National Front, told France Info Tuesday that BuzzFeed News' article is "totally false" and that "the candidates are telling the truth about immigration, about Islamism, about insecurity, but they do not make racist statements at all." David Rachline, a National Front official in Fréjus, told France Inter that "if there were unacceptable statements made ... that will probably exclude them from our political movement."

National Front treasurer Wallerand de Saint Just told France Bleu, "Of course we will punish them, of course." When the interviewer asked if that would happen before the first round, he replied, "Yes, not before the first round of the elections."
During the 2012 legislative elections, Stéphane Poncet, a candidate in the Rhône, posted racist cartoons he drew on the blog of a city National Front group.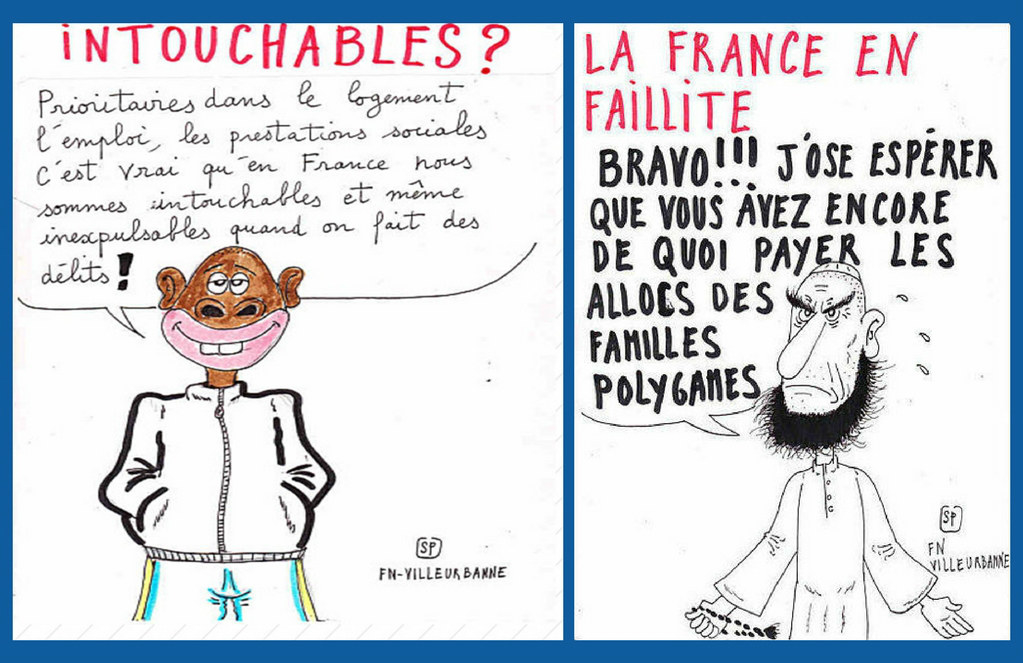 One of his drawings depicts a black person with exaggerated pink lips saying that he takes advantage of "all social benefits" and commits "crimes" but will never be expelled from France.

Marine Le Pen said Poncet had "just finished his political career" when the cartoons came to light back in 2012, but the National Front didn't boot him as a candidate then, and he's running again in 2017. Poncet did not respond to a message BuzzFeed News sent him via the blog, which is still active.
Christelle de l'Épinois, a candidate in Aude, liked a meme on Facebook that depicts German chancellor Angela Merkel breastfeeding two children of color.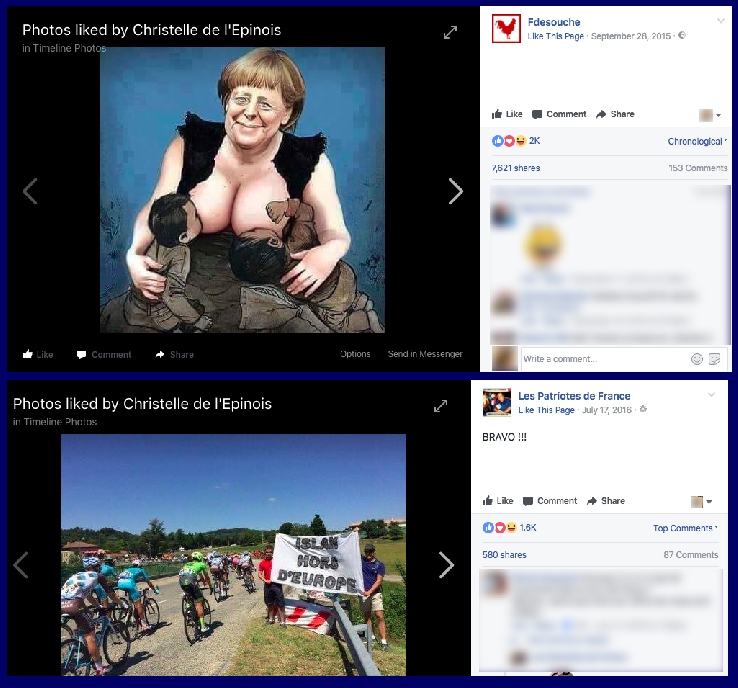 Another photo she liked shows several people rolling out a roadside banner that says "Islam out of Europe."

Grégory Stich, a candidate in Haut-Rhin, tweeted an image in 2014 suggesting the existence of a "Jewish lobby" in France.
The photo shows former French president François Hollande and former prime minister Manuel Valls wearing skull caps. Stich's tweet has since been deleted.
"The theory of gender does not exist, the Jewish lobby does not exist, the immigration invasion does not exist."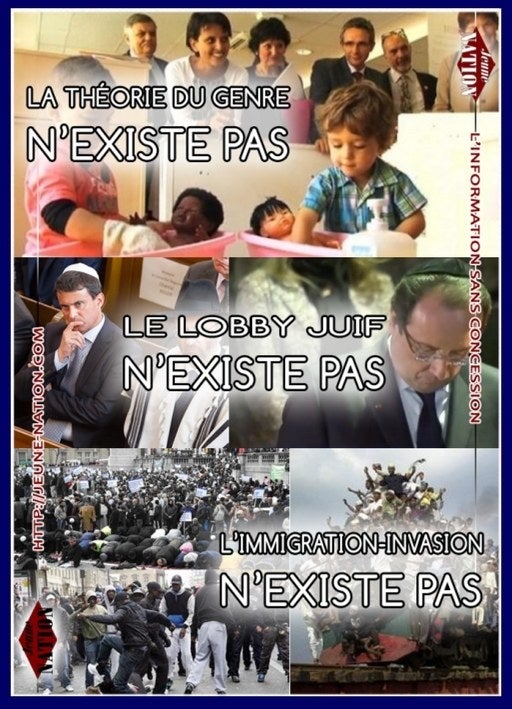 In a report published in La République du Centre, Véronique Péan, a candidate in Indre-et-Loire, compared the migrants in Calais to cancer cells that must be removed from France.
Péan told BuzzFeed News the quote was "accurate but truncated, generally used to distort the reported statements."
She also liked tweets that said "when you live with Muslims, the hardest thing is to survive" and "we do not want a return to the law of 1905, but to that of 732."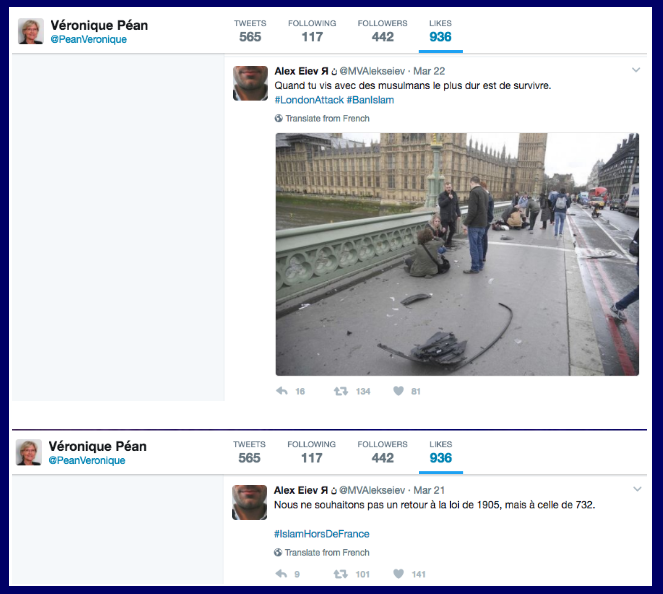 "I liked these two tweets because they are impertinent and cruel," she told BuzzFeed News by e-mail. "It's black humor."
This post was translated from French.