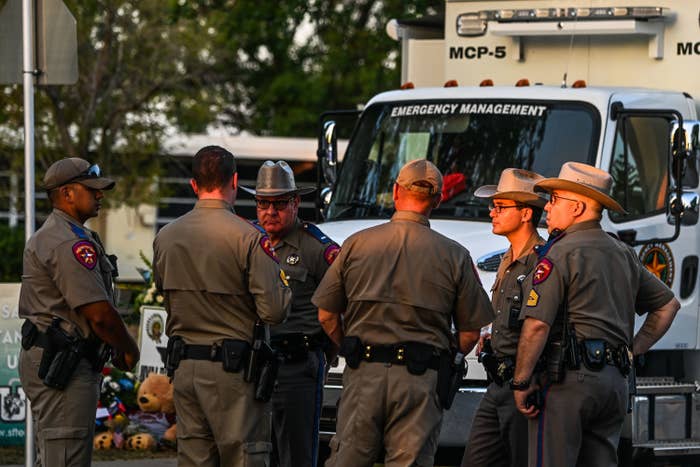 Nearly 400 law enforcement officers were on scene as children lay dead or dying in their classrooms during the massacre in Uvalde on May 24, according to an investigation released Sunday by Texas legislators, who blasted what they described as "systemic failures and egregious poor decision making" from authorities.
The report from a Texas House investigative committee into the botched response detailed a slew of issues from faulty school door locks to the lack of a law enforcement command center, resulting in a chaotic scene where officers mistakenly believed the shooter was barricaded alone. For 77 minutes, officers stood inside the school's hallway instead of engaging the shooter.
"At Robb Elementary, law enforcement responders failed to adhere to their active shooter training, and they failed to prioritize saving the lives of innocent victims over their own safety," the report's authors wrote.
Nineteen children and two teachers were killed in the shooting.
"Several officers in the hallway or in that building knew or should have known there was dying in that classroom," state Rep. Dustin Burrows, the chair of the committee, said at a press conference, "and they should have done more, acted with urgency — try the door handles, try to go in through the windows, try to distract him, try to do something to address the situation."
The report detailed a "void of leadership" among police and was especially critical of Uvalde schools police Chief Pete Arredondo, who failed to assume the role of incident commander as he was supposed to under the school's active shooter plan that he himself had coauthored. Instead, he remained in the hallway, where he was not able to communicate effectively with others. No one was obviously in charge or directing the massive law enforcement response, the report said.
"There was an overall lackadaisical approach by law enforcement at the scene," the report said. "For many, that was because they were given and relied upon inaccurate information. For others, they had enough information to know better."
Following the report's release, Uvalde Mayor Don McLaughlin announced he had placed on administrative leave Lt. Mariano Pargas, who was the city police department's acting chief on the day of the shooting. Arrendondo was previously put on administrative leave from his role as the school district's police chief.
The report's authors concluded that the shooter fired over 100 shots within a 2½-minute period upon entering two classrooms, likely killing most of his victims instantly.
Yet, they determined it was "plausible" some people may have been saved had they not needed to wait more than an hour for medical treatment. Some of the victims died on the way to the hospital.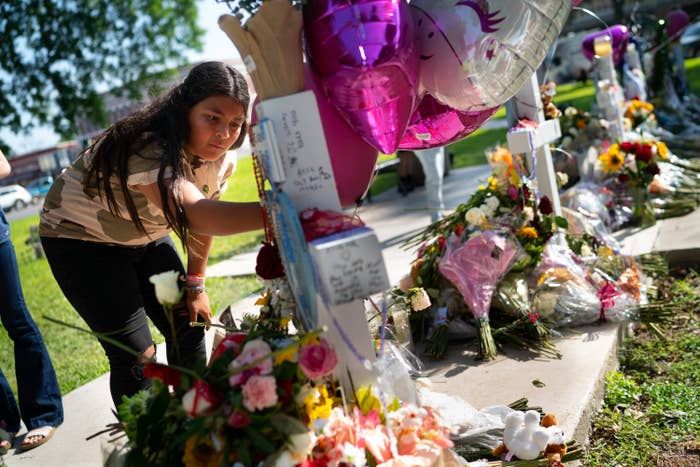 The vast majority of the 376 law enforcement officers on scene were federal or state agents, including 149 US Border Patrol agents and 91 from the Texas Department of Public Safety. But no officers from these larger agencies stepped in to assume command when local police failed to take ownership.
Had an incident commander been in place, the report found, it's possible they might have found ways to fix communication or been able to locate a master key to get inside the classroom more quickly.
The House committee believed one of the classrooms may not have been locked as its mechanism had been reported as faulty, but no officers actually checked to see if the door could be opened.
In addition to the faulty lock, investigators found a "culture of noncompliance by school personnel who propped doors open or deliberately circumvented locks," despite a policy requiring external and interior doors be locked. Had more doors been locked, the shooter may have been impeded for a short period, allowing more people to escape or hide.
Despite the detailed and highly critical nature of the report, the lawmakers said they did not believe authorities acted with bad intentions.
"Other than the attacker, the Committee did not find any 'villains' in the course of its investigation. There is no one to whom we can attribute malice or ill motives," they wrote. "Instead, we found systemic failures and egregious poor decision making."
In a statement released Monday, Gov. Greg Abbott described the committee's findings as "beyond disturbing," saying they raised "serious concerns" about law enforcement's response.
"There are critical changes needed as a result of the Texas House's findings," Abbott said. "With multiple investigations still ongoing, including those by the Texas Senate, FBI, and Texas Rangers, we will begin working with the legislature to develop and implement the necessary changes to improve public safety, school safety, and mental health assessment and treatment."
The report also provided extensive information regarding the "many warning signals" about the 18-year-old shooter, whom officials expressly declined to name due to a desire not to bring him notoriety.
They painted a picture of a disturbed young man with a troubled home life who had expressed suicidal thoughts and become enamored with gruesome videos. Many who knew him or spoke with him online would tease him by calling him a "school shooter."
The report's authors believed the attacker, who had previously been a Robb Elementary student himself, targeted a specific classroom because it was where he had attended fourth grade and been bullied.
It appears he had been planning the massacre for several months, teasing vague plans he had to get himself in the news. He spent several thousand dollars on guns and ammunition as soon as he turned 18 and could legally do so; family members, online acquaintances, and a gun dealer did not share any concerns with authorities if they had them, the report said.
"He is not known to have espoused any ideology or political views of any kind," investigators concluded. "Private individuals alone knew the many warning signals."