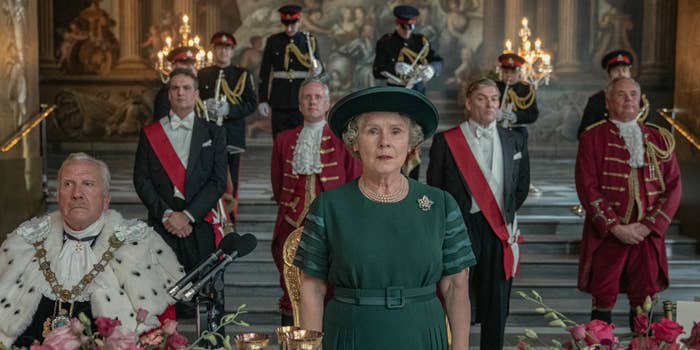 "It shouldn't come as a surprise she's falling apart. She's a creature of another age."
So begins the fifth season of The Crown, not with an indictment of the reigning monarch, but of her royal yacht: Britannia. In the season's first episode, Prince Philip (now played by Jonathan Pryce) tells his wife Queen Elizabeth II (Imelda Staunton replacing Olivia Colman) that it's become clear that the ship is aging and will require extensive repairs or — gasp — a replacement.
"[She's] effectively a World War II cruiser with soft furnishings," Philip says. "In many ways, she's obsolete."
Of course, like much of creator Peter Morgan's work, the metaphors here are not subtle. (This is a man who has twice used the hunting of stags to make a statement about Princess Diana — first in The Queen, the 2006 movie that established him as the UK's preeminent chronicler of the British monarchy, and then in last season's episode "The Balmoral Test.") With the fate of the royal yacht bookending this new season, the specter of replacement and succession now hangs more prominently over The Crown than ever before.
The show treats its subjects with a gentle touch that serves to humanize them, not demonize them.
As per the show's traditions, there is a new cast who are older and plumper with more wrinkles (as an opening scene depicting a physical between the Queen and her doctor makes patently clear). But the characters, too, seem more aware than ever of time and what remains of it. In particular, a restless and impatient Prince Charles (Dominic West) yearns for more influence, believing only his fresh ideas can save the "system" — as the monarchy is called repeatedly — from being decommissioned like Britannia.
The timing of this new season is impeccable. It's been two years since viewers last got a taste of The Crown and much has obviously changed since then. There have been two prime ministers at 10 Downing Street and, of course, a new head monarch in King Charles III, following the death of Queen Elizabeth II. Her passing has led some critics of the show to accuse Netflix of tastelessness, with Dame Judi Dench leading the charge by calling The Crown's depictions of the royal family "inaccurate and hurtful."
"The closer the drama comes to our present times, the more freely art seems willing to blur the lines between historical accuracy and crude sensationalism," Dench wrote in a piece last month for the Times newspaper.
Putting aside the wild claim that those in positions of power — let alone inherited power — should be free from artistic exploration or criticism, monarchists need not be worried by this new season of The Crown. The show treats its subjects with a gentle touch that serves to humanize them, not demonize them, as they navigate what was a particularly turbulent era for the royals: the early to mid-1990s. All of them are trapped in the "system," even those maintaining it.
Indeed, Morgan seems to preempt some criticisms by having the Queen herself crack the door open in a scene in which she gives her reasons for making her 1992 "annus horribilis" speech, a famous address in which she was unusually frank in lamenting the ending of three of her children's marriages and a devastating fire at Windsor Castle. "It has been by some margin the worst year of my reign, quite possibly my life," the Queen tells her mother before she gives the address. "I'm happy for people to know…that I'm made of flesh and blood and that perhaps we have fallen short in our duties as a family and owe them an apology."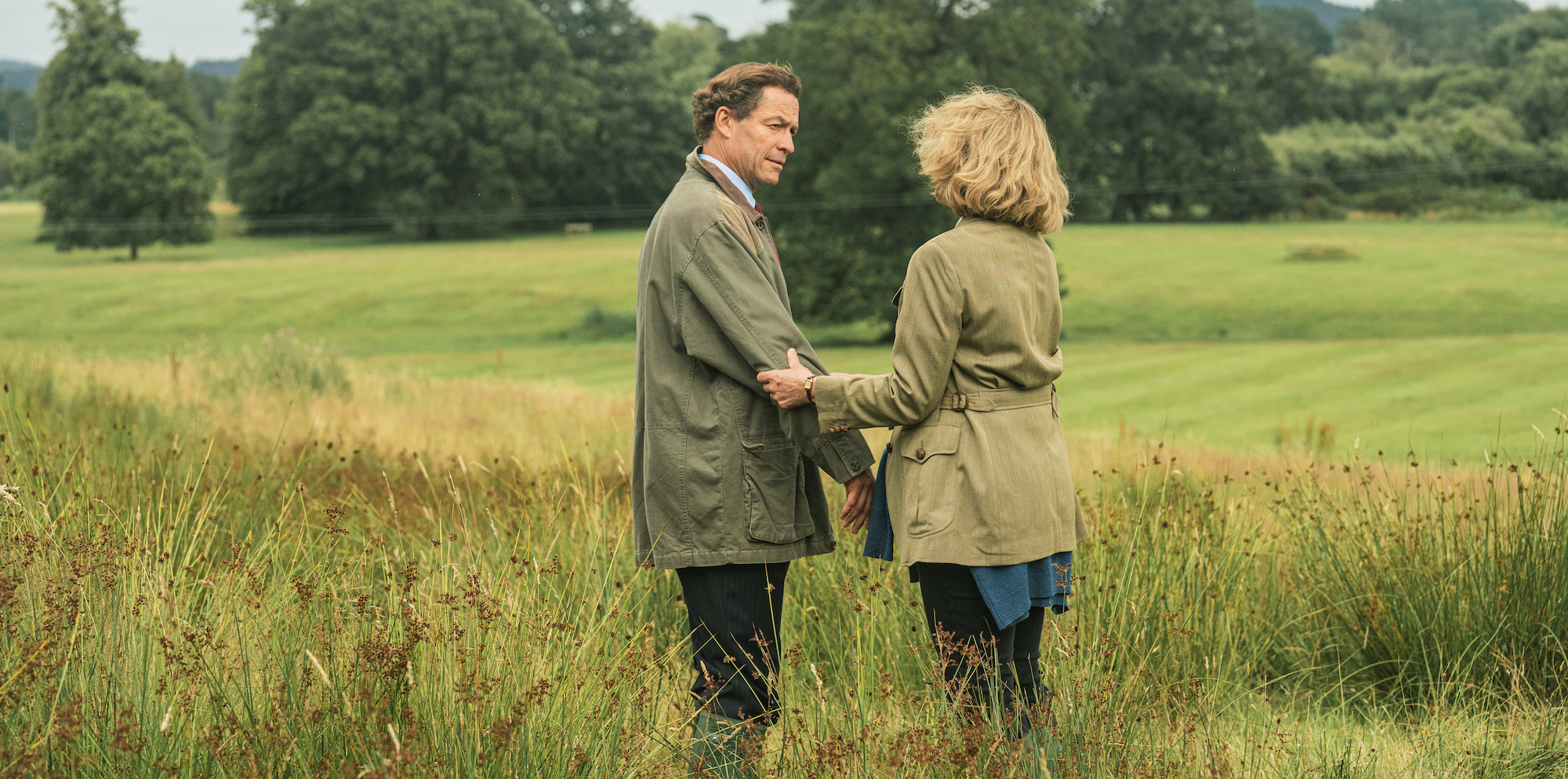 Not even Charles comes across that badly in the show, despite the many episodes chronicling the separation and divorce from Princess Diana (Elizabeth Debicki). West is obviously much more handsome than the real Charles, but he captures him well. It's clear his Charles has a well-meaning (if not somewhat deluded) sense that he represents modernity and change, but he also occasionally backs it up with, for example, comments about updating laws to ensure firstborn daughters can inherit the British throne (a change not made until 2011). We also get an oddly moving sequence about the Prince's Trust charity, showing him speaking comfortably with disadvantaged young people of various races and even — god help us — breakdancing.
The scene in which his private telephone call with Camilla Parker Bowles (Olivia Williams) — notorious for him saying he imagined himself as her tampon — is surreptitiously recorded and then leaked to the press isn't played for laughs, but rather horror. The conversation, excruciatingly intimate but also sweetly funny, is intercut with images of others reading about it later in the papers, leaving us viewers feeling disgusted not at their words, but rather at the gross invasion of their privacy. I found myself feeling genuine sympathy for Charles and Camilla for perhaps the first time in my life.
It's Debicki who steals the show with an astonishing performance as Diana that rises above impersonation (although she does a perfect impersonation) and captures both her grace and darkness.
Still, it's Debicki who steals the show with an astonishing performance as Diana that rises above impersonation (although she does a perfect impersonation) and captures both her grace and darkness. Debicki's Princess of Wales is notably different from Emma Corrin's performance in Season 4: She's older now, more confident and wily, and more used to playing the media game. Yet it's clear she's just as lonely, often seen either getting in and out of cars solo to cheers from an adoring public or simply alone in her Kensington Palace apartment. But we also see her warmth and star quality, whether in visits she makes to hospital bedsides or in a deeply charming first meeting with wealthy business mogul Mohamed Al-Fayed (Salim Daw) and his son, and Diana's future lover, Dodi (Khalid Abdalla).
As in Season 4, the Diana and Charles marriage looms most heavily over this new season, even if West and Debicki only have a handful of actual scenes together. With more and more characters added each year to the RCU (aka Royal Cinematic Universe), long gone are the days when the episodes alternated between Elizabeth and Princess Margaret (now played by Lesley Manville, who has, rather sadly, not much to do save for a climactic confrontation with her sister). Viewers even now start to follow a young Prince William (Senan West) as he begins boarding school.
Even this season's prime minister, John Major (Jonny Lee Miller, in another case of an absurdly hot man cast in a role that is going to confuse me sexually), doesn't get to confront major political or diplomatic crises as his predecessors on the show did. Instead, Major mostly functions as a mediator and therapist of sorts for the Queen and her children. To be fair, he seems to realize this in his very first episode. "It's a situation that cannot help but affect the stability of the country," Major tells his wife as he starts to fully grasp the mess the royals are in. "And what makes it worse is it feels that it's all about to erupt on my watch."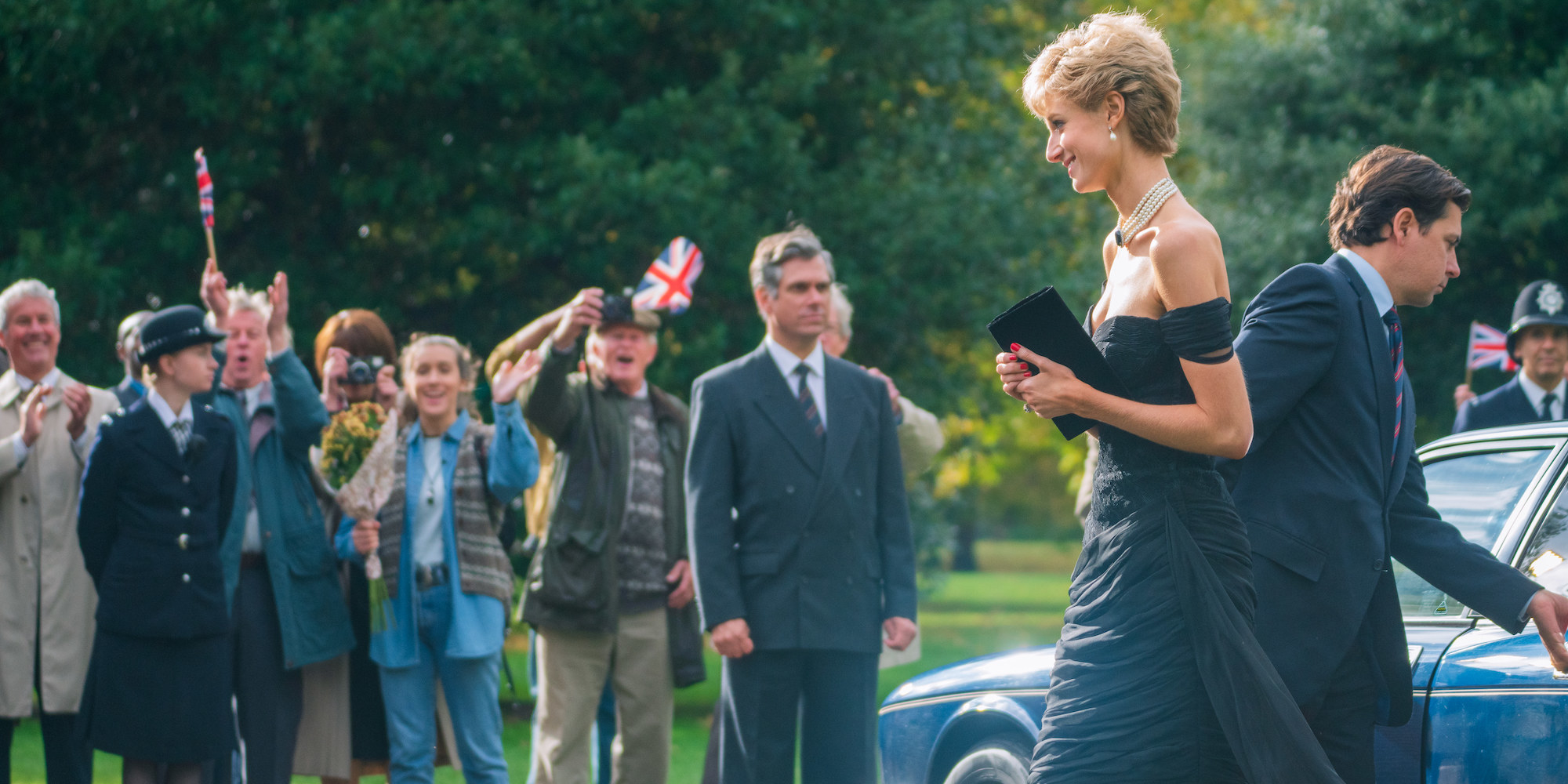 Still, the show does find interesting new things to say about the marriage between the Queen and Prince Philip as it enters its autumn years. Staunton is a veteran actor who brings great dignity to the role of monarch, but also a bubbling anger and silent heartbreak. She has one spectacular scene, in particular, with Diana in which she challenges every preconception we had about their relationship. We also get glimpses of what those close to the real Queen long described as a wicked sense of humor, including an impeccably timed joke she makes about Sarah Ferguson, the Duchess of York, and a species of fish. It's a tremendous performance. Admittedly, though, it took me a few minutes not to hear Staunton as her character Dolores Umbridge from the Harry Potter films, but the show's impeccable costuming and wigs quickly help to do away with that (ditto for Williams as Camilla, who sports her iconic shaggy bob).
If Dench had one thing right in her take on The Crown, it's that the show has changed as it rapidly approached the present day. For Season 4, I observed how surreal it felt watching the show catch up to the modern era, but now this once-period drama and its out-of-date characters have practically collided with it. Name another show in which we will get mentions of both former BBC chair Baron Marmaduke Hussey and Oprah Winfrey in the same episode! Hell, someone does cocaine this season! You even hear a song by Shaggy! It's dizzying!
Name another show in which we will get mentions of both former BBC chair Baron Marmaduke Hussey and Oprah Winfrey in the same episode!
As (the real) Prince Harry's decision to release a memoir makes clear, the media environment in which the royals have found themselves has fundamentally changed, leading to something of an existential crisis. At the center of this season are two extraordinary television interviews given separately by Charles and Diana that plunge the royals into chaos, and more than once in these new episodes, the British public find themselves asking out loud what the monarchy is for, including in a TV special in the series finale in which viewers (and a cheeky Diana) call in to a national telephone referendum to have their say.
"It's so sad to see her struggle to understand the medium with which she's inextricably linked," the Queen Mother (Marcia Warren) says in one episode as she watches the monarch struggle — in another classic Morgan metaphor — with a new television inside Windsor Castle. The BBC first launched its official television station in 1936, the Queen Mother points out, which was the same year King George VI came to the throne after his brother abdicated. The Queen's coronation was also the first to be broadcast live on TV and her televised Christmas Day speeches were among the few times most people actually heard her voice.
Like the Buckingham Palace intruder from last season, television has long since crept over the palace walls and caused something of a reckoning. Everyone has had to try to adapt.
"It does seem to have had better days," the Queen had said earlier in the episode as she fiddled with an outdated set. "Even the televisions are metaphors in this place."●