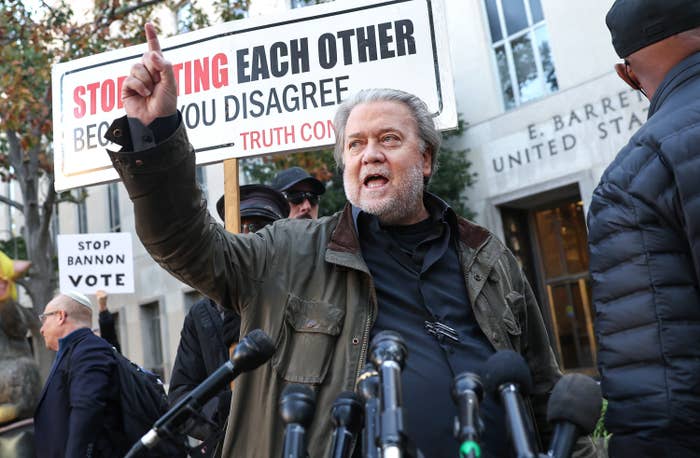 Steve Bannon has been sentenced to prison — and this time, his former boss isn't able to save him.
The far-right firebrand who became chief strategist to former president Donald Trump was sentenced to four months in prison by a federal judge in Washington, DC, on Friday for refusing to appear before the congressional committee investigating the Jan. 6 assault on the Capitol.
"He has expressed no remorse for his actions," US District Judge Carl Nichols said prior to handing down his sentence, which also included a $6,500 fine.
In determining Bannon's punishment, Nichols said it was important for him to send a message to the public of general deterrence. "Respect for Congress is, of course, an important piece of our constitutional system," he said.
But Bannon will not immediately be put behind bars. The judge released him on Friday, ruling he shouldn't have to report to prison until any appeals are resolved.
The sentencing comes exactly one year to the day since the House of Representatives voted to hold Bannon, 68, in criminal contempt for defying a subpoena to provide documents and testimony to the special committee. After he was then charged by federal prosecutors, a jury subsequently found Bannon guilty in July of two counts of contempt of Congress.
Bannon had arrived at the federal courthouse on Friday morning to shouts of "Fascist!" and "Traitor!" Protesters had also inflated a large rat designed to resemble Trump.
"Remember: this illegitimate regime — their judgment day is on the 8th of November," Bannon told reporters before he entered the building, referring to the upcoming midterm elections.
Federal prosecutors had asked Nichols to imprison Bannon for six months and fine him $200,000, arguing that he had "pursued a bad-faith strategy of defense and contempt" from the moment he received the subpoena in September 2021.
They also noted that in courthouse news conferences and on his War Room podcast, Bannon had publicly decried the case against him and mocked the criminal justice system.
"[T]he Defendant has exploited his notoriety … to display to the public the source of his bad-faith refusal to comply with the Committee's subpoena: a total disregard for government processes and the law," prosecutors wrote in a sentencing memorandum. "Through his public platforms, the Defendant has used hyperbolic and sometimes violent rhetoric to disparage the Committee's investigation, personally attack the Committee's members, and ridicule the criminal justice system.
"The Defendant's statements prove that his contempt was not aimed at protecting executive privilege or the Constitution, rather it was aimed at undermining the Committee's efforts to investigate an historic attack on government," they wrote.
Bannon had claimed he chose not to cooperate because he had been advised by lawyers that he was shielded because Trump was claiming executive privilege, a legal doctrine that protects some White House communications. (Bannon was no longer a federal employee by the time of the attack on the Capitol, having been forced out in 2017, but had been advising Trump in the aftermath of his 2020 election loss. The night before the Capitol riot, Bannon had told his podcast listeners, "All hell is going to break loose tomorrow.")
His attorneys had asked the judge to sentence Bannon only to probation and to delay any sentence until he could exhaust his legal appeals.
In their sentencing memorandum, defense attorneys noted that the Department of Justice had not indicted some other Trump allies who had refused to cooperate with the investigative committee.
"Should a person be jailed where the prosecutor declined to prosecute others who were similarly situated – with the only difference being that this person uses their voice to express strongly held political views?" they wrote.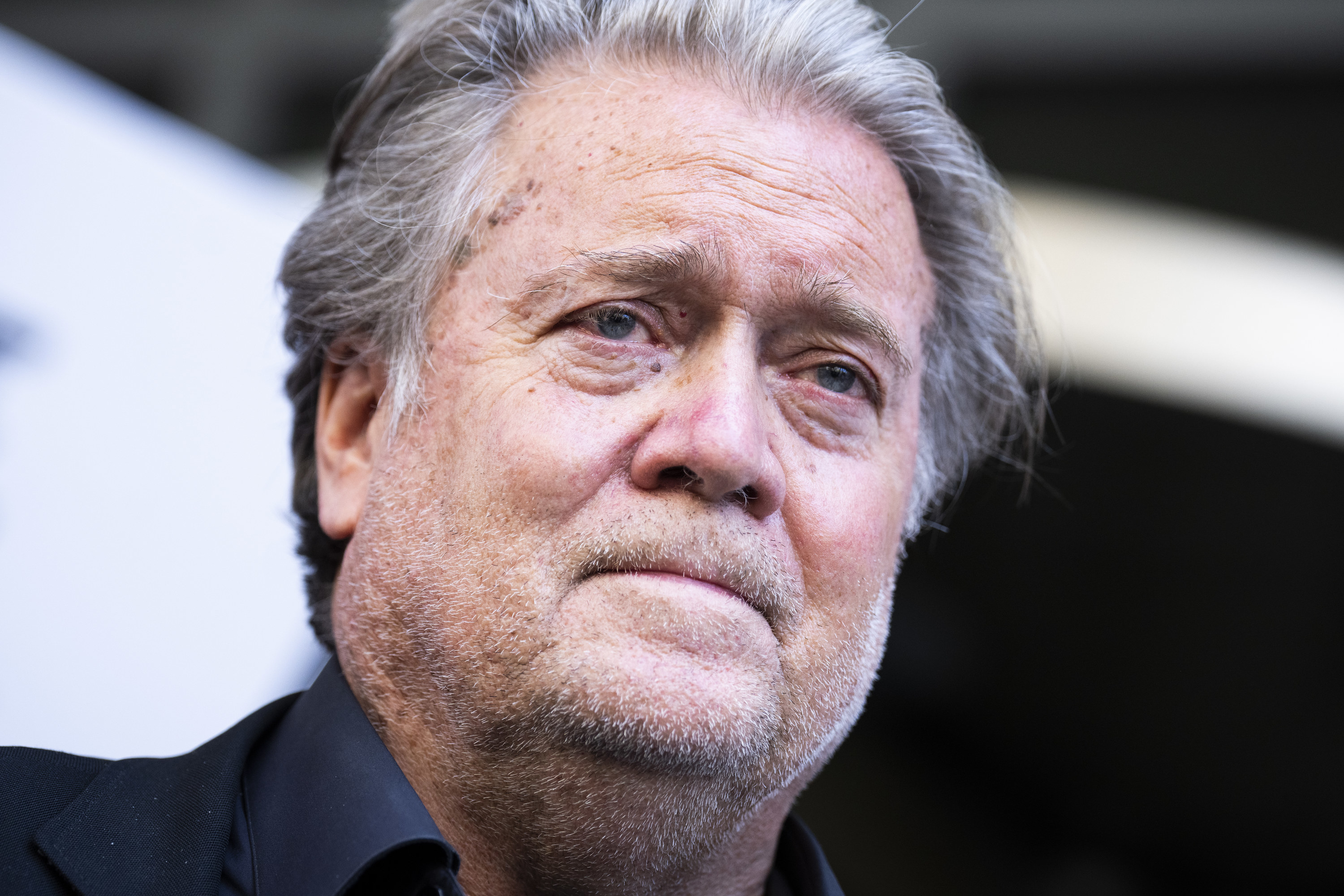 Prosecutions, let alone convictions and sentencing, for charges of contempt of Congress are exceptionally rare; a 2017 Congressional Research Service report noted the "past practice" of the DOJ was to decline to prosecute officials who were acting at the direction of a president who was asserting executive privilege.
Trump, however, is no longer president, and courts have rejected his attempts to conceal his communications.
Additionally, because Trump is out of office, Bannon is unlikely to get any pardon from President Joe Biden — as he did from his former boss on the last day of Trump's presidency.
Bannon had been charged, but not yet convicted, with defrauding donors to a "We Build the Wall" group he was involved with that promised to crowdfund Trump's promised border wall when the former president pardoned him in one of his final acts in the White House.
But last month, Bannon was indicted on money laundering, fraud, and conspiracy charges in New York in connection with the same border wall scheme. He has pleaded not guilty in that case.