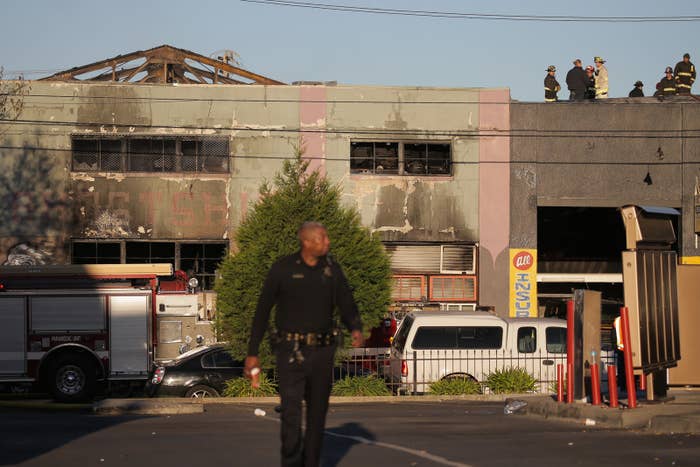 At least 36 people are now known to have died in the Friday-night fire at a warehouse party in Oakland, California, officials said Monday, but the death toll is expected to rise as crews continue their recovery work.
Investigators had tentatively identified 33 of the victims as of Monday afternoon and were working to notify families, Alameda County Sheriff Gregory Ahern said at a news conference.
The list of potential victims included about 50 people as of Monday afternoon, however, not all of them were feared dead.
"At this time we're not anticipating any more huge numbers," Ahern added with respect to the death toll.
A spokesman for his department, Sgt. Ray Kelly, later told reporters that some of the victims were able to text relatives, including "I'm going to die," and "I love you," before dying.
Some bodies were found in positions that suggested they were trying to protect each other, he added.
The cause of fire remained under investigation Monday. Alameda County District Attorney Nancy O'Malley said that it was still too early to say if criminal charges would be filed, but described the site of the blaze as a "potential crime scene."
She added that if charges are eventually filed, they could range from "murder, all the way to involuntary manslaughter."
"In our community we have not experienced a tragedy of this magnitude," O'Malley said.
Dozens of people were initially listed as missing after the blaze in the artists' warehouse in the city's Fruitvale district, which was hosting a party featuring the electronic act Golden Donna.
Several people fled the area after the fire started, and it was unclear how many people attended the party. At least a dozen people who were initially missing were located.
Fire Chief Teresa Deloche-Reed said Saturday that the majority of the bodies were found up on the second floor, adding that the fire must have been fast-moving.
Most of the victims are believed to be young adults in their early twenties and thirties, Kelly told reporters over the weekend. Three of the victims hailed from Guatemala, Finland, and Korea.
Investigators have also identified minors who were 17 years old and possibly younger.
One of the victims was also the son of an Alameda County Sheriff's deputy, Kelly said.
"This tragedy hit very close to home for our agency," Kelly said.
Oakland Mayor Libby Schaaf on Monday described the fire as a "potential atrocity."
Kelly said the building was "very tricky to work," and that firefighters and coroner officials trying to recover the victims inside were forced to get out of the building for fear the walls could buckle.
"This is not an easy task by any means. At this point, we're in a recovery and identification process," he added.
The two floors were said to have been connected by a makeshift staircase made of pallets, according to Deloche-Reed, making escape impossible.
"Because there was a lot of construction where people just, you know, put up partitions, there wasn't a real clear entry or exit path," she said.
The roof of the building had also collapsed, which slowed firefighters' efforts to enter, she said. Firefighters arrived at the scene three minutes after they were called.
The structure's instability also forced officials out of the building until the walls could be reinforced.
"This is going to be a slow process for us," Kelly said.
Officials appealed for family members and friends of the missing and dead to preserve items containing their DNA, such as toothbrushes and hair combs, to assist in the identification process.
Joel Shanahan, the musician who is known as Golden Donna, told Isthmus that he survived the fire.
"My heart is just broken," Shanahan told the publication. He watched from across the street as the flames consumed the warehouse.
City Councilman Noel Gallo, who represents the Fruitvale district, told the San Francisco Chronicle that the warehouse "has been an issue for a number of years."
"People have been living inside, and the neighbors have complained about it," said Gallo, who lives a block away from the warehouse. "Some of these young people that were in there were underage. They frequently had parties there."
City records reviewed by the East Bay Express found that "habitability" complaints had been made against the building's owner, Chor N. Ng, as recently as Nov. 14 about an "illegal interior building structure."
A separate complaint had been filed on Nov. 13 due to what the filer called "a ton of garbage piling up on the property."
Ng received a city citation in October 2014 because housing and other structures had been built inside the property without permits.
City officials said the building was permitted as a warehouse, but it was also being used as a work space for an artists collective where they did sculpting, wood work, and kinetic sculptures.
It was not immediately clear if the work would have been permitted by the city, but officials said a party in the building would have required a permit, which was not obtained.
"It was not legally permitted as either a living space, a residence, or event space," Schaaf said.
To help the many victims affected by the fire, the Oakland A's also launched a fundraising campaign to raise, and match, up to $20,000.
By Saturday afternoon, the team said it had reached its goal and would now match up to $30,000 in donations. They were also joined by the Oakland Raiders.
The Golden State Warriors also pledged to will donate $50,000 to support families affected by the fire, while the Raiders said they would donate $30,000.
Deloche-Reed would not speculate on a possible cause for the fire, adding that a task force from Alameda County would assist the fire department in that investigation.
"This is a true loss for the city, for the firefighters who responded, and the people who lost family and friends. It's just tragic, a real tragedy," Deloche-Reed told the East Bay Times.
The founder of the artist colony, Derick Ion Almena, told local station KNTV that he did not know about the party in advance, and defended the living conditions inside.
Police had responded to the colony in recent years for reports of break-ins and other concerns, yet never complained or issued a warning.
"They'd come in and walk through our space, and they'd always say, 'Wow, what an amazing space,'" Almena said.
Schaaf added that the current focus was "on the victims and their families and ensuring that we have a full accounting for everyone who was impacted by this tragedy."
California Gov. Jerry Brown and Senator-elect Kamala Harris also offered their condolences on Twitter.
On the event's Facebook page, people who attended the party posted frantic appeals for information on missing friends and loved ones.
"The building is on fire and it really looks bad. Please folks, check in and let us know you're ok," one person wrote.
Facebook also enabled safety check-ins for the fire.