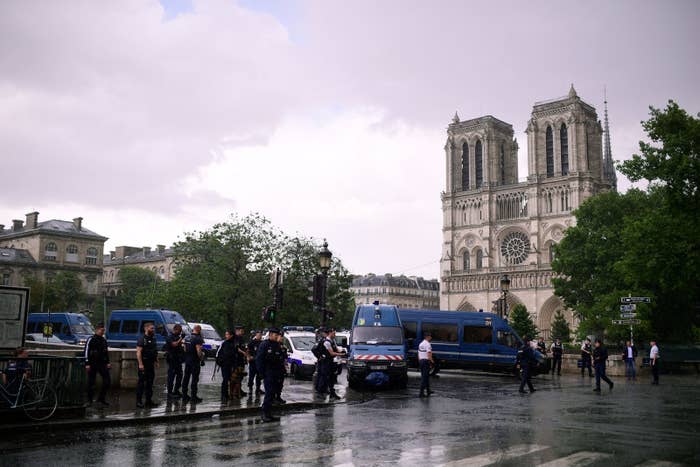 French police evacuated the area outside Notre Dame cathedral in central Paris on Tuesday after an officer was attacked by a man armed with a hammer.
The attacker lunged at an officer patrolling with two colleagues in the square outside the famed church, Interior Minister Gérard Collomb said.
One of the police officers then quickly "neutralized" the suspect by shooting him.
The injured police officer was taken to a hospital, Collomb said, adding that the officer's life was not in danger.
Collomb told reporters on scene that the attacker presented himself as an Algerian student who shouted, "This is for Syria!" as he attacked the officer. Collomb said the man was carrying a map and kitchen knives.
Members of the public were urged to avoid the square in front of the church, Paris police wrote on Twitter, noting an operation was underway.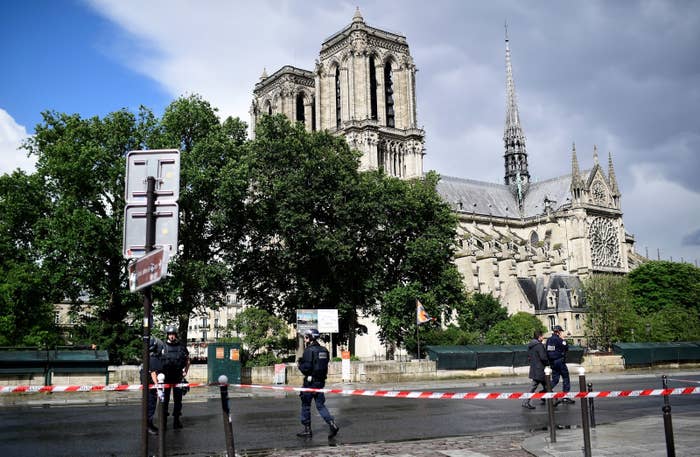 Anti-terror authorities have since opened an investigation into the incident.
A heavy security perimeter was established around the cathedral, a popular tourist spot that lies on the Ile de la Cité in the Seine.
People in the church at the time of the incident on Tuesday reported being locked inside and instructed to raise their hands in the air.
Police said those inside would be cleared out from the church after being screened.
Paris Mayor Anne Hidalgo said on Twitter that the 900 people inside Notre Dame reacted with "the greatest calm."
"I applaud the courage, the quick thinking, and the professionalism of the police force, which helped prevent a tragedy," she wrote.
"This incident underscores the threat that weighs on the cities of the world, but also demonstrates the effectiveness of the police system in Paris," she said.
After police declared the incident under control, there was a calm atmosphere outside the cathedral, where a number of journalists gathered.
France has been in a state of emergency since terror attacks in Paris in 2015 left 130 people dead. Heavily armed officers have since been stationed outside major locations.
In February, a French soldier opened fire on a machete-wielding man who threatened security personnel outside Paris's Louvre museum. The alleged attacker, a 29-year-old Egyptian man, was shot and wounded.
This is a developing news story. Check back for updates or follow BuzzFeed News on Twitter.