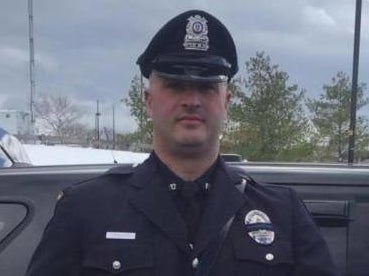 A police officer in Auburn, Massachusetts, died after being shot during a traffic stop early Sunday morning, officials said.
Officer Ronald Tarentino, 42, was shot when he pulled over a vehicle in Auburn, about 50 miles west of Boston, at around 12:30 a.m., WCVB reported.
He was shot multiple times in the chest, the station reported.
Tarentino was taken to hospital, but died from his injuries.
First responders lined the streets of Boston to honor the fallen officer as his body was transported from UMass Medical Center in Worcester to a medical examiner's office in the state capital later on Sunday.
A manhunt ensued for the suspect, identified as 35-year-old Jorge Zambrano. Authorities surrounded an apartment Sunday afternoon about five miles from the original site of the traffic stop, negotiating with someone to come out, ABC News reported.
The standoff led to gunfire between Zambrano and police around 6 p.m. Zambrano was killed after a "brief confrontation," the Worcester County District Attorney's Office said, and a state trooper was injured. He was expected to survive.
Auburn Police Chief Andrew Sluckis told reporters Tarentino's death was a "tragic loss," describing him as a "dedicated and brave public servant," ABC News reported.
He is survived by his wife and three children, authorities said. He had transferred to the Auburn department from the Leicester Police Department two years ago.
Hundreds of people gathered to remember the officer at a candlelight vigil Sunday night.