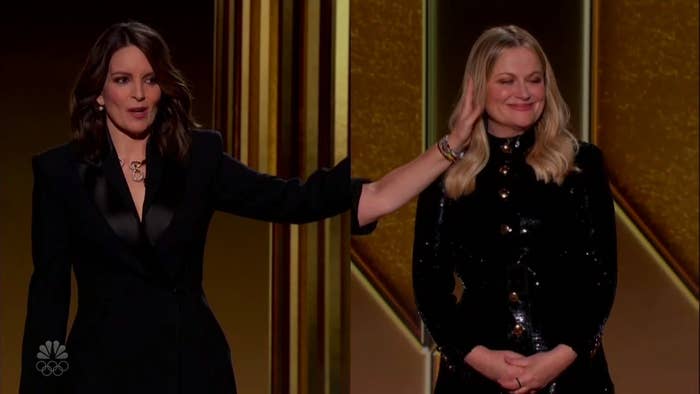 How do you host an awards show held during a pandemic for films that most people couldn't see in theaters and which completely overlooked nominating a widely acclaimed TV series led by a Black woman?
By absolutely burning the whole damn thing down.
Tina Fey and Amy Poehler — hosting jointly but from New York City and Beverly Hills, respectively — decided to roast the hell out of the Golden Globes on Sunday night, using their opening monologue to lean into the controversies that have dogged the Hollywood Foreign Press Association, the group of international journalists who hand out the awards and who have a reputation for being, well, star-fuckers.
"The Hollywood Foreign Press Association is made up of around 90 international, no-Black journalists who attend movie junkets each year in search for a better life," said Fey.
The HFPA has in recent days drawn the ire of celebrities for the fact that the group hasn't had a Black member in some 20 years. Stars and Hollywood moguls including Ava DuVernay, Shonda Rhimes, Jennifer Aniston, Sterling K. Brown, Kerry Washington, and Ellen Pompeo have shared messages on social media saying that "Time's Up" for the HFPA to do more in terms of diversity.
The Golden Globes also was scorned this year for ignoring Michaela Coel's critically acclaimed TV series I May Destroy You, while favoring less-well-received shows like Emily in Paris after 30 HFPA were flown to Paris by Netflix to visit the show's set, where they were put up in $1,400-a-night hotel rooms and treated "like kings and queens," according to the Los Angeles Times.
"Emily in Paris is nominated for Best TV Series Musical Or Comedy, and I, for one, cannot wait to find out which it is," joked Fey. "French Exit is what I did after watching the first episode of Emily in Paris."
This week, the HFPA pledged to immediately work to bring in more members who are Black or from underrepresented backgrounds. They also said that the issue would be addressed on Sunday's show — and it was.
"Everybody is understandably upset at the HFPA and their choices," Poehler said. "Look, a lot of flashy garbage got nominated, but that happens. That's, like, their thing. But a number of Black actors and Black-led projects were overlooked."
"Look, we all know award shows are stupid," Fey said.
"They're all a scam invented by Big Red Carpet," joked Poehler.
"The point is, even with stupid things, inclusivity is important and there are no Black members of the Hollywood Foreign Press," Fey said. "I realize, HFPA, maybe you guys didn't get the memo because your workplace is a back booth of a French McDonald's, but you gotta change that."
Fey was the subject of some debate in recent months for her work in the movie Soul, which featured Disney Pixar's first Black lead character, but drew criticism because he was quickly transported into the body of a cat.
"Soul is a beautiful Pixar animated movie where a middle-aged Black man's soul accidentally gets knocked out of his body and into a cat," said Fey in her opening monologue. "The HFPA really responded to this movie because they do have five cat members."
While a few stars served as presenters at Sunday's show, the nominees all stayed home due to the coronavirus pandemic, and winners were promised they would receive their awards in the coming days.
Most nominees still dressed up for the ceremony, wearing dresses and tuxedos, but others, like Billy Murray, opted for a quarantine casual look.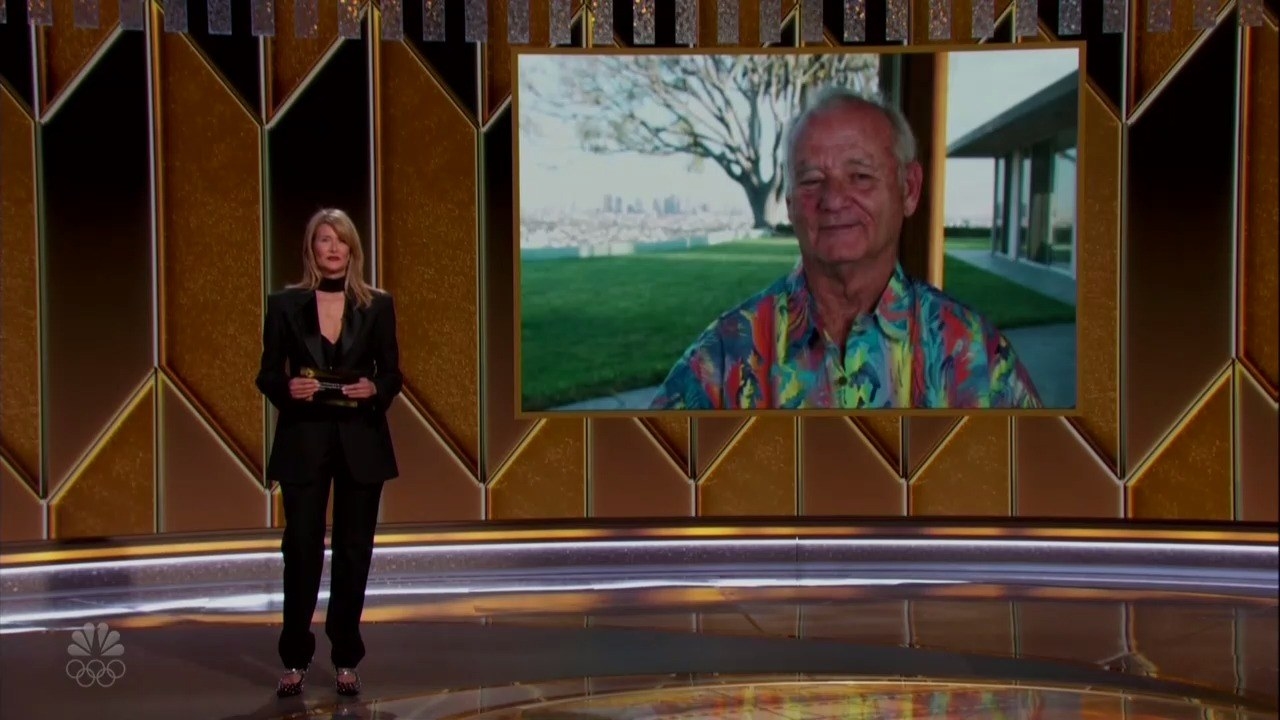 Fey and Poehler also decided to acknowledge the coronavirus-sized elephant in the room: Most US theaters have been closed for a year so it's been a little difficult for us viewers to tell the difference between TV and movies.
"It's hard to tell them apart because movie theaters were closed and we watched everything on our phones," Poehler said.
"Now, TV is the one that I watch five hours straight," she added, "but a movie is the one that I don't turn on because it's two hours. I don't want to be in front of my TV for two hours. I want to be in front of the TV for one hour five times."
And much like your Zoom calls this past year, the show featured some embarrassing audio moments.

Unlike the Emmys, Sunday's Globes did feature a live audience for Fey and Poehler to play off of, with a few masked first responders and essential workers invited to sit in the seats normally reserved for big stars.
"We are so grateful for the work that you do," said Fey, "and that you are here so that the celebrities can stay safely at home."