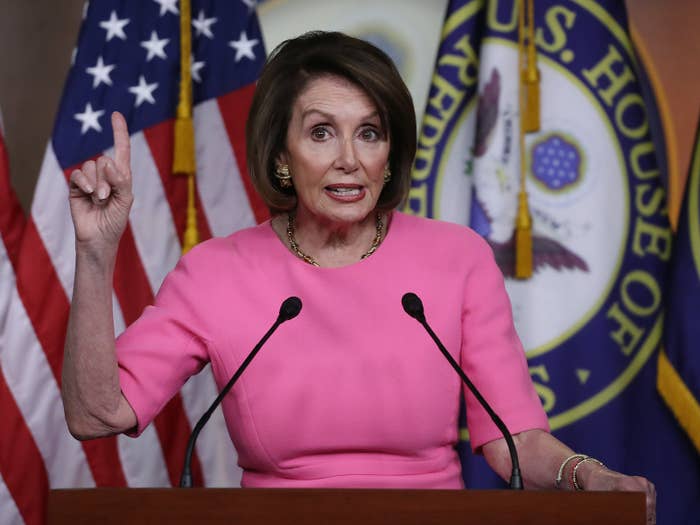 Facebook is defending its decision not to remove from its platform a viral video of Nancy Pelosi that has been doctored to make the House speaker appear as if she is drunkenly slurring her speech.
Monika Bickert, vice president for product policy and counterterrorism, told CNN on Friday night that Facebook would leave the video online and notify users that independent fact-checkers had deemed it had been manipulated.

"Anybody who is seeing this video in News Feed, anyone who is going to share it to somebody else, anybody who has shared it in the past, they are being alerted that this video is false," Bickert said. "And this is part of the way that we deal with misinformation."
Versions of the video, which contains slightly slowed-down footage of Pelosi speaking Wednesday at a Center for American Progress event in Washington, DC, have spread across multiple social media platforms. The Washington Post was first to report on their existence.
One of the most-watched versions on Facebook, which was posted by the right-wing page Politics WatchDog, has been shared more than 47,000 times. "Good Lord lady...How many drinks did you have today?" reads the top comment. "Omg is she drunk or having a stroke???" reads another.
But Bickert said because the video does not incite violence, like misinformation that may spread during a riot, it would not be removed.
Instead, a series of "related articles" that debunk the video now appear alongside it.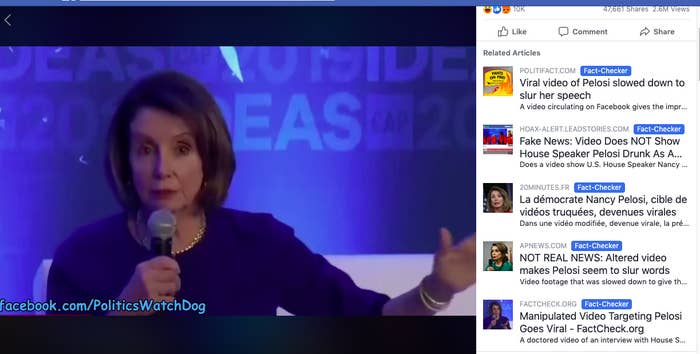 The video's prominence in people's News Feeds would also be reduced by the company's algorithms.
"We think it's important for people to make their own informed choice about what to believe," said Bickert. "Our job is to make sure we are getting them accurate information."
In contrast, a YouTube spokesperson told the Washington Post it had removed all versions of the video.
A representative for Twitter, where the video was also spreading, told BuzzFeed News they had no comment. However, sharing "inaccurate statements about an elected official" does not contravene Twitter's policies.
President Donald Trump on Thursday shared another edited video of Pelosi that was cut to show her repeated "stammers" during a press conference. The video was not slowed down, but had cut together a montage of all her verbal stumbles during a lengthy press conference. Pelosi had used that appearance before the media to say she believed the president needed "an intervention."
Facebook's decision to leave the videos online was heavily criticized by some of Pelosi's Democratic colleagues.
Bickert told CNN that press coverage of the fake video had effectively shifted the public conversation to how it was manipulated.
"The conversation is not about people believing this video," she said. "It's that they are discussing the fact that it was manipulated. And that's the conversation that people should be having."