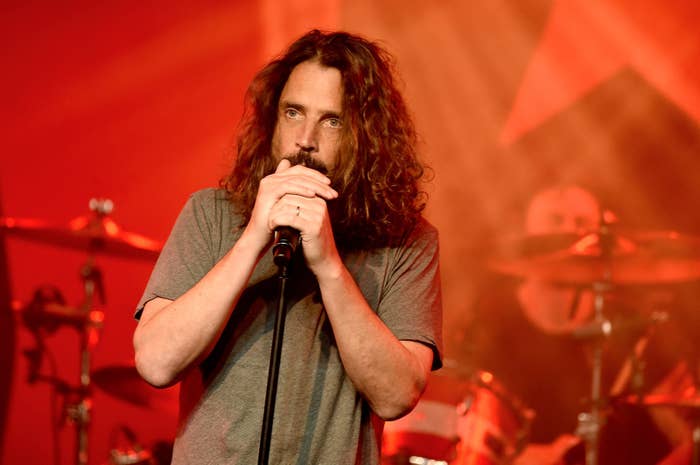 The family of Chris Cornell filed a lawsuit against his former doctor on Thursday, accusing him of "negligently and repeatedly" prescribing the late Soundgarden singer drugs that caused his death.
Vicky Cornell and her children allege Beverly Hills doctor Robert Koblin's prescription of the medications caused the musician to "engage in dangerous impulsive behaviors that he was unable to control, costing him his life."

An autopsy report found Cornell, 52, hanged himself while he had drugs in his system in May 2017 after a show in Detroit.
The autopsy did not blame drugs as a cause of death, but a toxicology test on Cornell's body found traces of barbiturates, caffeine, naloxone, a decongestant, and lorazepam, also known as Ativan.
The singer's family says Koblin prescribed Cornell more than 940 doses of Ativan during the final 20 months of his life.
The lawsuit claims the doctor failed to conduct any medical examination or monitor the singer's use of the drug.
Ativan is typically used to treat seizure disorders like epilepsy, but can also be used after medical procedures to alleviate anxiety.

The "unmonitored use of such excessive amounts of Lorazepam [or Ativan] ... was known to increase the risk of suicide because it can severely impair judgment, thinking and impulse control and diminish the ability of a patient to think and act rationally," the family's lawsuit reads.
In the days after her husband's death, Vicky Cornell released a statement saying she was concerned he had been taking too many Ativan.
"When we spoke after the show, I noticed he was slurring his words; he was different," she said at the time. "When he told me he may have taken an extra Ativan or two, I contacted security and asked that they check on him. What happened is inexplicable and I am hopeful that further medical reports will provide additional details."
In a statement to CNN, Koblin's attorney released a statement defending his client.
"Dr. Koblin is a competent and conscientious doctor who enjoyed an excellent physician/patient relationship with Mr. Cornell and other members of his family," attorney James Kjar said. "The experts I have consulted with believe Dr. Koblin's treatment was within the standard of care in this community and were not a substantial factor in causing Mr. Cornell to commit suicide."