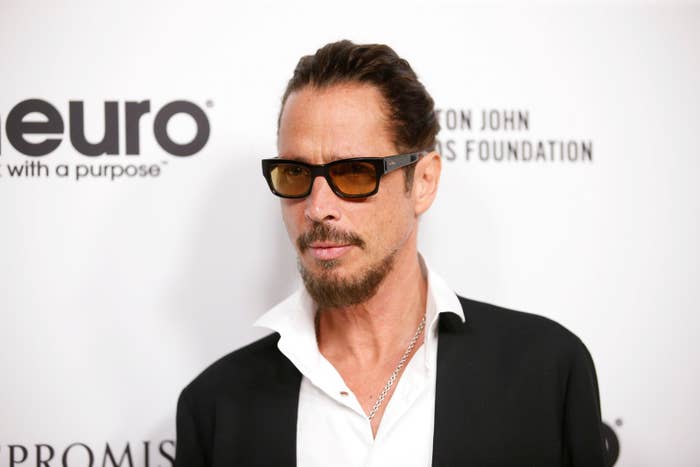 Soundgarden singer Chris Cornell killed himself by hanging last month in a Detroit, Michigan, hotel room, a new autopsy report has confirmed.
The report, released Friday, revealed that the 52-year-old musician had drugs in his system when he died, including from anti-anxiety medication, but that those drugs did not contribute to his death, the Associated Press reported. The report confirms an earlier assessment from a local medical examiner who determined Cornell died from hanging.
According to the AP, Cornell was discovered with a resistance band that was around his neck and attached to the top of a bathroom door. A toxicology test identified the presence of barbiturates, caffeine, naloxone, a decongestant, and lorazepam, also known as Ativan, in Cornell's body.
"These drugs did not contribute to the cause of death," Theodore Brown, assistant Wayne County medical examiner, told the AP.
In a statement to BuzzFeed News shortly after Cornell was discovered in his hotel room, his representative, Brian Bumbery, said the death was "sudden and unexpected."

"His wife Vicky and family were shocked to learn of his sudden and unexpected passing," Bumbery said, adding that the family "would like to thank his fans for their continuous love and loyalty and ask that their privacy be respected at this time."
Detroit police told BuzzFeed News the singer was found at midnight by a friend who went to check on him in his casino hotel room.
An attorney for Cornell's family, Kirk Pasich, said the singer had a prescription for Ativan and maybe have taken more than the recommended dosage. Ativan is a drug that's used to treat seizure disorders such as epilepsy. It can also be used after medical procedures to alleviate anxiety.
Pasich released a statement saying the family believes that if Cornell took his own life, drugs or other substances may have affected his decision and that he did not know what he was doing. Ativan, Pasich said, can cause paranoid or suicidal thoughts, slurred speech, and impaired judgement.
Cornell's wife released a statement saying that her husband was devoted to his family and that the two had discussed plans for Memorial Day weekend.
"When we spoke after the show, I noticed he was slurring his words; he was different," she said in a statement. "When he told me he may have taken an extra Ativan or two, I contacted security and asked that they check on him. What happened is inexplicable and I am hopeful that further medical reports will provide additional details."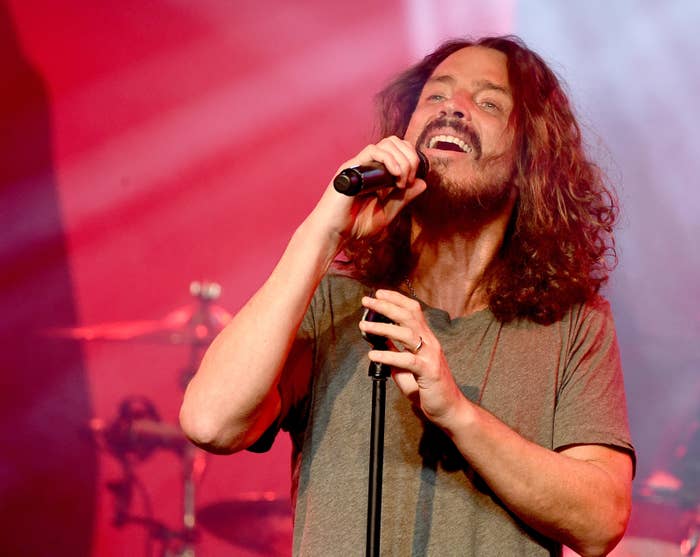 Cornell performed at Detroit's Fox Theatre with Soundgarden just hours before his death was announced.

Multiple outlets have reported that the final song Cornell performed with the band was "Slaves And Bulldozers," with Wednesday night's version containing a portion of "In My Time Of Dying" — an old gospel song most notably covered by Led Zeppelin.

The song has been performed by Soundgarden several times before, and its opening lyric is: "In my time of dying, I want nobody to mourn."

He had tweeted about the show prior to the band's performance earlier that evening:
Cornell was born Christopher John Boyle in Seattle, Washington, in 1964. He rose to prominence as the singer of Soundgarden, who became one of the seminal bands in the Seattle grunge scene in the late 1980s and early 1990s. Cornell was famed for having one of the biggest rock vocal ranges of the era.

Soundgarden's debut album UltramegaOK was released on the independent label SST records in 1988, and they became the first band from the grunge scene to sign to a major label when they joined A&M Records in 1989.

They released four albums through A&M, including the Grammy-nominated Badmotorfinger (1991), and Superunknown (1994).
Superunknown was the album that truly catapulted the band to international acclaim, and two of its singles — "Black Hole Sun" and "Spoonman" — won the band Grammys in 1995.

During his time with Soundgarden, Cornell also performed and recorded in the band Temple of the Dog, along with several members of Pearl Jam, in tribute to his late friend Andrew Wood of the band Mother Love Bone.

Soundgarden announced they were disbanding in 1997 — a year after releasing the self-produced Down on the Upside.

Cornell embarked on a solo career, before forming the rock supergroup Audioslave in 2001 with the three remaining members of Rage Against the Machine following the departure of their vocalist Zach de la Rocha.

Audioslave's self-titled album went triple platinum in the United States and contained the hit singles "Cochise" and "Like A Stone". The formation of Audioslave coincided with some tough times in Cornell's personal life, which led to them cancelling a slot at the Ozzfest touring festival.



Cornell told San Diego CityBeat in 2002 that his drug and alcohol addiction and separation from his first wife led to him having a "horrible personal crisis," culminating in a two-month stint in rehab.

He was able to become sober, and later told Kerrang! that the positive changes in his life served as inspiration for Audioslave's second album, Out of Exile, in 2005. That same year, the band became the first American rock band to play a concert in Cuba, playing in front of 70,000 people for free in Havana.

One further Audioslave album followed in 2006, the same year Cornell performed the opening theme to the James Bond film Casino Royale "You Know My Name," which he also cowrote.
Cornell left Audioslave in 2007 and went on to release further solo material, including a collaboration with producer Timbaland on the album Scream in 2009.

A Soundgarden reunion was announced on Cornell's Twitter account in 2010, which spawned a headline slot at Lollapalooza and another studio album — 2012's King Animal.

In January 2017, Audioslave united for their first performance in more than a decade at the Anti-Inaugural Ball protest against Donald Trump, organized by the Prophets of Rage — another supergroup containing members of Rage Against the Machine.

He continued to tour with Soundgarden until his death.

He is survived by his second wife Vicky, their children Toni and Christopher Nicolas, and his daughter from his first marriage, Lillian Jean.
Watch a fan-shot clip from Cornell's final show with Soundgarden in Detroit here:
David Mack contributed to this report.
CORRECTION
Cornell is survived by three children. An earlier version of this article didn't mention Lillian Jean, his daughter from his first marriage. The album Superunknown was released in 1994. An earlier version of this article misstated the year.