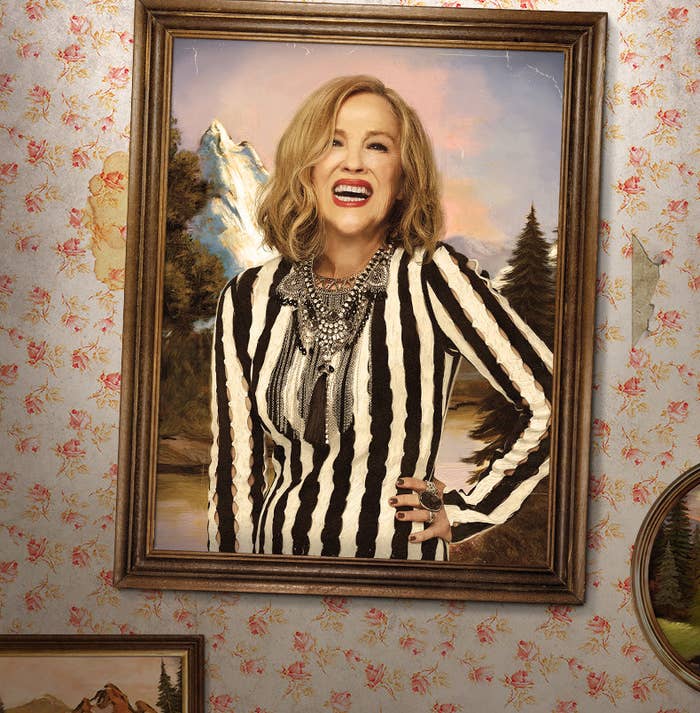 When Matt Brennan, the TV editor for Paste magazine, thinks of the best-costumed characters on television he thinks of the voguing '80s glamazons on Ryan Murphy's Pose; the chic, childlike assassin Villanelle on BBC America's breakout hit Killing Eve; and a 64-year-old woman on a little-watched Canadian comedy: Moira Rose (Catherine O'Hara) in Schitt's Creek.

"Spoiled, eccentric, exceedingly dramatic," Brennan told BuzzFeed News of Moira's looks, which he and a colleague ranked for Paste. "Which is, of course, the genius of [costume designer Debra] Hanson's costumes — that describes Moira perfectly."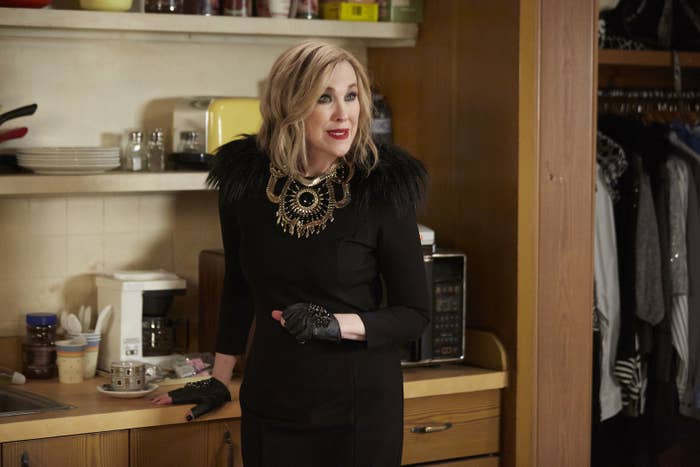 Since it premiered in 2015, Schitt's Creek has slowly built a loyal fan base in Canada and elsewhere thanks to its availability on Netflix and the US channel Pop. While the show has divided critics, fans have heaped praise and affection on O'Hara for her scene-stealing performance as the once-wealthy Rose family matriarch. Moira, a former soap opera star, stalks through the titular blue-collar town in six-inch heels, sculptural, black-and-white couture, and an array of outrageous wigs — and that's just what she considers a casual look. She wears a shimmering black cocktail dress, dark patterned leggings, and a tiered necklace to a relaxed family barbeque. She sleeps in silk pajamas, accessorized with a vest and a brooch. Her favorite season? Awards.
"I've worked with a lot of great costume people, but I have never enjoyed wardrobe fittings like I have on this show," O'Hara told BuzzFeed News. "I instantly feel like Moira when I put on these clothes. It makes me feel different. It makes me stand differently. It's just fun."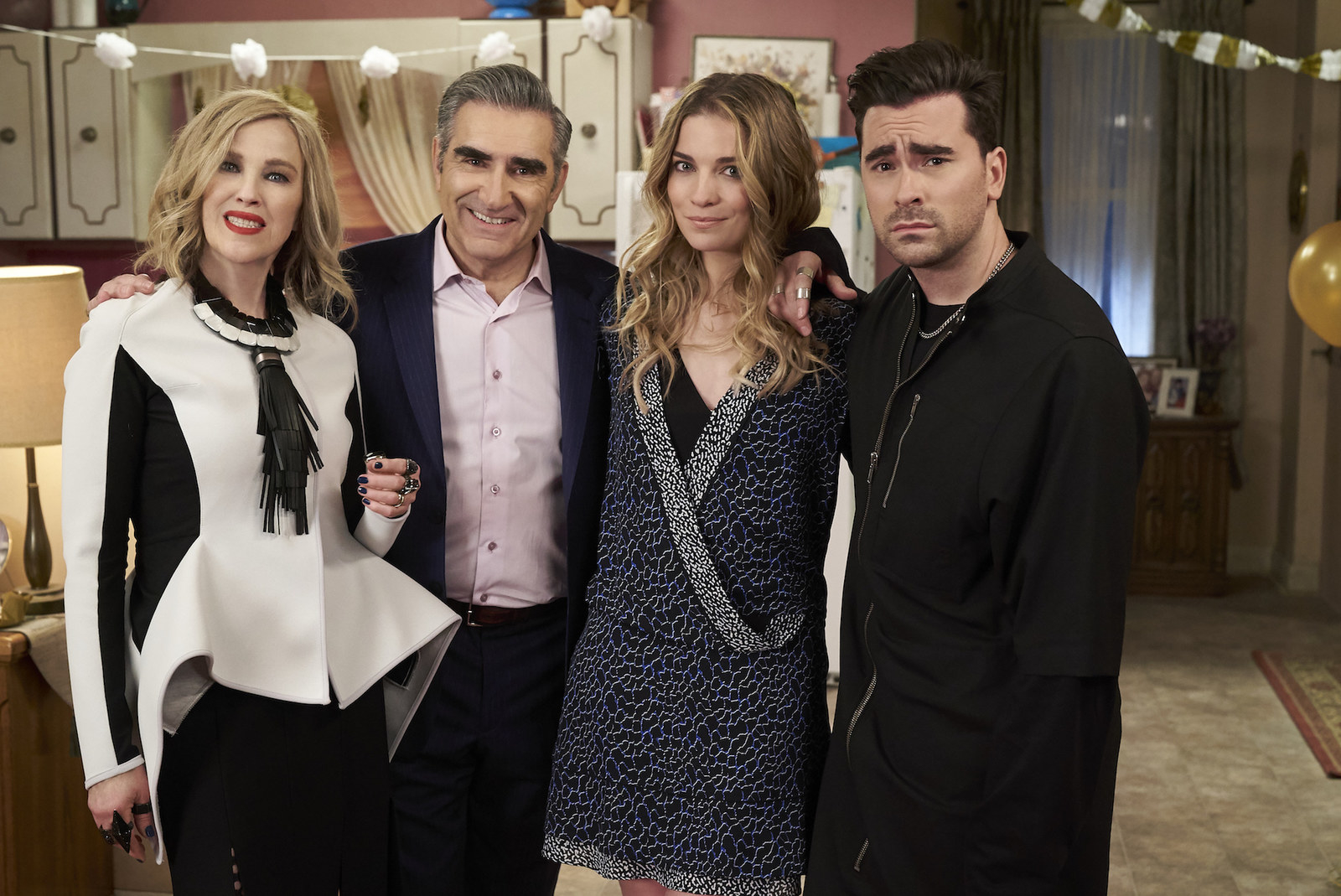 O'Hara was first introduced to her character when the show's creators — her longtime comedy collaborator Eugene Levy and his son, Dan — approached her with a pitch: A wealthy family loses everything and is forced to live as fish out of water in a small town. "We had always written the show with Catherine in mind," Dan Levy told BuzzFeed News, "and when it looked like things were starting to take shape in terms of her involvement we sat down with her and basically said, 'What do you want to do? Who do you think this person is?'"
At a lunch to discuss the project, O'Hara came prepared. She'd spent time looking online for inspiration on how an eccentric rich woman might dress ("I didn't want to have that typical Chanel suit — old-fashioned Chanel") when she stumbled upon photos of Daphne Guinness. She showed Dan photos she'd loaded onto her iPad of the British heiress and designer whom Lady Gaga has cited as a fashion inspiration. He was immediately on board.
"I knew from the beginning that I wanted fashion to play a heavy hand in this show," Dan said, "mainly because it's one of the few ways that we get to continuously remind our audience that these people came from money."
Aided by costume designer Debra Hanson (Orphan Black, The Firm), the outlines of Moira's wardrobe began to take shape. "Very strong, very structural," O'Hara said of the character's look. "Some of it is defensive and armored. It's very self-protective."
For O'Hara, Moira's style choices serve as evidence that she is stubbornly refusing to accept her new reality. "Now she is really holding on to who she was and who she plans on being very soon, as soon as Johnny [Eugene Levy] gets us out of here," O'Hara explained. "So it says, 'This is me. I am not changing. This is temporary. It has nothing to do with me, and this is who I am.'"
Dan Levy, too, said Moira's "intimidating" outfits were intended to signal to the audience that she had no intention of ever giving up on her former life. "It's why the clothes haven't changed in the four seasons that we've been doing the show," he explained. "They continue to be defiant in their sartorial choices because they will not accept that staying in this town is a reality long-term."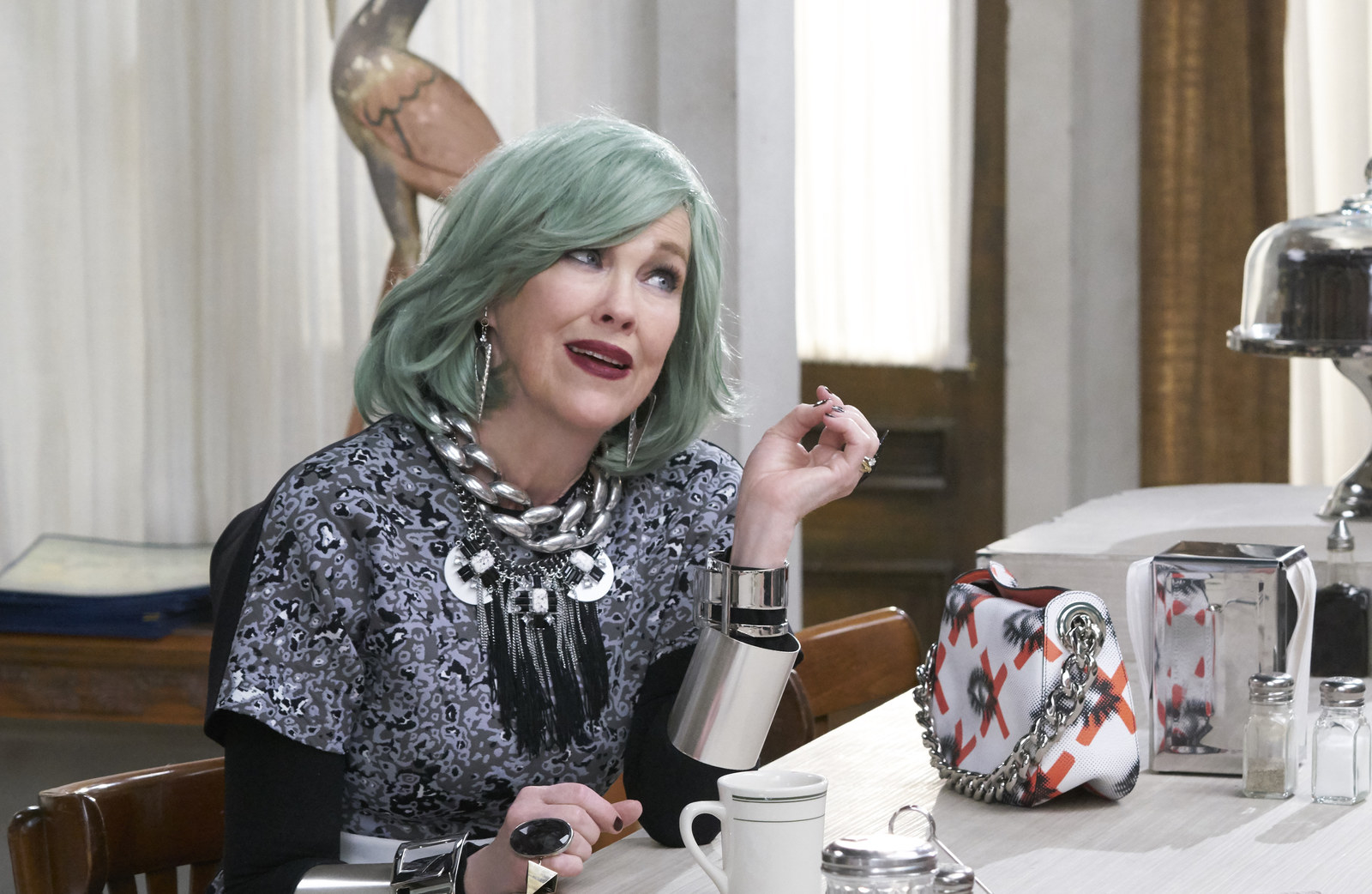 Pieces from high-end fashion houses and designers like Alexander McQueen, Givenchy, Comme des Garçons, and Isabel Marant routinely pop up in Moira's ensemble, to the delight of Nick Verreos, a spokesperson for Los Angeles' Fashion Institute of Design & Merchandising (FIDM). "I think she's one of the most underrated fashion divas on TV," he said. "I absolutely adore her."
"For us fashionistas," Verreos continued, "it's even more exciting to see the fact that, Oh my god, is she really wearing Rick Owens boots? Is that a Gareth Pugh top? It's both aspirational and it is part of the story."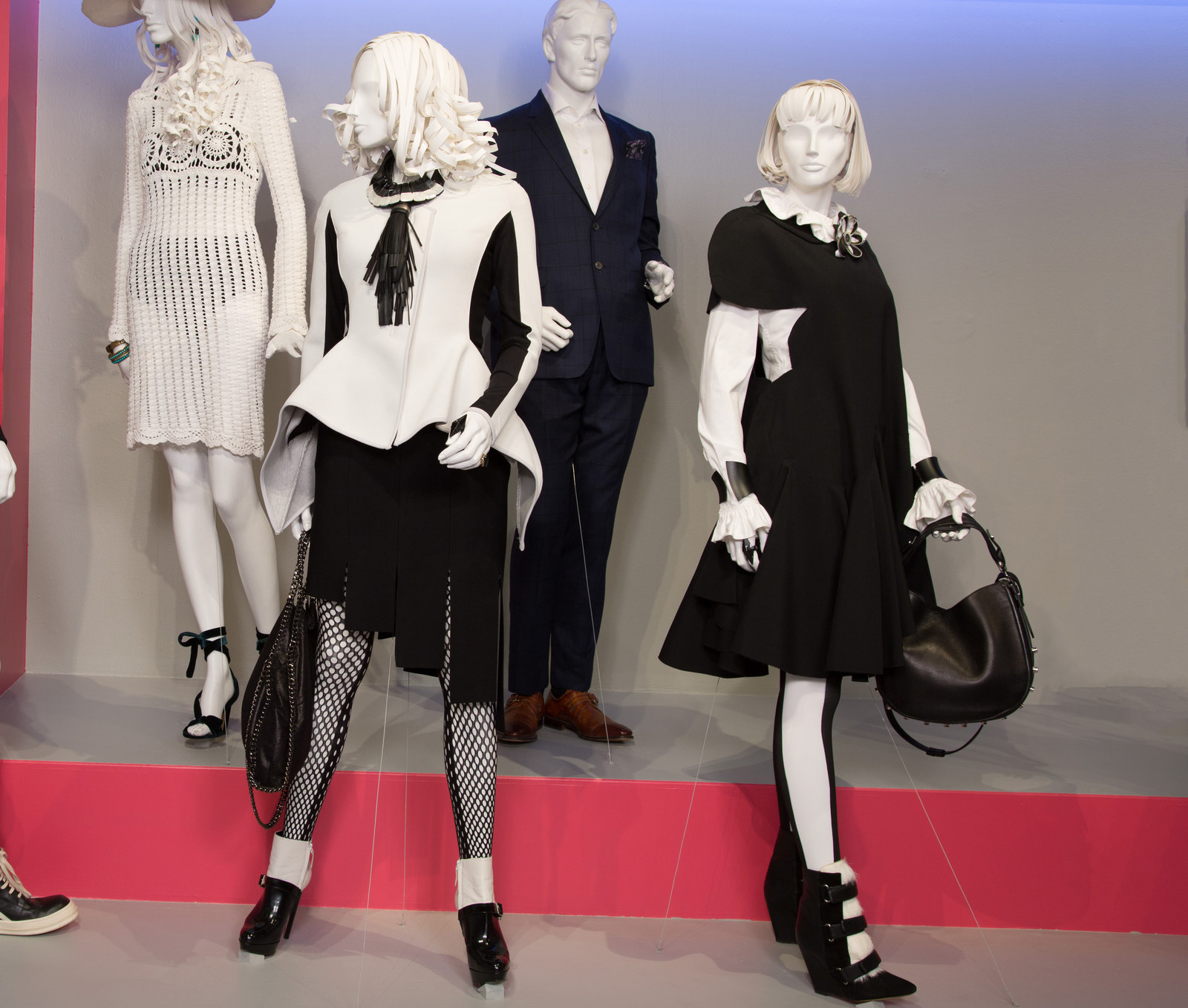 FIDM has included Schitt's Creek costumes, including two belonging to Moira, in its current exhibition Art of Television Costume Design, which aims to show audiences that good costuming isn't just found in period or fantasy pieces.
"With Schitt's Creek, I think it's the epitome of contemporary costuming by bringing in a lot of high fashion," Verreos said. "It's very rare, especially for TV shows, for the costume designer to be able to buy and have such high fashion. ... So I give props to whoever is arranging the budget."
Finding such clothes on the show's "small Canadian budget" was one of the original challenges for Dan Levy and Hanson when the series was first greenlit. "Thus began the yearly adventure of finding very creative ways of finding these clothes, because we obviously can't afford to buy them in store," Levy said. His phone is now littered with consignment apps, and sale season stretches year-round as he hunts for bargains. Further complicating matters for Levy and Hanson is that they have also tried to limit the clothes to pieces made before the Rose family fortune went bust. "So if you see a designer piece it's from a collection that would've happened plausibly within the time that the characters would've been able to afford it," he said.
The creative team won't settle for cheaper knockoffs, either; the clothes have to be the real deal. "The costumes are incredibly glamorous," said Levy, "but I wanted them to be authentic as well, so that people who are in New York or Europe who are watching this and enjoyed high fashion could actually identify pieces that Moira is wearing and in a way legitimize their world a little more."
Levy concedes the job of costuming Moira is made easier by having her portrayed by a "chameleon" actor like O'Hara, who blends seamlessly into her character and isn't afraid to try on avant-garde outfits or get creative. (It was O'Hara who came up with the idea for the "sleeping vest" during one fitting.) "It's hard to pull off really conceptual Japanese designs," said Levy, "but throw a wig on top of it as well and somehow she manages to make it all work."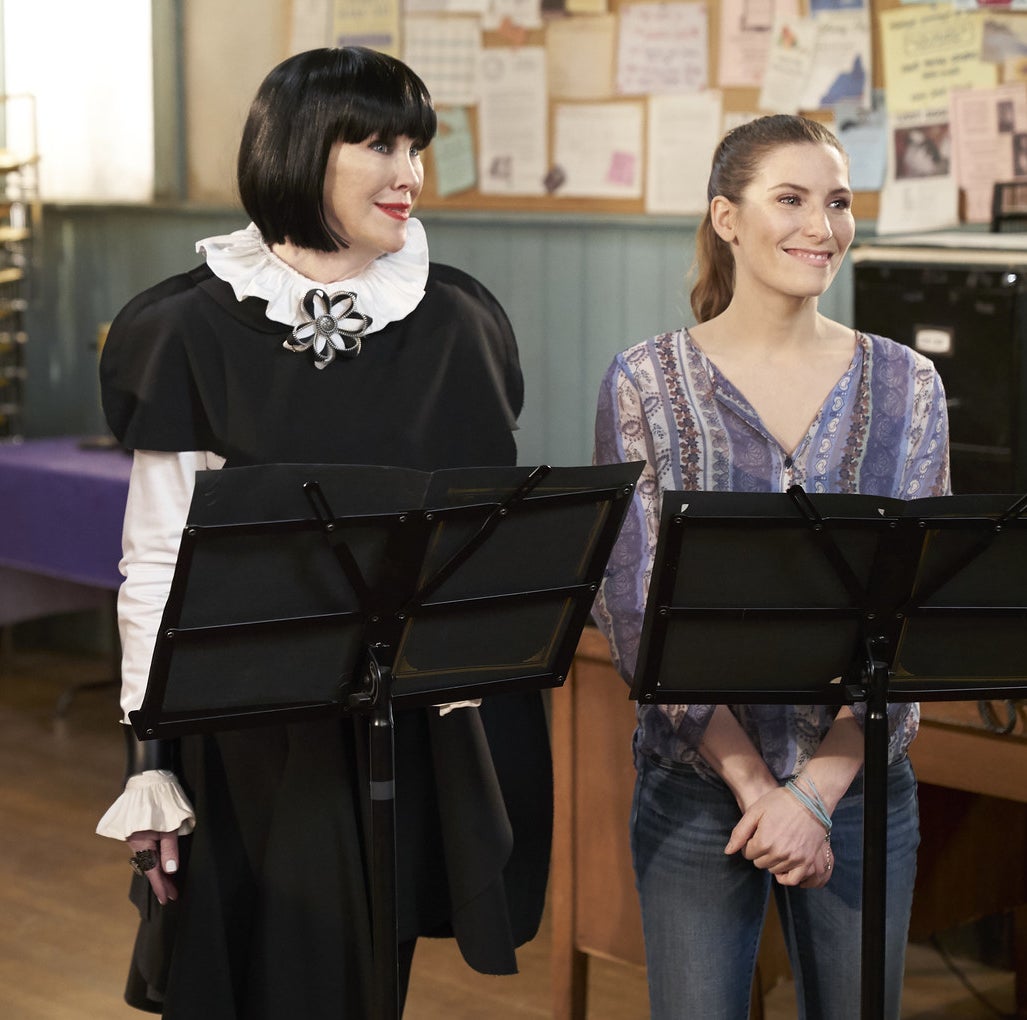 Moira's wigs function almost as characters themselves, introduced in the show's pilot as they are being frantically stashed away from tax collector agents in leather bags. ("Did you put Kristin in with Robyn?" Moira shrieks. "They don't like each other!") O'Hara said the wigs give her more creative freedom and fun as a comedy actor, but also allow Moira "the opportunity when you get up in the morning to decide who you're going to be that day."
When not worn, the wigs are hung around Moira's dressing table like trophy mounts in the shoddy motel room they're forced to call home. In the Season 4 pilot, the family members are forced to give up a room temporarily, but Johnny and Moira refuse to move from theirs. "It'll take a day just to rebox all your mother's wigs," Johnny says.
"Oh my god, can you imagine?" a shocked Moira responds in her affected, breathy accent. "Not one of you is trained!"
O'Hara's performance has garnered her multiple awards in her native Canada, industry recognition for yet another iconic comic performance. Appropriately, she says the creative experience of working on Schitt's Creek reminds her of one of her most memorable roles, Delia Deetz in Tim Burton's 1988 classic Beetlejuice: "There's no fear there of, Oh, we're going too wild, or, Oh, you wouldn't see people on the street dressed like this."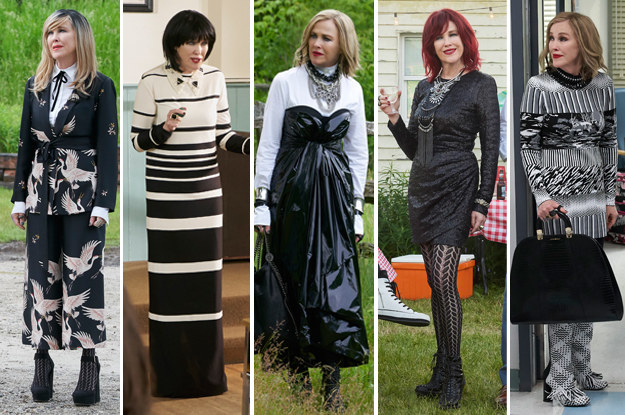 She won't choose a favorite among Moira's looks ("It's like choosing between babies. I'm sure my son would love to hear that"), but she particularly loves to wear short, flattering outfits that show off her figure: "At first I was kind of debating about that because of my age…[but] if you are lucky enough to be proud of your legs, why not show them?"
She and Dan Levy promise fans even more laughs — and over-the-top outfits — in the show's upcoming fifth season, which Levy was locked away editing as we spoke. "I did have an insanely favorite pair of shoes this past year," O'Hara teased. "The heels are about six inches on their own, and they are spines. They look like spines. You'll see when this season comes out. They're just the most aggressive shoes that I've ever worn."
Schitt's Creek can be streamed on Netflix and the Pop Now app.