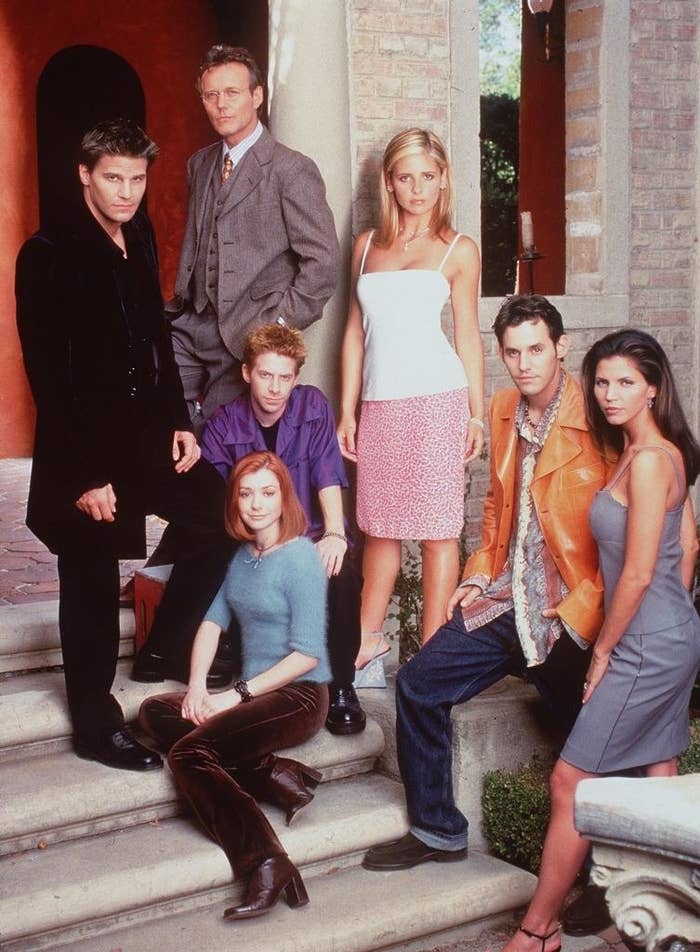 Stars who appeared in Buffy the Vampire Slayer and its spinoff, Angel, are lending support to actor Charisma Carpenter after she spoke out against the shows' creator, Joss Whedon, on Wednesday.
"While I am proud to have my name associated with Buffy Summers, I don't want to be forever associated with the name Joss Whedon," said Sarah Michelle Gellar, who played the vampire-hunting protagonist, in an Instagram post.
"I stand with all survivors of abuse and am proud of them for speaking out," she said.
"Thank you @sarahmgellar for saying this," added her costar Michelle Trachtenberg, who played Dawn, Buffy Summers' younger sister. "I am brave enough now as a 35 year old woman....To repost this. Because. This must. Be known. As a teenager. With his not appropriate behavior."
"We know what he did. Behind. The Scenes," she added in an Instagram story.
On Thursday, Trachtenberg updated her Instagram post with additional details about Whedon's alleged "not appropriate behavior."
"So now. People know. What Joss. Did," she said. "The last. Comment I will make on this. Was. There was a rule. Saying. He's not allowed in a room alone with Michelle again."
Other actors on Buffy and Angel also sent their support, including Amber Benson (Tara), Clare Kramer (Glory), Emma Caulfield (Anya), Eliza Dushku (Faith), Julie Benz (Darla), and J. August Richards (Gunn).

"My heart aches for you & I'm so sorry you have held this for so long," Dushku wrote to Carpenter. "Your post was powerful, painful, and painted a picture we'll collectively never un-see or un-know. Thank you. I hadn't know it and I won't forget it."
Benz described herself and other cast members as survivors.
Richards, who worked with Carpenter for years on Angel, voiced his support of his costar in a tweet Thursday. He is the first male actor from Whedon's shows to do so.
In a post shared to Twitter and Instagram Wednesday, Carpenter, who played Cordelia Chase, accused Whedon of abusive and vindictive behavior to her on the Buffy and Angel sets, specifically while she was pregnant during Angel's filming.
Carpenter said Whedon said she was "fat," mocked her religious beliefs, made her shoot late at night despite her pregnancy, and then "unceremoniously" fired her once she gave birth.
"Back then, I felt powerless and alone," she said. "With no other option, I swallowed the mistreatment and carried on."
Carpenter said she spoke out because she had participated in a Warner Media investigation into Whedon's behavior on the set of Justice League that was prompted by allegations from actor Ray Fisher of abusive behavior by Whedon. Carpenter said she believed Fisher.
Whedon's representatives did not respond to a request for comment from BuzzFeed News.
BuzzFeed News has reached out to cast members of Whedon's television shows Buffy the Vampire Slayer and Angel for comment on Carpenter's allegations.