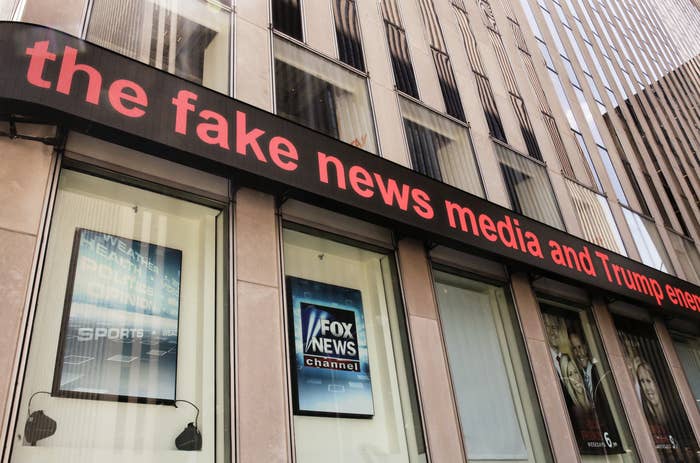 For all the recent talk about how to combat propaganda and disinformation, the single greatest disseminator of fake news — the most dangerous media company in the world — has escaped any real accountability.
It's hardly a bold take to say that Fox News is a problem. If you're reading this, you probably don't need to be told that PolitiFact ranks it the least accurate cable news network, or that its current primetime lineup features hours of barely veiled white nationalism. You probably know that President Trump and Fox exist in a perpetual feedback loop, in which an obscene talking point parroted by Fox & Friends on any given morning will be echoed by a presidential tweet within minutes and then dominate news coverage for the rest of the day.
In short, you're probably very mad at Fox all the time. But being mad won't solve the problem. Only direct action will. We need to stop treating Fox like a normal media company and start treating it like any other business devoted to actively harming the public. It should be boycotted.
The damage done by Fox News goes well beyond triggering the libs. In the lead-up to the November elections, Fox referred to a looming "invasion" by Central American migrants over 60 times, making it a centerpiece of national news coverage. It whipped up the conspiracy theory that Democratic donors like George Soros are working to undermine America by flooding it with migrants and refugees. That vicious lie — as false and malevolent as anything pushed on Facebook by Russian propagandists in 2016 — appears to have directly inspired the massacre of Jewish worshipers at the Tree of Life synagogue in Pittsburgh last month.
That was a particularly violent manifestation of the hatred and resentment Fox News has spread among millions of Americans, but have no doubt: This company is more responsible for the nationwide climate of xenophobia that enabled Trump's presidency than any other single actor.
Unfortunately, injecting this poison into American life is an extremely lucrative business. Fox News is predicted to bring in $3.2 billion in revenue this year — more than twice as much as CNN — and it has consistently been one of the most profitable parts of the Murdoch family's sprawling collection of film studios, TV channels, and newspapers. The crudeness of Fox's racist fearmongering has not stopped it from being one of America's most reliably moneymaking media businesses.
But this is a company that should be a pariah, and history will not look kindly on the people who, while sternly shaking their heads, accepted it as a normal part of their industry, their city, or their country.
One popular narrative claims that while cloistered liberal elites in a few coastal cities may hate Fox, it speaks to a great mass of "real Americans" in the heartland. But this is as false as anything you'll hear about foreign invaders on Tucker Carlson Tonight. Not only do most Americans disapprove of Donald Trump and the GOP, which has been the case since Trump first announced his presidential run, but most Americans aren't watching Fox at all. Winning the cable news ratings battle means reaching a few million people a night, out of a country of over 300 million. And as for the "coastal elite," Fox News is headquartered in the heart of Manhattan, in the same square mile as the New York Times, MSNBC, and CNN. It is owned, managed, run, and enabled by a cloistered group of blue state elites.
Readers of this article are probably already boycotting Fox News on one level — statistically speaking, you're unlikely to watch it, aside from the viral clips you hate-watch online to get your blood pressure up. You're almost certainly not in Fox's target demographic of geriatric white men, which means you probably aren't spending a lot of money on gold coins or catheters.
But Fox has big advertisers, and pressuring them has worked in the past. Last year the civil rights group Color of Change campaigned to get advertisers to abandon Bill O'Reilly after revelations about his serial sexual harassment, and more than 60 did, resulting in O'Reilly's long overdue firing.
Fox also has shareholders, plenty of whom are not conservative operatives or ideologues but simply rich people with diversified portfolios. Its parent company, 21st Century Fox, has board members who are still welcome in polite society — executives from companies like JPMorgan, Louis Vuitton, and Credit Suisse, who happily play along. And respectable people outside the conservative movement still appear on its shows.
Worst of all, Fox is treated as a normal outlet by other media companies, as a respected competitor and peer. For instance, NBC won the bidding war to recruit Fox News star Megyn Kelly and invested serious resources into making her a face of the network, only to cancel her show recently after she defended blackface on the air. Lucky for her, Kelly looks set to get paid tens of millions of dollars by NBC on her way out the door. The Kelly hire was always questionable — she had made plenty of race-baiting comments in the past, and her NBC show was already a ratings flop — but Kelly worked for, and was made famous by, Fox News. She should not have been welcome elsewhere in media for that reason alone.
Even now, even among liberals who are fully aware of Fox's toxic influence, it is routine to defend individual anchors on the network, such as Chris Wallace, Bret Baier, and especially the oft-dissenting Shep Smith. This attitude needs to end. All of these anchors draw enormous salaries from the company that is deliberately mainstreaming racist conspiracy theories every day, and all of them serve to maintain the thin pretense that Fox is a serious news organization and not a promotional vehicle for hatred and extremism.
Complaining about, mocking, and pedantically fact-checking Fox is easy, and liberals have been doing all of the above since the Clinton administration. But removing it from polite society will be hard, and will require a nuanced conversation about the line between a free press, which most liberals cherish as an abstract ideal, and the reality of a far-right propaganda operation that has had a uniquely destructive effect on public life. Then again, that conversation is already underway, and no one has worked harder to delegitimize the free press than Fox News.
Boycotting Fox is also something that is within the power of consumers and activists to start doing at any time. It doesn't require waiting for an election and it doesn't depend on election results. It is well within the parameters of the law. It simply requires a well-organized, dedicated effort to make Fox radioactive for anyone who isn't fully committed to advancing the conservative movement. Fox will still be a lucrative grift after that, because while the audience it caters to may be a small minority of Americans, but it is real, wealthy, and it will remain loyal. But imposing real financial and social consequences on the people who've built careers on spewing hate and misinformation is something we could have attempted years ago. Better late than never.
David Klion is a writer based in Brooklyn. His work has appeared in the Nation, the New York Times, the Guardian, and elsewhere. He tweets at @DavidKlion.