Twitter on Wednesday introduced election labels for candidates running in the 2018 midterm general election. The new label, which contains a small icon of a government building, will appear on the profile page of the candidate as well as each tweet they send — including retweets by the account and embedded tweets on websites across the internet — for people running for US Senate, state governor, or US House of Representatives.
With the help of the nonprofit Ballotpedia, Twitter said it will verify whether the candidates are officially on the election ballot. The first labels will appear after May 30, one week from today, the company said, and will continue to roll out as more candidates enter the race.
As the general election nears, more scrutiny is being directed at the internet's biggest companies and their ability to live up to their promises of fixing the serious problems of misinformation, fake news, dark ads, and bots running rampant on their platforms.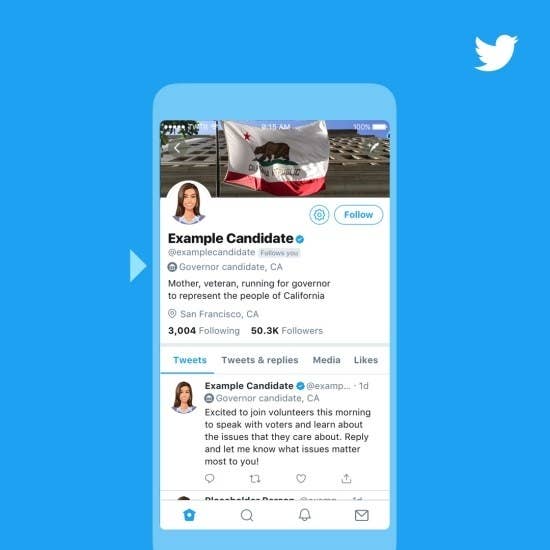 Adding labels is a quick and simple way to address a longtime issue for Twitter. In 2016, BuzzFeed News reported on @RepStevenSmith, allegedly a Republican Representative of Georgia's 15th Congressional District whose account attracted 20,000 followers and plenty of engagement. The problem: Georgia doesn't have a 15th District and there is no member of Congress named Steven Smith.
As reporter Molly Taft wrote: "For the past three years, Rep. Smith has fooled some of the most prominent journalists and pundits in America into believing that he's a real congressman, using a combination of guerrilla troll tactics, a Leto-as-Joker-like commitment to the character, and even a sidekick chief of staff account to help sustain the ruse. A stream of news articles outing the account doesn't stop everyday users — and some VIPs — from regularly falling for it." Twitter did not comment on @RepStevenSmith specifically but referred to its parody policy.
"Providing the public with authentic, trustworthy information is crucial to the democratic process, and we are committed to furthering that goal through the tools we continue to build," Bridget Conye, a senior public policy manager at Twitter, wrote in a company blog post Wednesday.
The move comes amid the public's loud criticism of Twitter for issues around Russian election meddling on its platform, and its hesitation in general to commit to full transparency over how bad actors game Twitter and its political ads system.
In September, Twitter said it would not expose its "dark ads," or posts purchased on social networks as a way to reach very specific audiences, to public scrutiny — even as Facebook committed to doing so. At the beginning of 2018, Twitter promised an ad transparency center, but CEO Jack Dorsey said the company didn't aim to release it until the "summer" (it still hasn't materialized). And it took the company until February 2018 to concede that Russian-linked accounts were trying to affect the 2016 Brexit referendum.
The new labels alone won't absolve Twitter of responsibility as elections approach.