Chances are you remember that false alarm "missile threat" warning that went out to everyone in Hawaii last January. Well, prepare yourselves, because soon President Donald Trump will be able to send emergency alerts straight to your phone.
On Wednesday, Oct. 3, at 2:18 p.m. ET, the Federal Emergency Management Agency (FEMA), along with the Federal Communications Commission (FCC), will conduct its first nationwide test of the presidential alert.
The alert is designed to let the president address the country in the event of a national emergency.
The test was originally scheduled for Sept. 20, also at 2:18 p.m. ET, but was pushed back two weeks because of ongoing response efforts to Hurricane Florence, according to FEMA. More than 100 carriers across the US will participate in the test, the agency said, so most Americans will receive the message.
FEMA says the headline will be "Presidential Alert," and it will read: "THIS IS A TEST of the National Wireless Emergency Alert System. No action is needed."
This probably isn't the first time you'll have encountered a similar warning message blaring on your phone. Emergency text alerts have been used since 2012 for public safety warnings such as extreme weather, natural disasters, and the infamous Amber child abduction emergency alert. In fact, the presidential alert will use the same special tone and vibration as the Amber Alert.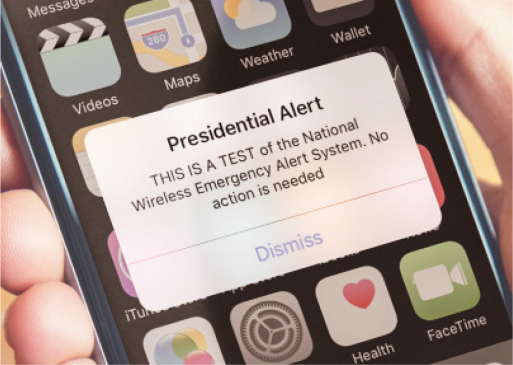 Unlike Amber Alerts and weather warnings, FEMA said users can't opt out of presidential alerts.
The presidential alert is part of the Wireless Emergency Alerts system, the result of a law that former president Barack Obama signed in 2016, requiring FEMA to create a system for the head of state to broadcast public safety announcements about disasters and terrorist attacks to the public.
If you were wondering... No, Trump shouldn't be able to use the system to broadcast his tweets.
The law explicitly states, "The public alert and warning system shall not be used to transmit a message that does not relate to a natural disaster, act of terrorism, or other man-made disaster or threat to public safety."
But the fact that President Trump will have *sole* responsibility for when the emergency system will be used is making some people...kinda nervous.
A few people on Twitter even said they'll turn off their phones completely on the appointed day and time of the first presidential alert, rallying around the hashtag #GoDark920 (which is now out of date, given that the test was moved to Oct. 3).
To be clear, there's no good reason to think the presidential alert test will go awry. But after that botched "missile warning" in Hawaii, it's understandable that some people are a little worried.