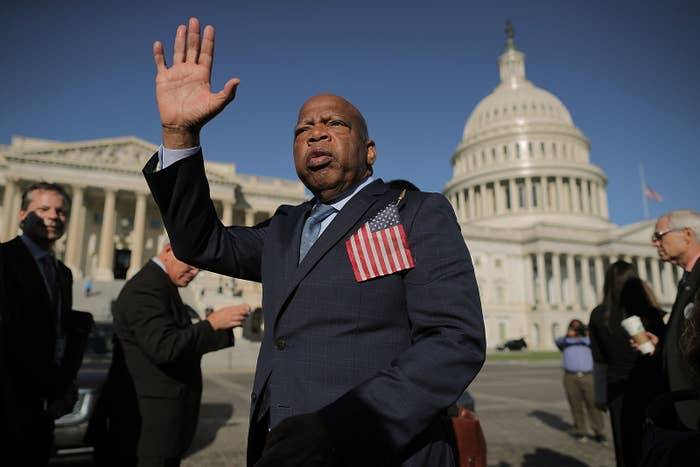 Lawmakers representing communities of color are requesting a meeting with Amazon after a report by the American Civil Liberties Union revealed Thursday that the company's controversial facial recognition tool Rekognition falsely matched 28 members of US Congress with mugshots in its database. And on Friday, the letter was signed by 23 more members of Congress, including Virginia Rep. Tom Garrett, a Republican, making the lawmakers' demand to meet with Amazon officially a bipartisan effort.
On Thursday, Reps. Jimmy Gomez and John Lewis (a prominent civil rights leader) shared the letter exclusively with BuzzFeed News asking to meet with Amazon CEO Jeff Bezos.
"The potential for this technology to wreak havoc on people of color cannot be understated," said Rep. Gomez. "It's time for Mr. Bezos to recognize the role his company plays in this situation and to accept our bipartisan invitation to discuss these concerns and the impacts such technology can have on our constituents when put in the hands of law enforcement officials."

Separately, Sen. Edward Markey and Reps. Luis Gutiérrez and Mark DeSaulnier also sent a letter expressing their concern and asking for more information about Amazon's facial recognition services.
Then in a new letter shared with BuzzFeed News Friday morning, U.S. Sens. Ron Wyden, Cory Booker, and Ed Markey sought details from 39 law-enforcement agencies about their use of facial recognition technology and what policies they have put in place to prevent abuse and misuse.
The two co-leads of the original letter, Reps. Gomez and Lewis, are from the Congressional Hispanic Caucus and the Congressional Black Caucus; both were falsely matched to mugshots in the ACLU's test of Amazon Rekognition. According to the ACLU's test of Amazon Rekognition technology, nearly 40 percent of false matches were people of color, even though they make up only 20 percent of Congress.
Sen. Edward Markey and Reps. Luis Gutiérrez and Mark DeSaulnier, meanwhile, asked Amazon to answer their questions about Amazon Rekognition and its sale to law enforcement by Aug. 20. "Serious concerns have been raised about the dangers facial recognition can pose to privacy and civil rights, especially when it is a tool of government surveillance, as well as accuracy of the technology and its disproportionate impact on communities of color," their letter stated.
Among the details Markey, Gutiérrez, and DeSaulnier sought: a bias assessment that Amazon has conducted on Rekognition; a list of law enforcement that Amazon has contacted or communicated with over the use of Rekognition; and whether those law enforcement agencies have ever been investigated.

Amazon, for its part, has said Rekognition has been used in the past for many useful purposes, including finding missing children, enhancing security, and preventing package theft. "We remain excited about how image and video analysis can be a driver for good in the world, including in the public sector and law enforcement," an Amazon Web Services spokesperson told BuzzFeed News in an earlier statement.
But Jeff Bezos has yet to make a public statement to mounting criticisms of Amazon's Rekognition technology by Amazon employees, shareholders, and civil rights groups. In May, the ACLU reported that Amazon had been pitching Rekognition to law enforcement agencies to surveil citizens, and that Oregon's Washington County and Orlando had been using it since 2017. The report spurred a petition to the Amazon CEO, asking him to end the contracts with police. Now, Bezos also needs to decide whether he will indeed meet with members of Congress asking for a meeting to express concerns over the facial recognition technology.
Beyond asking for time with Amazon's CEO, Gomez and Lewis ask Bezos in their letter to ensure that developers of tech like Amazon Rekognition include testing and regular consultation with "diverse stakeholders" — especially civil rights experts and advocates.

"Data software excels at finding patterns and aggregating data, but those programs have yet to prove they can accurately analyze the context around the information it
collects," the letter stated. "This can and has led to irretrievable harm to innocent persons' livelihoods; a cost that is too high to ignore."
UPDATE
Information about a new letter written by US Sens. Ron Wyden, Cory Booker, and Ed Markey, asking law enforcement agencies about their use of facial recognition technology, was added to this piece.
UPDATE
This story has been updated to note that the original letter from lawmakers demanding to meet with Amazon was signed by 23 more members of Congress and has become a bipartisan effort.