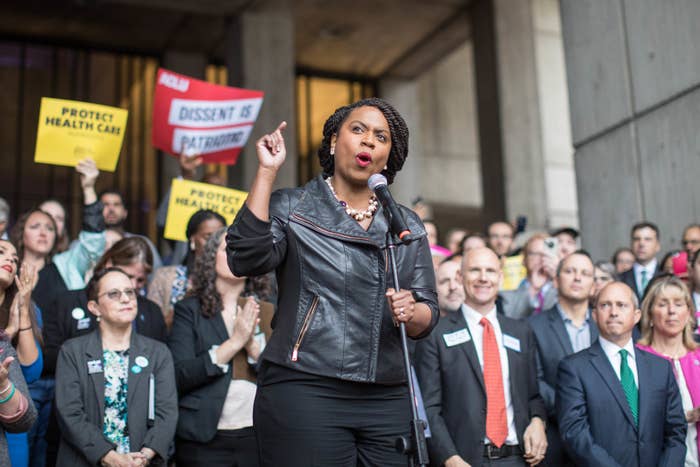 Ayanna Pressley, a sexual assault survivor who is almost guaranteed to join Congress next year, is calling on Americans to unify around sexual assault survivors after President Donald Trump mocked Christine Blasey Ford's Senate testimony, in which she alleged that she was assaulted by Supreme Court nominee Brett Kavanaugh when they were both in high school.
"Everyone keeps talking about the division and tribalism in our country," Pressley told BuzzFeed News by phone Wednesday. "I hope we can appeal to a greater tribe and affirm the humanity and dignity of survivors, and get justice they deserve. I would like to think about the same tribalism in our country having the ability to affirm our collective humanity in these instances by honoring the voices and stories of survivors and lived experience."
Pressley, currently a Boston City Council member, beat an incumbent Democratic member of Congress in a September primary and is likely to become Massachusetts's first black woman in Congress.
She first spoke publicly about being sexually assaulted in 2011. Her successful primary challenge was viewed in part as the embodiment of movements like #MeToo and Time's Up, campaigns forcing a national reckoning with issues of sexual harassment and other forms of abuse.
Pressley said Ford has had a "lifetime of trauma and shame" and that if Kavanaugh "had an iota of decency" he would withdraw his nomination. Kavanaugh, she said, "is not entitled to a lifetime appointment."

Pressley said that for all of the ways she was accused of playing "identity politics" during her primary campaign — a term she and many other Democrats reject — she wanted to broaden the symbolism of her candidacy to all of her perspectives, including that of a survivor of sexual assault. She says people frequently stop to thank her for being frank about her trauma and to tell her that her openness had helped them on their own road to healing. Pressley embraces this kind of role, but says she doesn't deserve or want any special credit.
"The reason I tell my story is to create space and dignity for survivors to let them know that they are seen, that they are not alone, and that I am going to be vigilant in this moment for their healing and justice," she said, deploring the "violent history of rape culture sexual violence" in the US.
"That is truly the disgrace to our nation, that survivors are never given the justice they are deserved."
Pressley said she's optimistic that the issue is stirring the country now, as the Senate weighs whether to confirm Kavanaugh. The judge has vehemently denied the assault allegations.
"As much as we are at this crossroads in this resistance, and with so much uncertainty with these daily insults, it's an opportunity to double down and stand for and not just against, but what we're for," she said.
She also lauded the courage of the two young women — Ana Maria Archila and Maria Gallagher — who confronted Arizona Republican Sen. Jeff Flake in an elevator at the US Capitol on Friday, just before he pressed for a limited FBI investigation into the allegations against Kavanaugh. Pressley thinks their actions displayed a model of political confrontation she believes needs to be brought to bear during the nomination process, and that should be part of the ongoing pressure the movement can use to create solidarity around survivors of sexual assault. She said people in power need to feel and share the pain of survivors, and that their action was further evidence of her political theory that people most affected by oppression and suffering to have power in a representative democracy.
"[That] brand of citizen activism speaks to the power of storytelling and disclosing [sexual assault]," she said. "It is easy to make a reckless, callous decision when you're not in proximity to people's [pain]."
She added that the activism is a "hard prompt" for leaders to articulate what they stand for amid what she considers a crisis of leadership at the highest levels of government.
"People want to shortchange that discussion, whether you're left, right, or center, but I think it's like [Maryland gubernatorial candidate] Ben Jealous says, it's not about running to the right or the left. It's about running to the people. And it's the people who are demanding more. They're demanding that there is clarity and certainty in uncertain times."