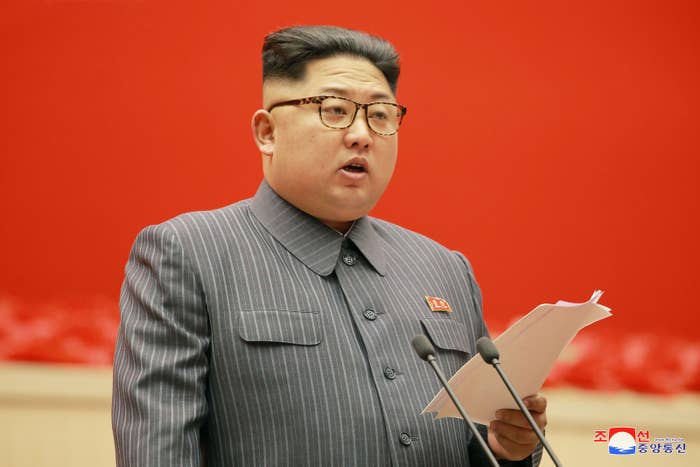 Amid concerns over North Korea, federal emergency managers are updating disaster plans to account for large nuclear detonations over the 60 largest US cities, according to a US Federal Emergency Management Agency official.
The shift away from planning for small nuclear devices that could be deployed by terrorists toward thermonuclear blasts arranged by "state actors" was discussed on Thursday at a two-day National Academies of Sciences workshop for public health and emergency response officials held at its headquarters across the street from the US State Department.
"We are looking at 100 kiloton to 1,000 kiloton detonations," chief of FEMA's chemical, biological, radiological, and nuclear branch Luis Garcia told BuzzFeed News. The agency's current "nuclear detonation" guidance for emergency planners, first released in 2010, had looked at 1 to 10 kiloton blasts — smaller than the 1945 Hiroshima and Nagasaki atomic bombs that killed more than 200,000 people at the end of World War II. Those smaller size detonations had seemed more reasonable after 9/11, with high concerns about an improvised terrorist bomb.
"The North Koreans have really changed the calculus."
But last year North Korea tested an apparent thermonuclear bomb with a surprisingly large estimated blast size of 250 kilotons, a "city buster" much bigger than past test blasts and nearly the size of current US intercontinental ballistic missile warheads. The test blast kicked off a new era of nuclear anxiety in the US.
"The North Koreans have really changed the calculus," Cham Dallas of the Institute for Disaster Management at the University of Georgia told workshop participants. "We really have to look at thermonuclear now."
Dallas presented "speculative" analyses of a nuclear detonations in several cities — including New York and Washington, DC — at the workshop, suggesting that a thermonuclear blast roughly doubles the hundreds of thousands of dead and many more wounded (a 1979 analysis of a 1,000 kiloton blast in Detroit estimated 220,000 deaths, for example) compared to the atomic bomb blasts. They also cause many more burn injuries and larger fallout clouds that travel farther away.
The updated FEMA guidance would be for the 60 largest urban areas in the US and will rely on newer detonation models created by the Department of Energy's Lawrence Livermore National Laboratory. These models take into account weather patterns that direct and distort weapon clouds, as well as the shelter provided by concrete structures. "A 10 times larger [explosion] yield does not make things 10 times worse," LLNL's Brooke Buddemeier said at the workshop. People remaining in shelters in the hours and days after a blast greatly lower their chances of getting radiation sickness.
The new FEMA plan will also have to consider modern contingencies such as cyberweapons striking power plants and cell phone signals before a blast, or a nuclear blackmail scenario where a single bomb is detonated followed by threats to set off more unless demands are met.
In response to an audience question, Garcia said the agency has also considered scenarios where a nuclear bomb, a cyberattack, a coordinated electromagnetic pulse, and biological weapons all hit the US at the same time.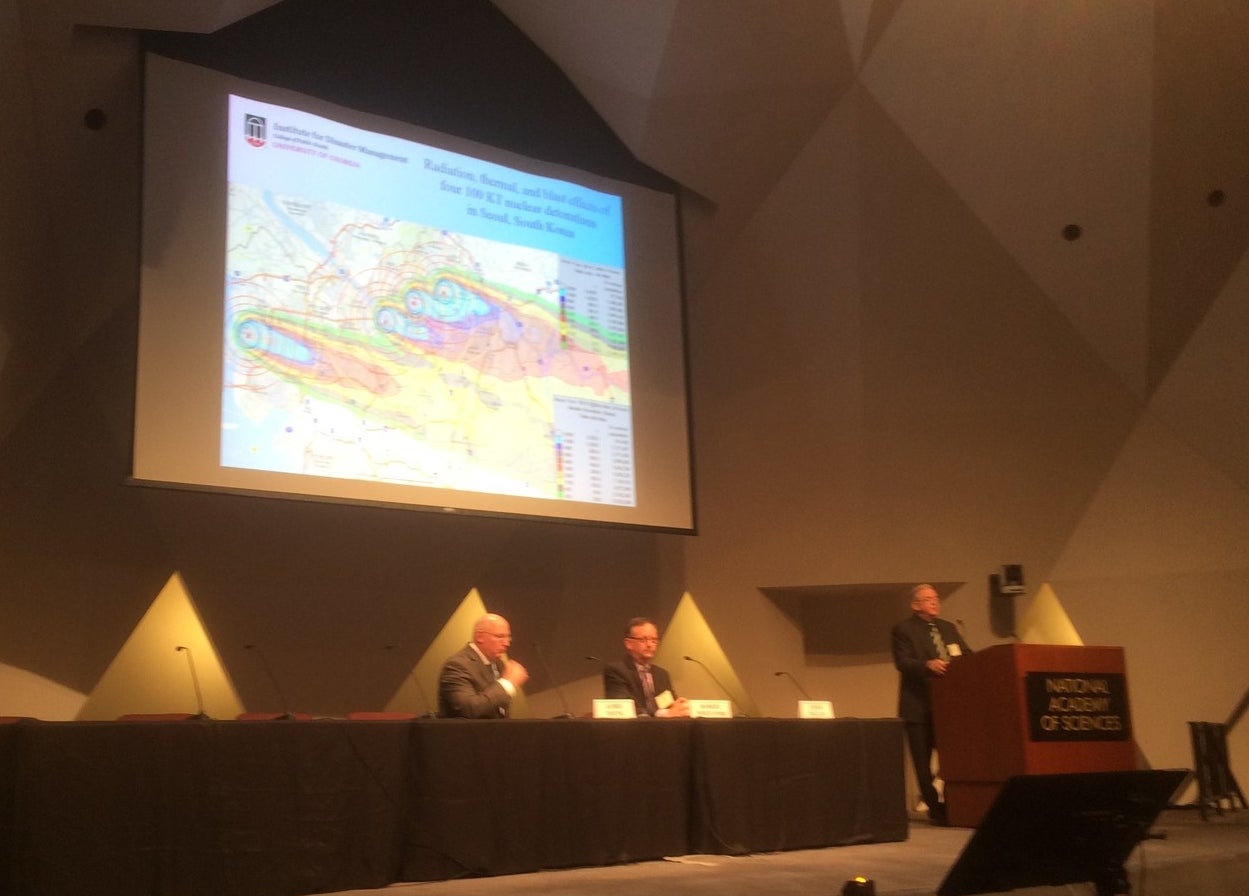 During the "Duck and Cover" period of the Cold War, US planners had fitfully called for civil defense measures for a nuclear war with the Soviet Union, most famously in a short-lived fallout shelter boom during the Cuban missile crisis of the early 1960's.
"All states, all large cities have all thought about this before," the CDC's Strategic National Stockpile Deputy Director Steve Adams said, and they already designate sites for medical supplies after disasters. "I think the challenge for us will be distribution, a very large one."
The national stockpile now contains medicine and medical material to treat radiation sickness, but Adams expressed concerns about burn kits. Medical specialists from the American Burn Association frequently raised concerns at the two-day workshop about numbers and training of burn experts nationwide, particularly for treating children. Colleen Ryan of Harvard Medical School told BuzzFeed News that there are only about 300 qualified burn surgeons nationwide, and that the burn treatment requirements for medical school training of surgeons were curtailed a decade ago.
Nursing expert Tener Veenema of the Johns Hopkins Bloomberg School of Public Health also questioned plans like FEMA's, pointing to studies suggesting that many nurses and doctors feared radiation above other threats, and might not show up to treat people after such a disaster, fleeing instead. "We need to analyze these plans for nursing shortfalls," she said, adding that no one has analyzed the costs of such a blast to the national economy to justify the extra spending and training that would be needed to make the plans justifiable to lawmakers.
Similarly, Ron Miller, acting director of the National Disaster Medical System at the US Department of Health and Human Services, raised concerns about the 6,000 doctors, nurses, and other medical professionals showing up after a nuclear explosion.
At least two kinds of widespread complacency make medical planning for a large nuclear detonation more difficult, Dallas added. The first is a belief in parts of the country far from major cities that a nuclear detonation won't affect their lives, when in reality such a catastrophe would be a significant blow to resources everywhere.
The other is that a blast will just kill everyone in its wake and that any effort at disaster planning is futile, when in reality acute radiation poisoning and severe burns can be treated.
"We have to get past this fatalism," he said. "There's a lot of denial going on."