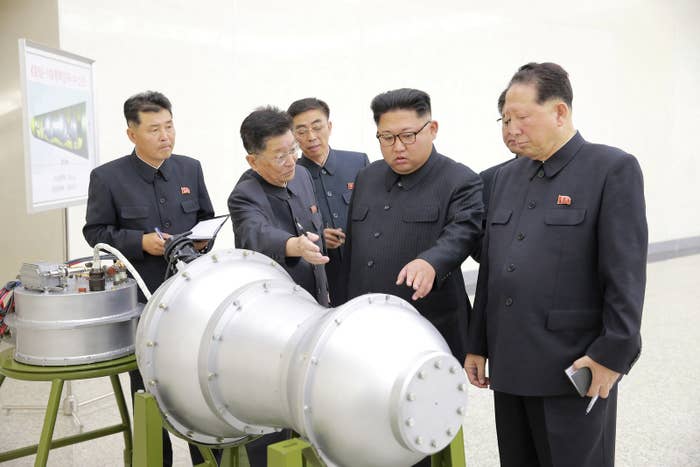 A powerful tremor — a suspected nuclear weapons test — was detected early Sunday in North Korea hours after the country's leadership claimed to have developed a hydrogen bomb.
The US Geological Survey recorded a 6.3 magnitude earthquake at a depth of 0.0 kilometers, a strong indicator the event was a nuclear test conducted by Kim Jong Un's military.
North Korea said it detonated a thermonuclear device Sunday, in its sixth and most powerful nuclear test to date, and called it a "perfect success" of "unprecedented" strength.
Minutes after the tremor was detected, South Korea's government said it believed North Korea had conducted a nuclear test, Yonhap News Agency reported.
On Sunday, President Trump said "We'll see" when asked by a White House pool reporter if the US plans to attack North Korea.
Also on Sunday morning, Trump tweeted that North Korea was a "rogue nation" and a "great threat and embarrassment."
"North Korea has conducted a major Nuclear Test," he tweeted. "Their words and actions continue to be very hostile and dangerous to the United States.......North Korea is a rogue nation which has become a great threat and embarrassment to China, which is trying to help but with little success. South Korea is finding, as I have told them, that their talk of appeasement with North Korea will not work, they only understand one thing!"
After noon on Sunday, Trump again took to Twitter to say that he was meeting former general and current White House Chief of Staff John Kelly and Secretary of Defense James Mattis to discuss North Korea's latest possible nuclear weapons test. Seven minutes later he tweeted that the US was considering various options, including ceasing commerce with countries that trade with North Korea.
Mattis made a brief statement on the White House lawn on Sunday afternoon, saying the US had "many military options" and that the president "wanted to be briefed on each one of them."

"We made clear that we have the ability to defend ourselves and our allies, South Korea and Japan, from any attack, and our commitment among the allies are ironclad," Mattis said. "Any threat to the United States or its territories, including Guam, or our allies, will be met with a massive military response," he continued, adding that such a response would be "effective and overwhelming."
Mattis then urged Kim to follow the suggestions of the UN Security Council, "Because we are not looking to the total annihilation of a country ... but as I said, we have many options to do so," he said.

On Monday morning, South Korean media said Seoul's military believes North Korea is readying the launch of a ballistic missile. South Korea responded to the nuclear test with live-fire drills off its eastern coast Monday that were meant to simulate an attack on the North's main nuclear test site.
The North Korea's last nuclear test was nearly a year ago, on Sept. 8, 2016, prompting a rebuke from US then-president Barack Obama and the UN Security Council, as well as new UN sanctions on the country.

Sunday's 6.3 magnitude quake suggested that whatever weapon was tested was much more powerful than the device tested last year, which produced a 5.3 magnitude tremor.
The US State Department has not yet commented on the test. South Korea's presidential office said it will hold a National Security Council meeting chaired by President Moon Jae-in and South Korea's military added it had strengthened its monitoring and readiness.
Japan also responded to the test in strong terms. "It is absolutely unacceptable if North Korea did force another nuclear test, and we must protest strongly," Prime Minister Shinzo Abe said.
In China, where the public has grown increasingly frustrated with North Korea, tremors were felt in the northeast, raising fears of the nuclear test's impact on the environment. "We need to make clear to Pyongyang through various channels that its nuclear tests can never contaminate China's northeastern provinces," the state-run Global Times said in an editorial on Sunday. "China's strategic security and environmental safety is the bottom line for China in showing restraint."
Still, North Korea's economy is heavily dependent on neighboring China, which fears destabilizing the impoverished country. China's Foreign Ministry strongly condemned the test on Sunday, but it's unclear whether the government will now take stronger action against Pyongyang, including giving in to calls to cut off oil exports to the country, for instance.
The test comes after a ratcheting-up of tensions between the US and North Korea over the past several months.
After the North Korean government threatened the US in August, suggesting it was reviewing plans to attack Guam, Trump said North Korea would be met with "fire and fury like the world has never seen" if it continued to issue the threats.
Yet North Korea has continued to make aggressive military actions and tests, including firing a missile over Japan earlier this week.
Just hours after the quake was detected Sunday, North Korea's official news agency KCNA had reported North Korea had developed a new advanced hydrogen bomb, Reuters reported.
The agency reported the new H-bomb could be fitted onto an intercontinental ballistic missile, which experts believe would be able to reach the US.
Norway's NORSAR geoscience foundation estimated the size of the blast at 120 kilotons of TNT on Sunday, six times larger than last year's North Korean test and roughly the same amount larger than the 1945 atomic bomb explosions over Hiroshima and Nagasaki that killed more than 225,000 people at the end of World War II.
Arms control expert seismologists reacted with dismay to the size of the blast over the weekend.
Determining what type of bomb produced the blast remains a matter of "sniffer plane" analysis in the next week, sampling eastward winds for nuclear isotope traces that provide a signature of its design.
A 120 kiloton blast remains in the range of atomic bombs, which rely on splitting atoms of uranium or plutonium, nuclear fission, for their power. Those can reportedly produce blasts as large as 500 kilotons. Hydrogen bombs, where most of the energy comes from nuclear fusion, more typically produce blasts in the 1 to 5 megaton range; the largest bomb ever, the Soviet Union's Tsar Bomba, created a 50 megaton blast in a 1961 test. An intermediate possibility is that the blast came from a "boosted" bomb where atomic bombs ignite brief fusion reactions in H-bomb fuel, adding to the power of the blast, but falling short of a genuine fusion bomb in effect.
Regardless, a blast the size of the North Korean test would create a blast radius roughly two-thirds of a mile across Seoul, according to a Stevens Institute of Technology nuclear blast calculator. That would be large enough to cause third-degree burns for everyone within 21.6 square miles of the city, which is home to 9.9 million people.
This is a developing story. Check back soon for updates and follow @BuzzFeedNews on Twitter.