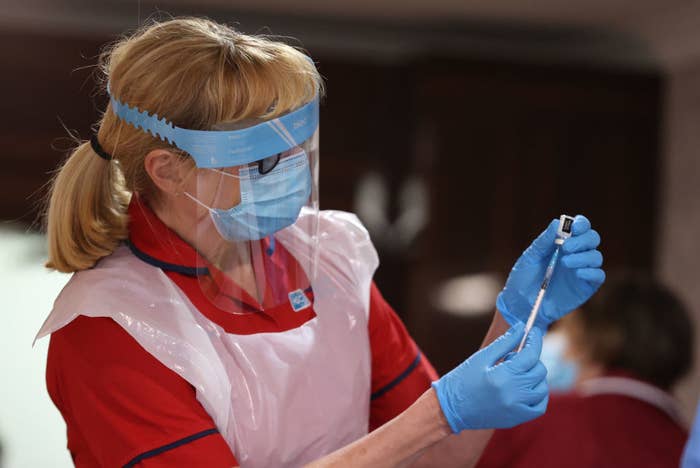 The journalists at BuzzFeed News are proud to bring you trustworthy and relevant reporting about the coronavirus. To help keep this news free, become a member and sign up for our newsletter, Incoming.
The FDA on Friday night authorized the first COVID-19 vaccine in the US, marking the start of a historic nationwide campaign to distribute shots needed to control a pandemic that's killing 3,000 people a day.
The authorization came one day after an overwhelming vote of confidence from the FDA's advisory panel. In a 17-4 vote, with one abstention, the independent panel of medical safety experts found the vaccine's two shots, which are likely 95% effective in preventing the disease, had benefits that outweighed their risks for people 16 and older.
"The FDA's authorization for emergency use of the first COVID-19 vaccine is a significant milestone in battling this devastating pandemic that has affected so many families in the United States and around the world," said FDA commissioner Stephen Hahn. "The tireless work to develop a new vaccine to prevent this novel, serious, and life-threatening disease in an expedited timeframe after its emergence is a true testament to scientific innovation and public-private collaboration worldwide."

Health officials said Saturday that they will ship out an initial 2.9 million doses nationwide to arrive in states on Monday.

The US is the sixth country to authorize Pfizer's vaccine, after the United Kingdom, Canada, Bahrain, Saudi Arabia, and Mexico. The vaccine requires two doses, spaced 21 days apart.
At the panel meeting, FDA scientists and Pfizer representatives presented efficacy and safety data from a large clinical trial of the vaccine ahead of the vote. Here's what you need to know from the numbers and the questions the experts asked:
1. The vaccine offers very good protection against COVID-19.
FDA scientists confirmed Pfizer's analysis of preliminary data from its trial of 44,000 people, which found that the vaccine had an efficacy rate of 95% among study participants when compared with people who got placebo shots. The vaccine's protection began one week after participants received their second shot. The results found the vaccine equally efficacious among all age groups, genders, and races, particularly welcome news in a pandemic that has struck the elderly and minorities hard.

This rate of protection is extremely high — and caught many scientists by surprise. The FDA requires that any COVID-19 vaccine that is submitted for emergency authorization shows at least 50% efficacy, while the flu shot is typically about 60% effective.
It's important to remember that vaccine "efficacy" is simply the statistical drop in COVID-19 being diagnosed in the vaccinated half of the people in a study, compared to the half of participants that got a placebo shot. It doesn't tell you what the chances are that you will be protected by the vaccine in the real world.
The level of protection was calculated from 162 people who got COVID-19 in the placebo arm of the trial versus 8 people who got the vaccine and still got infected. Only a handful of severe cases were reported, making it hard to definitively conclude that the vaccine can help prevent the worst outcomes of COVID-19.
It will be important for everyone receiving their first shot to make sure to return after 21 days for their second. A first shot on its own was only about 52.4% efficacious in lowering the rate of COVID-19 diagnoses. Operation Warp Speed chief scientist Moncef Slaoui, speaking Wednesday, said that was not good enough to justify making the Pfizer vaccine a single-dose shot, but since a flattening of COVID-19 diagnoses became apparent about 12 days after even just one shot in the study population, that suggests the vaccine will be very effective once it starts rolling out in the wider population.
"Hopefully we will start impacting people's lives very quickly after the onset of the campaign to immunize," Slaoui said.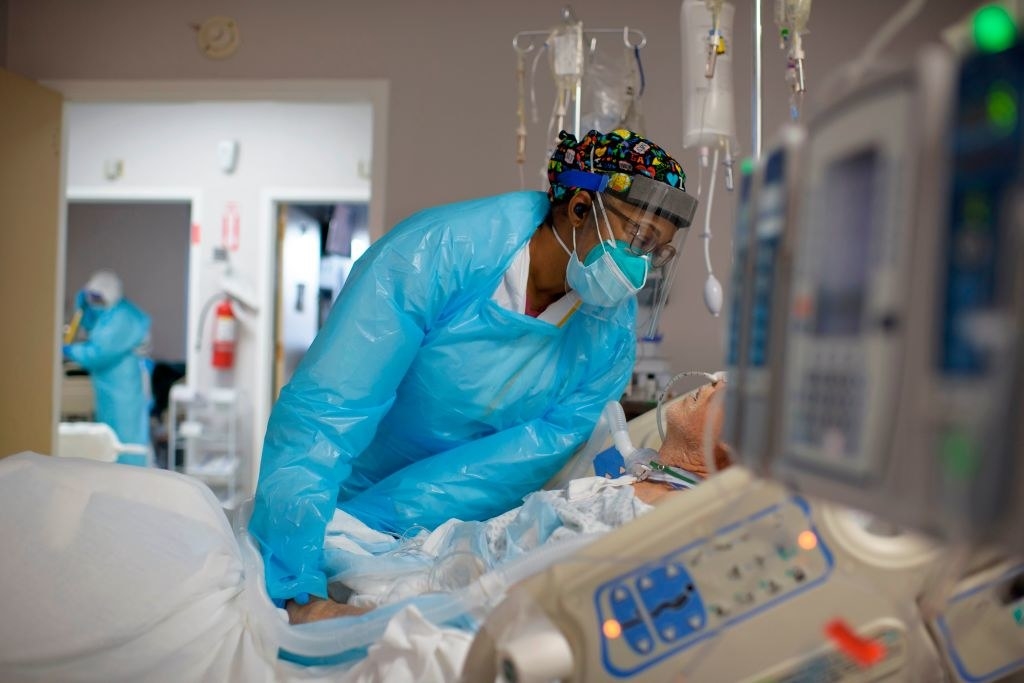 2. The shots come with side effects.
Mild side effects such as arm soreness, fatigue, fevers, chills, and headaches were significantly more common for people who got the COVID-19 vaccine than in some other common vaccines such as the flu shot. About a quarter of the participants reported some kind of reaction, primarily arm soreness, followed by fevers, chills, tiredness, and headaches. Only about 1% reported nausea or an upset stomach.
That rate of reactions is similar to the very effective shingles vaccine, noted Slaoui. "There is no free lunch," he said. "If you have a very good immune response you notice it. But it's not the safety issue, it's actually an immunogenicity marker," where a powerful vaccine kicks up a stronger reaction to a shot than a weaker one.
"I had adverse effects, and I would still tell people go get a shot," said UCLA nursing professor Kristen Choi, who participated in the Pfizer clinical trial and had a high fever, nausea, and dizziness the day after her second injection. "You might plan to take the day off after getting the shot."
The rate of serious side effects — swollen lymph nodes, heart arrhythmias, and one shoulder injury — was about 1 in 200 in both the vaccine recipients and in the placebo group.
The FDA is requiring all drug companies submitting COVID-19 vaccines for emergency authorization to provide two months of safety data for at least half of their trial participants. The health agency and the CDC will continue safety monitoring using several surveillance systems that will keep track of vaccine recipients who develop any side effects.
One set of reactions worth monitoring are cases of Bell's palsy, a temporary weakening of the muscles on one side of the face, reported in four people who received the vaccine. To determine whether the illnesses were linked to the vaccine, safety monitors look for incidents of these reactions above the background numbers seen in the general population. UK regulators assessed the incidents as not statistically unusual, since the trial included tens of thousands of people. But the FDA is recommending that healthcare providers monitor for further cases as the vaccine is distributed widely.
3. There are some concerns about people who have severe allergic reactions getting the vaccine.
On Wednesday, news came from the UK's rollout of the Pfizer vaccine of strong allergic reactions in two health workers who received their first shots. Both individuals had a history of allergic reactions strong enough that they carried EpiPens with them meant to stave off such events, and both recovered from the reactions.
Following the reports, the UK's health regulator announced that people with a "significant history of allergic reactions to a vaccine, medicine or food" should not be given the vaccine. Pfizer's prescribing information in the US has a narrower restriction, warning that the vaccine should not be given to people with a history of severe allergies to components of the vaccine. The FDA asked Pfizer to continue to monitor the issue and submit more data to the agency.
But Paul Offit, a vaccine expert at Children's Hospital of Philadelphia and a member of the FDA's advisory committee, said Thursday that Pfizer should go one step further in efforts to be clear with the public and conduct studies of the vaccine specifically in people with allergies to eggs or peanuts.

While he made it clear that he didn't think this was a reason to hold up the vaccine, he expressed concern that millions of people with allergies will not get vaccinated without more reassurance. "I think we just need to offer people some solace this is not going to be a problem," Offit said. "This is going to be an issue and we need to have some data to arm ourselves with."
On Saturday, Peter Marks, the director of the FDA's Center for Biologics Evaluation and Research, said that people with a history of severe allergic reactions should talk to their doctors before getting their first shot. "The vaccine really is one we're comfortable giving to patients who've had other allergic reactions other than severe allergic reactions to a vaccine or one of its components," Marks said. "So obviously you'll need to tell your doctor if you've had allergic reactions — they'll help determine, knowing what's in the vaccine, if you may be allergic to one of those components."
Vaccine centers, however, are well prepared to handle allergic reactions when they occur, University of California San Francisco vaccine developer Joel Ernst noted. "I think the implications for anyone without a history of severe allergies (and I take that to mean, reactions that needed emergency treatment), are negligible," he said, by email.
4. There are still safety unknowns for some groups, including pregnant people.
Along with those people with histories of serious allergic reactions, there are other groups of people for whom safety data is lacking, notably pregnant people.
That matters, because the first priority group for the vaccines is the nation's 21 million healthcare workers, and three-quarters of them are women. Perhaps 300,000 of them might become pregnant or be nursing in the next year, according to estimates presented at an HHS advisory committee meeting last Friday. Although pregnant people were excluded from entering Pfizer's clinical trial, 23 women did become pregnant while enrolled, a dozen of them in the vaccine group, too small of a number for any safety statistics. The AstraZeneca vaccine is including some pregnant women in its trial, but those results are not expected to be delivered to the FDA until January.
The study added 100 teens ages 12 to 15, but that was too few vaccine-takers to generate an estimate of vaccine efficacy for the age group and side effect data about them was left out of Pfizer's authorization application. Side effect data for 16- and 17-year-olds in the trial did not look different than adults though, suggesting that for older children, at least, the vaccines look safe.
On Thursday, several members of the FDA advisory committee expressed concern about whether there was enough data from people in that age group to clear the vaccine for their use. (The trial included 153 16- and 17-year-olds.)
5. Healthcare workers and nursing homes are first in line for the vaccine.
Although Operation Warp Speed promises to start shipping doses within 24 hours of the FDA issuing an emergency authorization for their distribution, where they end up will depend on each state's plans. The CDC recommends the first doses go to healthcare workers, and to residents and staff at nursing homes, but governors will have the final say, according to HHS head Alex Azar.
While some states are following the CDC recommendations, others like Texas and Florida are also prioritizing people 65 years of age and older as well as "vulnerable, frontline workers." A patchwork pattern of vaccine distribution might result nationwide, with neighboring states first getting vaccines to different groups.
At least 36 states are working with the CDC and pharmacy chains to distribute vaccines in long-term care facilities with the first shipments, according to OWS shipping chief Gustave Perna.
Unless they are in a high-priority group or a clinical trial, it may take months for other Americans to get vaccinated. The plans unveiled on Wednesday were for 20 million people to get the first shot before the end of the year, 30 million in January, and 50 million in February. The nation's population is almost 330 million people, and the hope now is that everyone who wants a shot can get one by the end of June.
UPDATE
This story has been updated with new information from Operation Warp Speed and the FDA on Saturday.
UPDATE
This story has been updated to include information about the FDA's emergency authorization on Friday.
UPDATE
This story has been updated to clarify that people with a history of severe allergic reactions associated with a vaccine were excluded from Pfizer's trial.
UPDATE
This story has been updated to include more information about the FDA panel's discussion of people with severe allergic reactions.