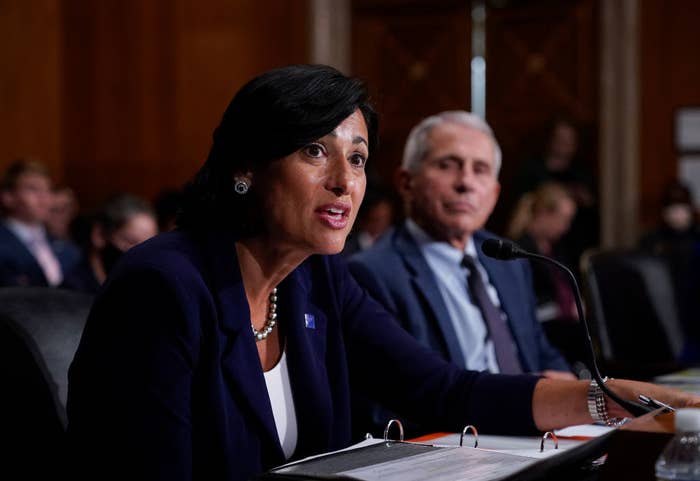 CDC chief Rochelle Walensky overruled her own agency's advisers late Thursday night, recommending that booster shots of Pfizer's COVID-19 vaccine go to Americans aged 65 and older, adults at high risk of severe disease, as well as workers at high risk of contracting COVID-19.

The CDC expert panel had voted against recommending boosters to those at risk of contracting COVID-19 at their jobs — including healthcare workers, daycare staffers, teachers, and grocery workers — citing the difficulty of implementing such a broad recommendation. They also cited evidence that the COVID-19 vaccines without a booster still offered strong protection against severe illness and death.
Walensky's recommendation aligned with a broader authorization for the booster shot issued by the FDA on Wednesday and was a victory for the Biden administration, which declared in August that every vaccinated American would be able to get a booster dose by Sept. 20. The Biden administration's announcement kicked off weeks of tense debate among scientists over whether boosters were needed for the general population.

"At CDC, we are tasked with analyzing complex, often imperfect data to make concrete recommendations that optimize health," Walensky said in a statement. "In a pandemic, even with uncertainty, we must take actions that we anticipate will do the greatest good."
The CDC director's recommendation will now trigger federal payment of insurance costs for the extra doses. But, potentially adding to the confusion, states can choose to disregard the CDC's guidance and set their own rules for who can get shots.
In a press conference on Friday, President Joe Biden celebrated the move to offer Pfizer booster shots. "This week, as planned, we took a key step in protecting the vaccinated with booster shots, which our top government doctors believe provides the highest level of protection available to date," Biden said.
The FDA and the CDC "completed their independent scientific review," Biden said.
"Based on that review, the majority of Americans who were fully vaccinated with the Pfizer vaccine are now able to receive a booster shot six months after they've received their second shot."
Walensky's move came after weeks of disagreement over how the US should proceed with boosters. Many scientists, including top experts at the FDA and the World Health Organization, argued boosters are not needed for the general public since the vaccines are still very effective at preventing the worst outcomes of the disease. They argued doses would be better spent vaccinating people across the world to prevent the spread of new, more dangerous variants.
After the FDA authorized a third dose of the Pfizer vaccine on Wednesday, the CDC Advisory Committee on Immunization Practices was tasked with recommending which people should receive booster shots, opting for a narrower set of people to receive an additional dose for the time being. The panel did vote to recommend Pfizer boosters for all fully vaccinated past recipients 65 and older, as well as allowing them for any adults at high risk of severe disease.

However, the panel voted 9–6 against recommending boosters for people "who are in an occupational or institutional setting where the burden of COVID-19 infection and the risk of transmission are high." Many doctors on Twitter responded with shock and confusion.
Throughout its two-day meeting, the CDC advisory panel repeatedly stressed the continued protection offered by the two-dose vaccine. On Wednesday, CDC panelist Natalie Thornburg argued that though antibody levels have been shown to wane over time, leading to an increase in breakthrough infections among people who are vaccinated, longer-living immune cells still offered strong protection against severe disease and death.

"The benefit-risk balance is most favorable for those 65 years and older," said the CDC's Megan Wallace on Thursday, citing an analysis of the increased immunity spurred by booster shots compared to their risks of side effects. It found that for every 1 million boosters given to people in that older age group, 2,080 COVID-19 hospitalizations would be prevented, with the likelihood of one case of transient heart inflammation called myocarditis as a side effect.

Panelists also expressed concerns about when the FDA would authorize boosters for other vaccines since the authorization of only Pfizer's could spur confusion among those who received a Moderna or Johnson & Johnson shot.

Johnson & Johnson has submitted that data to the FDA for emergency use authorization, according to a company news release. Moderna submitted its data to the FDA for authorization earlier this month. The FDA's Peter Marks said he did not yet have an approximate date on when boosters for those vaccines might be authorized.
Walensky on Thursday said the agency would address those recommendations with those vaccines with the "same sense of urgency" with which they approached Pfizer's.
About 20 countries now offer booster shots to some part of their population, typically older adults, medical personnel, or those with compromised immune systems.