The presidency of Donald Trump has caused Democrats to experience a surge in confidence in the press at the same time that Republicans and Trump supporters are expressing more extreme, negative views of the media, according to new research released today.
But while views of the media are becoming even more divided along party lines, the researchers also found evidence that online media consumption habits of Democrats and Republicans may be less polarized than commonly believed.
"Trump has sparked unprecedented levels of polarization in views toward the media. In the period for which we have data, Democrats and Republicans have never had such disparate levels of trust and confidence in the media," Brendan Nyhan, a professor of political science at Dartmouth College and coauthor of the study, told BuzzFeed News.
The research is based on a representative survey of 2,100 American adults conducted by YouGov in November, as well as an analysis of anonymized desktop web-browsing data collected from participants during a one-week period. Nyhan and his coauthors, Andrew Guess from Princeton and Jason Reifler from the University of Exeter, are presenting their paper today at a journalism ethics summit in Washington, DC, called The Press and the President: Trust and the Media in a New Era. The event is organized by the Poynter Institute for Media Studies, a nonpartisan, nonprofit journalism think tank and teaching institute. The research, which forms the basis for the first Poynter Media Trust Survey, was funded by Poynter and a grant from the Craig Newmark Philanthropies.
Nyhan said Trump's negative approach to the press could be causing "the strongest relationship between presidential approval and media attitudes that has been observed to date."
The survey found that 74% of respondents who identify as Democrats, or who lean Democratic, have "a great deal" (19%) or "a fair amount" (55%) of confidence in the media. A poll taken in September 2016 asked the same question and found that 51% of Democrats expressed the same level of support, meaning that their confidence has increased 23 percentage points in just one year.
Seventy-four percent confidence in the press is the highest level registered for Democrats since 1997, the earliest date for which similar data is available.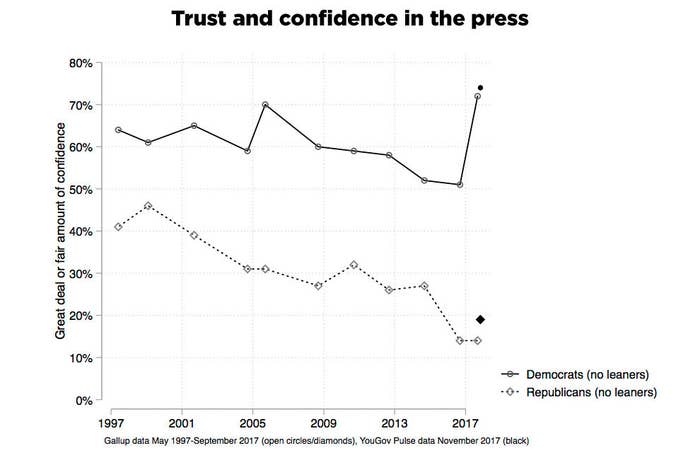 Meanwhile, just 19% of respondents who identified as Republicans, or who lean Republican, expressed "a great deal" or "a fair amount" of confidence in the media.
"Democrats still do not love the press — only 19 percent express 'a great deal' of trust and confidence — but they are far more positive than in the past," Nyhan said. "We interpret this increase as reflecting a recognition of the role of the media in holding an opposition president accountable, especially when his party controls both chambers of Congress."
The surge in trust and confidence in the media among Democrats helped drive the overall results to "a level of support not seen since after the 2001 terrorist attacks," the authors write.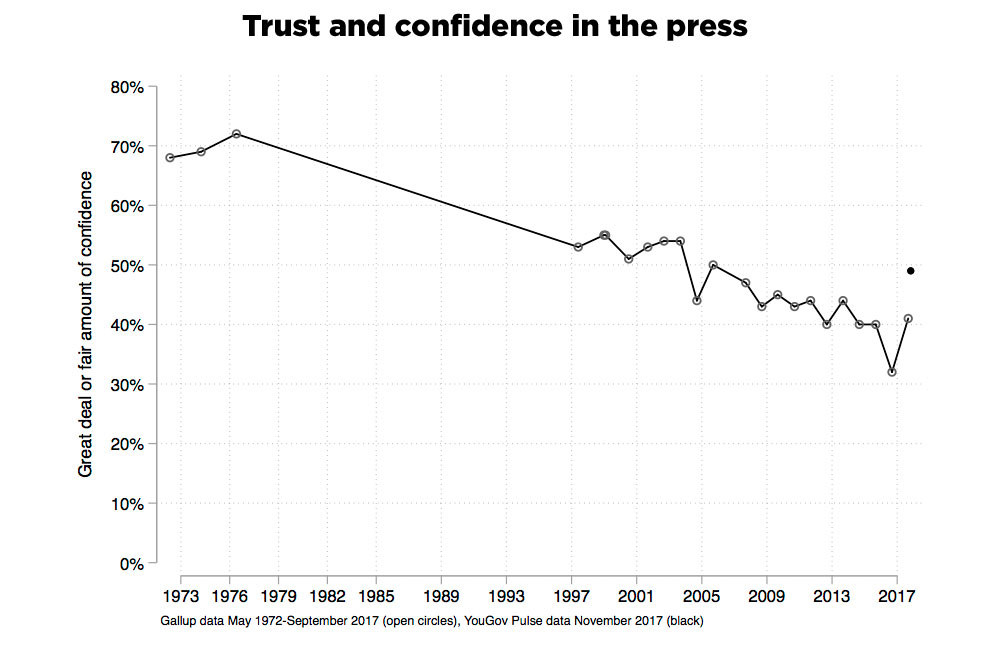 But that result masks a deeply polarized electorate whose party affiliation and level of support, or disapproval, of Trump increasingly dictates their view of the media. The researchers found that Republicans and Trump supporters are today "far more likely to endorse extreme claims about media fabrication, to describe journalists as an enemy of the people, and to support restrictions on press freedom."
More than 60% of respondents who identified as approving of Trump agreed with the president's statement that the media is an "enemy of the American people." Among Trump disapprovers, roughly 15% agreed with the statement. When asked if they agree with the statement that the media "keep political leaders from doing their job," the percentages were roughly the same.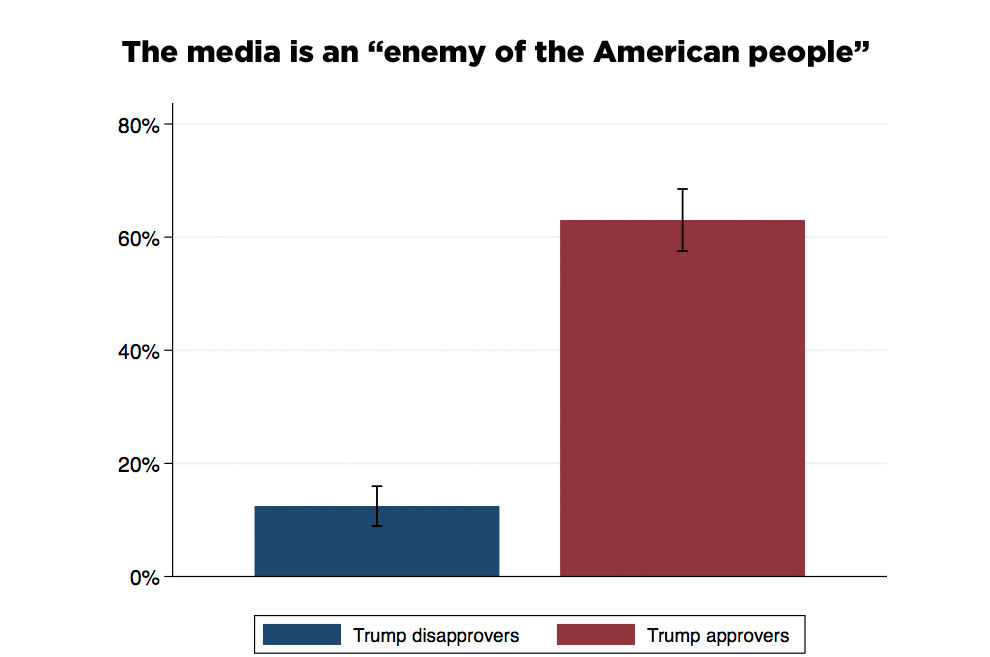 Nyhan said responses to these survey questions don't indicate whether individual respondents would, for example, like to see reporters jailed. "It's important not to get too hyper-literal about what they mean, but it's certainly concerning that they are even willing to say [the press is the enemy of the people] and indicate it in a survey," he said.
Overall more Americans endorsed these "extreme" positions than the researchers had expected.
"Most disturbingly, one in four Americans (25%) endorses draconian limitations on press freedom" that would give government officials the right to stop a media outlet from publishing a story, the researchers found.
The survey also revealed another way Republicans and Democrats differ when it comes to opinions of the media: Republicans with high level of knowledge about politics have less confidence in the press than Republicans with low levels of knowledge. For Democrats it's the reverse — those with high knowledge are more likely to have confidence in the press, while those with low knowledge also have low confidence.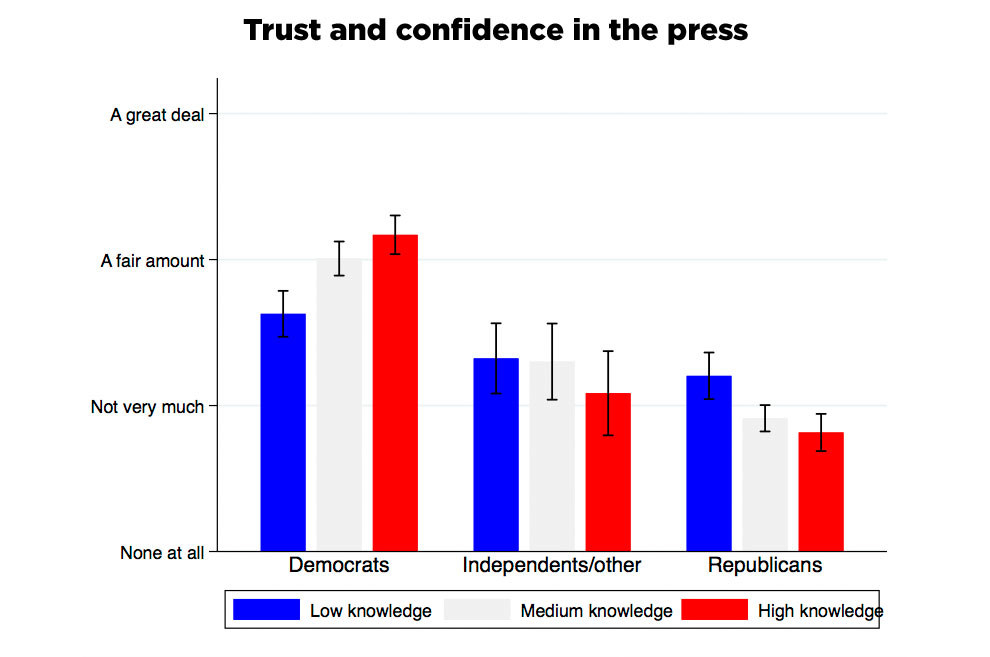 The researchers believe this is likely a result of vastly different messages about the media coming from Democratic and Republican elites.
"If you're a politically aware Democrat, you've been exposed to a lot of ideas about the critical importance of the media and other mainstream institutions, especially in the past year," Andrew Guess of Princeton told BuzzFeed News. "For politically aware Republicans, the message has often been quite different."
Nyhan said "one of the principles of public opinion is that the most knowledgeable people are most likely to hear and follow cues from like-minded partisan elites."
The level of political knowledge of respondents was determined based on their responses to a series of factual assertions such as "Rex Tillerson is the current US Secretary of State."
Polarized News Consumption
In addition to asking questions, the researchers analyzed anonymized web-browsing data from survey participants. This enabled them to compare what people said about their online news consumption with data about the sites they actually visited using desktop computers.
One key finding is that respondents had a tendency to overreport their use of partisan news sources. "Democrats seem to overreport visiting the Huffington Post and Republicans tend to underreport doing so. The converse is true for Fox News — Republicans tend to overreport visiting the Fox News website while Democrats seem to underreport," the researchers write.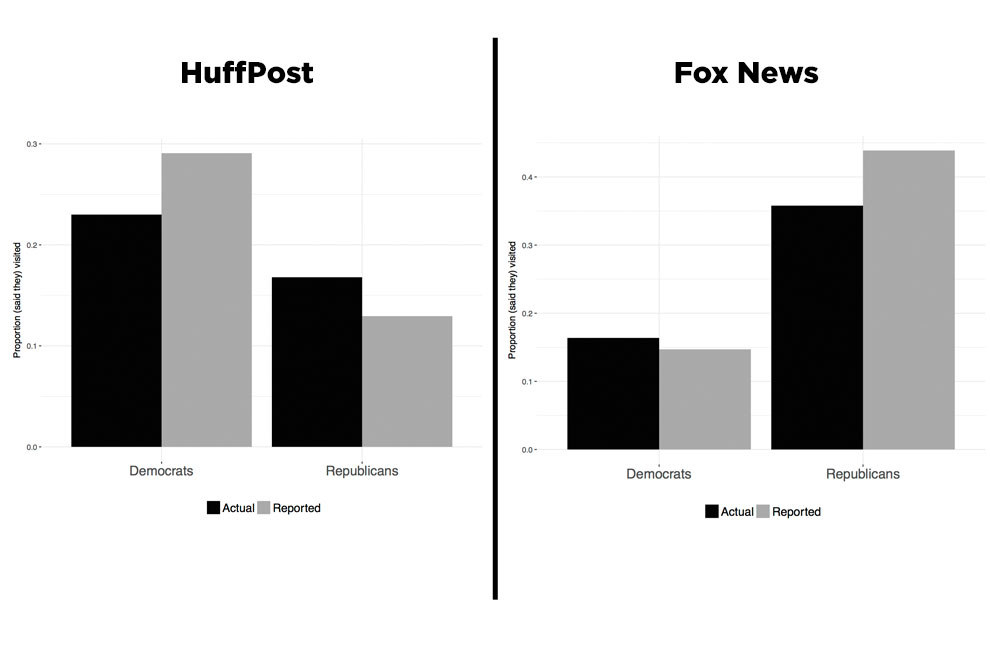 Nyhan said this shows that "people's perceptions of what they're reading and what they're actually reading are different."
Guess said it's possible that people overreport their consumption of partisan media to reflect their political identity.
"Democrats are more likely to say they visit the Huffington Post than they actually do, for instance, because being a Huffington Post reader is possibly seen as part of being a good Democrat," he said. "Put together, patterns like these suggest that the conventional wisdom is skewed toward thinking that people's media diets are more polarized than they actually are."
Nyhan said this new data is "consistent with the notion that fears about 'echo chambers' may be overstated."