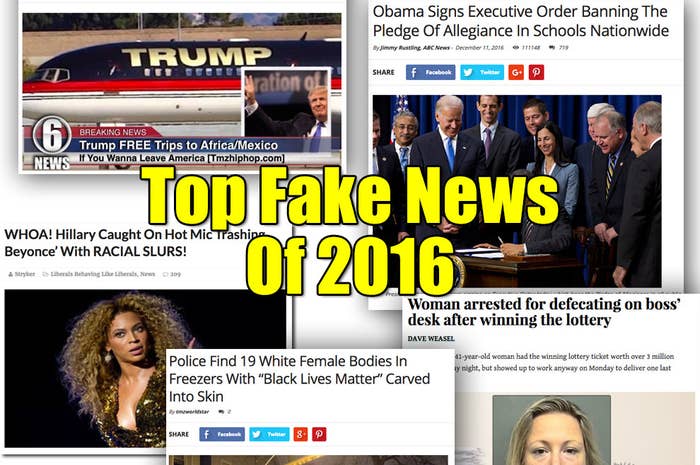 Hoaxes about US politics were among the top-performing fake news content on Facebook in 2016, according to an analysis by BuzzFeed News.

Twenty-three of the 50 top-performing fake news hoaxes we found on Facebook were focused on US politics. Overall, fake news about US politics accounted for 10.6 million of the 21.5 million total shares, reactions, and comments these English-language stories generated on Facebook this year, according to the analysis.
The top-performing fake news story identified in the analysis is a hoax from October that claimed President Obama had banned reciting the Pledge of Allegiance in schools. It was published by ABCNews.com.co, a fake site made to look like ABC News that scored six hits in the top 50. The Obama hoax generated more than 2.1 million shares, comments, and reactions on Facebook in just two months. (A counter on the article page suggests the story has been viewed more than 110,000 times.)

BuzzFeed News used BuzzSumo to identify the top-performing Facebook content from 96 fake news websites, including the network of more than 40 sites exposed in a recent investigation. This list of English-language fake sites has been built up over the past two years of covering this topic, and was compared to this chart from the creators of Hoaxy to compile a more comprehensive list of pure fake news sites. Click here to view the top 50 hoaxes, and to see the list of fake news sites.
In order to examine the performance of pure fake news on Facebook in 2016, this analysis focused exclusively on stories that were 100% false and that originated on fake news websites — it did not include misreported news or partisan misrepresentations of real events.
Along with the Obama pledge ban hoax, other fake news about US politics that hit big on Facebook this year included "Pope Francis Shocks World, Endorses Donald Trump for President, Releases Statement," "Trump Offering Free One-Way Tickets to Africa & Mexico for Those Who Wanna Leave America," "ISIS Leader Calls for American Muslim Voters to Support Hillary Clinton," and "FBI Agent Suspected in Hillary Email Leaks Found Dead in Apparent Murder-Suicide."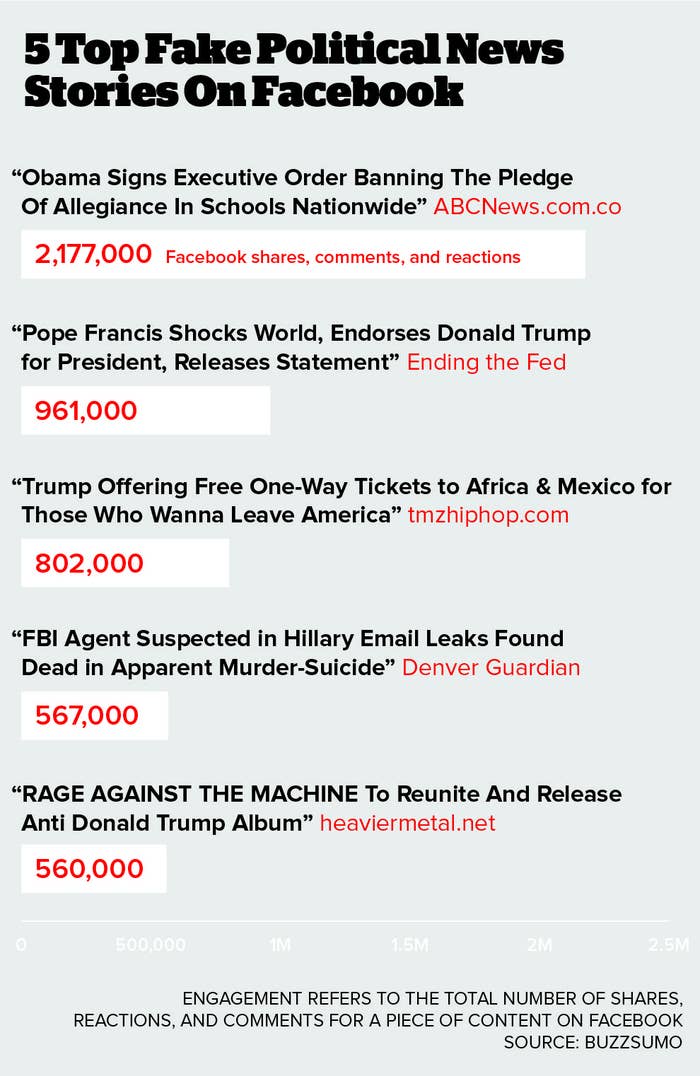 It's difficult to know how many people who interacted with these stories on Facebook believed them to be true. However, a recent survey conducted by Ipsos Public Affairs and BuzzFeed News found that fake news headlines about the election fooled American adults about 75% of the time. A survey from YouGov and The Economist released this week also found that 17% of Clinton voters and 46% of Trump voters believe elements of the false Pizzagate conspiracy theory are true.

After outcry about the spread of misinformation, Facebook recently announced a series of initiatives, and Google has also begun altering search results and removing fake news sites from its lucrative AdSense program.
Fake Crime News Hit Big in 2016
After US politics, hoaxes about shocking or ridiculous crimes were the second biggest category of fake news identified in the analysis. They accounted for 34% of total Facebook engagement for the top 50 fake news articles; politics hoaxes generated 49% of the total engagement.
One key difference between the top-performing politics and crime hoaxes is that the crime stories were published earlier in the year, with many coming in March and April. In contrast, 15 of the 23 top-performing politics hoaxes were published between September and November. As shown in a previous BuzzFeed News analysis, the top-performing fake and false news stories about the election saw a surge in engagement on Facebook as the election approached.
Janick Murray-Hall runs World News Daily Report, a fake news site that scored five hits in the top 50 thanks to fake political headlines such as, "ISIS Leader Calls for American Muslim Voters to Support Hillary Clinton" and crime hoaxes like, "Morgue Worker Arrested After Giving Birth To A Dead Man's Baby."
He told BuzzFeed News that "the whole election was definitely good for business and October, leading to the November election, was by far our best month."
The biggest fake crime news hit on Facebook in 2016 was a story headlined, "Woman Arrested For Defecating On Boss' Desk After Winning The Lottery." That hoax generated more than 1.7 million shares, reactions, and comments on Facebook since being published back in April.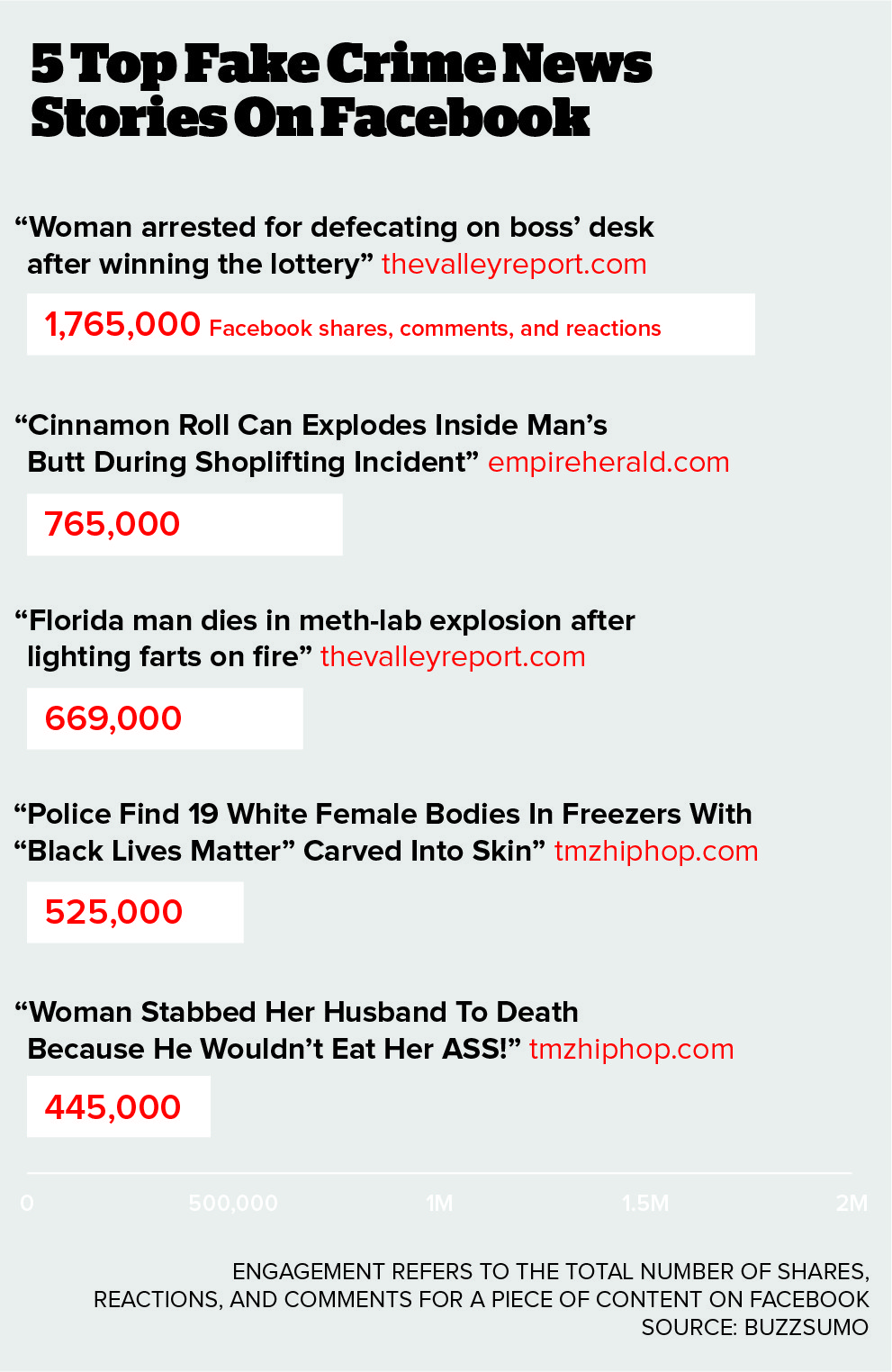 Other viral crime hoaxes from this year included "Cinnamon Roll Can Explodes Inside Man's Butt During Shoplifting Incident," "Florida Man Dies In Meth-Lab Explosion After Lighting Farts On Fire," and "Police Find 19 White Female Bodies In Freezers With 'Black Lives Matter' Carved Into Skin." Each racked up hundreds of thousands of engagements on Facebook.
The author of the boss-defecation and meth-lab-fart-explosion hoaxes is a comedian who goes by the name Dave Weasel. When BuzzFeed News interviewed him back in May, he estimated roughly a third of the people who shared the desk deuce hoax believed it to be true. "Most of the people that share it do not read it," he said.

Weasel's site, The Valley Report, had four hoaxes in the top 50 and all of them involved strange crimes.
Weasel previously told BuzzFeed News he started his site to write satirical news articles like The Onion. But his first attempt at a hoax went viral and earned him significant revenue, so he continued to mix fake news in with satire. Two weeks ago Facebook banned his Facebook page as part of its crackdown on fake news.
Even with the loss of his Facebook page, he continues to publish new content.
Fake News Follows Real News
The other fake news hits represented in the top 50 illustrate how the owners of these sites try to capitalize on real news events with fake stories. Three of the top-performing hoaxes involved people in clown costumes either committing crimes or being mistaken for creepy clowns. Two of those stories were published the same month that creepy clowns were the focus of news reports all over the US. Many other clown hoaxes were published during that period, though they did not generate enough engagement to make the top 50.
As previously reported by BuzzFeed News, the passage of a discriminatory bathroom law in North Carolina also resulted in a wave of anti-trans hoaxes. Only one anti-trans hoax made the top 50, but many more were published by fake news sites in 2016.
Murray-Hall told BuzzFeed News it's difficult to predict which topics will work best for fake news in 2017, with one exception: Donald Trump.
"Donald Trump will definitely be the strongest subject by far with his controversial leadership and the key players he's put in his administration," he said.

Murray-Hall expects next year to be harder for fake news sites to generate big traffic, in part because of Facebook's increased focus on fake news.
"No one really cares about Google AdSense since there are billions of other ad companies that want a share of our online traffic, but Facebook's new measures will definitely kill the momentum of many viral hoaxes when they get reported to third parties and flagged by Facebook," he said, referring to the company's new partnership with third-party fact checkers.
"But I don't believe it will deal a death blow to fake news sites, because they are so pervasive on the web."