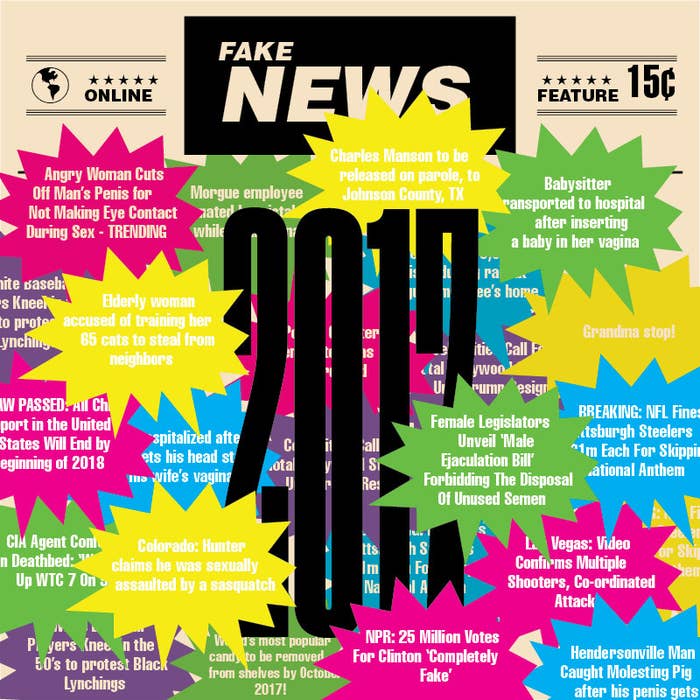 Facebook's major effort to stop the spread of false articles on its platform did not result in less engagement for the most viral hoaxes in 2017, according to an analysis by BuzzFeed News. In fact, the analysis found that the 50 most viral fake news stories of 2017 generated more total shares, reactions, and comments than the top 50 hoaxes of 2016.

This highlights the challenge faced by Facebook to find ways to halt or arrest the spread of completely false stories on its platform, and raises questions about how much progress has been made in fighting this type of misinformation. After a year of working with fact-checkers such as PolitiFact and Snopes, and stating that related product efforts can reduce spread of a false news story by 80% once it's been debunked, Facebook remains the home of massively viral hoaxes.
In response to the BuzzFeed News analysis, a Facebook spokesperson said the company's initiatives continue to improve, and that the spread of pure fake news has been reduced on its platform.
"If the protections we added throughout 2017 were in place at the start of the year, this list would be shorter and the engagement would be substantially reduced," they said. "We're more effective today at stopping news hoaxes than we've ever been before. It isn't perfect. There is a lot more work to do; but we're better. Once a hoax has been fact-checked, it's distribution immediately goes down by 80-percent."
The top 50 fake stories of 2017 identified by BuzzFeed News generated a total of roughly 23.5 million shares, reactions, and comments on Facebook between Jan. 1 and Dec. 9, according to data from BuzzSumo. The top 50 fakes identified by BuzzFeed News in 2016 generated 21.5 million engagements during a similar timeframe. Go here to view the full list of top 50 hoaxes of 2017, and the list of sites used to compile it.
The top-performing fake news story in the analysis typifies the kind of hoax that succeeded on Facebook in 2017. "Babysitter transported to hospital after inserting a baby in her vagina," read the headline from World News Daily Report. The story generated more than 1.2 million shares, reactions, and comments since being published in May.
Additional analysis reveals a massive Facebook engagement gap between the top fake news stories and their corresponding fact checks. Snopes, PolitiFact, FactCheck.org, and ABC News were the initial US participants in Facebook's fact-checking program, and together they produced at least one fact check for 31 of the 50 top stories in the data. Their debunkings generated a total of 127,543 engagements on Facebook — just .5% of the engagements generated by the hoaxes.
The Facebook spokesperson said the company's new plan to surface fact checks as related articles in the News Feed will likely help with engagement for debunkings, and that the tools used by fact-checkers to notify Facebook of a new debunking have also improved.
The data gathered by BuzzFeed News also found that new sites focused on publishing completely false stories continued to be launched in 2017. Hoaxsters, conspiracy theorists, and viral deceivers are undeterred by Facebook's stated goals of disrupting their financial incentives and suppressing the spread of their content.
David Mikkelson, the co-founder and executive editor of Snopes, told BuzzFeed News he wasn't surprised to see fake news outperform fact checks in 2017.
"The fake news purveyors had a huge lead going into 2017," he said. "They had a great deal of practical experience and well-established strategies and mechanisms for spreading and monetizing fake news, while entities such as Facebook were just getting their feet wet trying to devise strategies and mechanisms for dealing with the phenomenon."
"The fake news purveyors had a huge lead going into 2017."
Tessa Lyons, a Facebook product manager helping lead the company's anti-misinformation effort told BuzzFeed News her team recently shipped new products that will attack the type of hoaxes and publishers featured on the BuzzFeed News list.
"When I look over the list, honestly, I feel like the things we launched in the last quarter in particular are going to address at the viral hoaxes you identified," she said. "I'm certain that the list next year will be smaller [in terms of engagement], but the tactics being used will be different."
BuzzFeed News used social analytics service BuzzSumo to identify the top-performing Facebook content from 167 websites that entirely or consistently publish articles with a completely false central claim. The data set excluded any articles that were based on false insinuations, misreported news, or partisan misrepresentations of real events. This is therefore meant to represent exactly the type of completely false stories that Facebook and its fact-checking partners focused on in 2017. For a more detailed description of the methodology and its limits, see the "How we got the data" section at the bottom of this story.
Top fake stories
Not surprisingly, fake stories about US politics dominated the list in 2016 as a result of the presidential election. Twenty-three of the 50 top-performing fake news hoaxes identified by BuzzFeed News that year were focused on US politics. In 2017, only 11 of the top 50 hoaxes were about politics. Instead, outlandish crime stories were the most common category of hoax in the top 50 list this year, accounting for 20 of the posts.
Top categories for viral hoaxes in 2017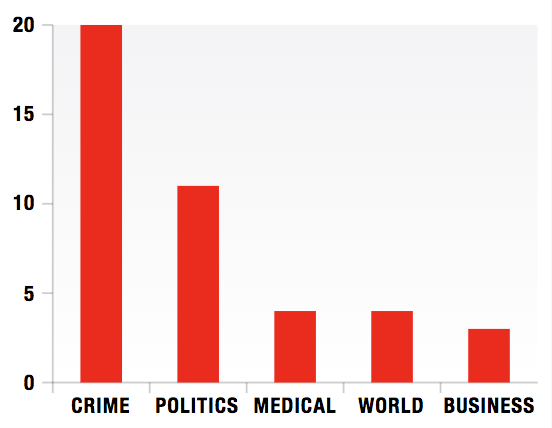 When it came to crime hoaxes, World News Daily Report dominated the genre. That helped it secure its spot as the publisher with the most articles on the top 50 list. It had 12. Viral fake crime hits from other sites include, "Popeyes manager arrested for allegedly dipping chicken in cocaine based flour to increase business sales," "Hendersonville Man Caught Molesting Pig after his penis gets stuck," and "Angry Woman Cuts Off Man's Penis for Not Making Eye Contact During Sex."
Along with taking the top spot, World News Daily Report also scored the second-biggest viral fake news hit of the year, according to the data. Headlined "FBI seizes over 3,000 penises during raid at morgue employee's home," it generated more than 1.1 million engagements.
Eight of WNDR's 12 articles on the top 50 list were the subject of debunkings by Snopes; none of the corresponding Snopes links received more than 7,300 Facebook engagements. Most received far less. The Snopes debunkings of the top two WNDR hoaxes on the list received a total of just 1,748 engagements between them. The hoaxes generated more than 2.3 million engagements.
A Facebook spokesperson said in some cases the Snopes fact checks were not submitted via the tool Facebook provides its fact-checking partners. This means they were not used to algorithmically reduce the spread of the hoax. The spokesperson said the company is working on eliminating the need for each link to be submitted by fact-checkers.
Janick Murray-Hall runs WNDR from Montreal. At this time last year he was worried about the prospects of his site due to it being kicked out of Google's lucrative advertising network, and because of Facebook's plan to work with fact-checkers. He believed fake news would still continue to exist but predicted that "Facebook's new measures will definitely kill the momentum of many viral hoaxes when they get reported to third parties and flagged by Facebook."
A year later, Murray-Hall says that wasn't the case. He and other savvy publishers also found a way to ensure their sites can continue to earn revenue and remain largely undisturbed.
"It's been a challenging year for sure because of all the witch hunt surrounding fake news because of the left-wing mainstream media seeking a scapegoat after Trump's election, but at the end, I think it has made things easier for us," he told BuzzFeed News.
Murray-Hall pointed to an April BuzzFeed News article that analyzed the advertising networks used by different sites that publish fake news. The lesson he took from that story, based on comments made by Google and Taboola, is that he would be able to earn ad revenue if he labeled his stories as satirical on every page.
"Since then, we no longer have had any problems with ad networks and are very happy to be branded as one of the most notorious hoax news/satirical news sites on the internet," he said.
Along with the type of crime hoax favored by Murray-Hall, fake stories about current events also performed well. A hoax about Charles Manson being released on parole was the third-biggest hit of the year, according to the data. A completely false story, "Police: Chester Bennington Was Murdered," was the fourth-biggest hit, with just over 1 million engagements.
The latter is a story from Your News Wire, a site run by two men in Los Angeles who publish a range of completely false news articles about current events, stories that mix real information with false claims, as well as aggregated political news. The site had 9 articles on the top 50 list, the second most of any publisher.
The men who run YNW were the subject of a credulous profile in the Hollywood Reporter that said they are "emerging alongside the more high-profile Breitbart as an integral player in the Trump era's L.A. alt-media axis."
Along with making up a story about a musician who died by suicide, the site falsely reported there were multiple shooters involved in the Las Vegas shooting, that "over 25 million Hillary Clinton votes were completely fraudulent," and that Justin Bieber told a Bible study group that pedophiles run the music industry.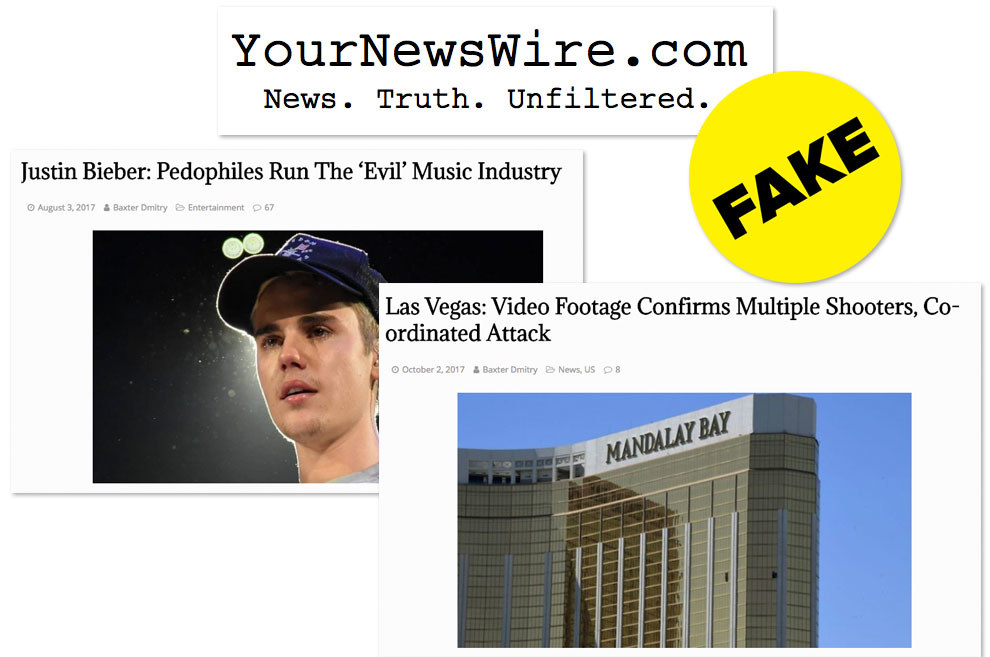 BuzzFeed News contacted YNW cofounder Sean Adl-Tabatabai, who used to work for British conspiracy theorist David Icke, for a comment on his site's presence on the top 50 fake news stories list.
"The number one spot surely has to go to the Trump Russian dossier unverified report published by Buzzfeed in January?" he said in an email. (As his reply helpfully noted, the information in the Steele dossier is unverified, rather than fabricated, and is still the subject of investigation by law enforcement and Congress.)
Adl-Tabatabai also included a screenshot of a YouTube video titled "BuzzFeed Is Cancer" in his email.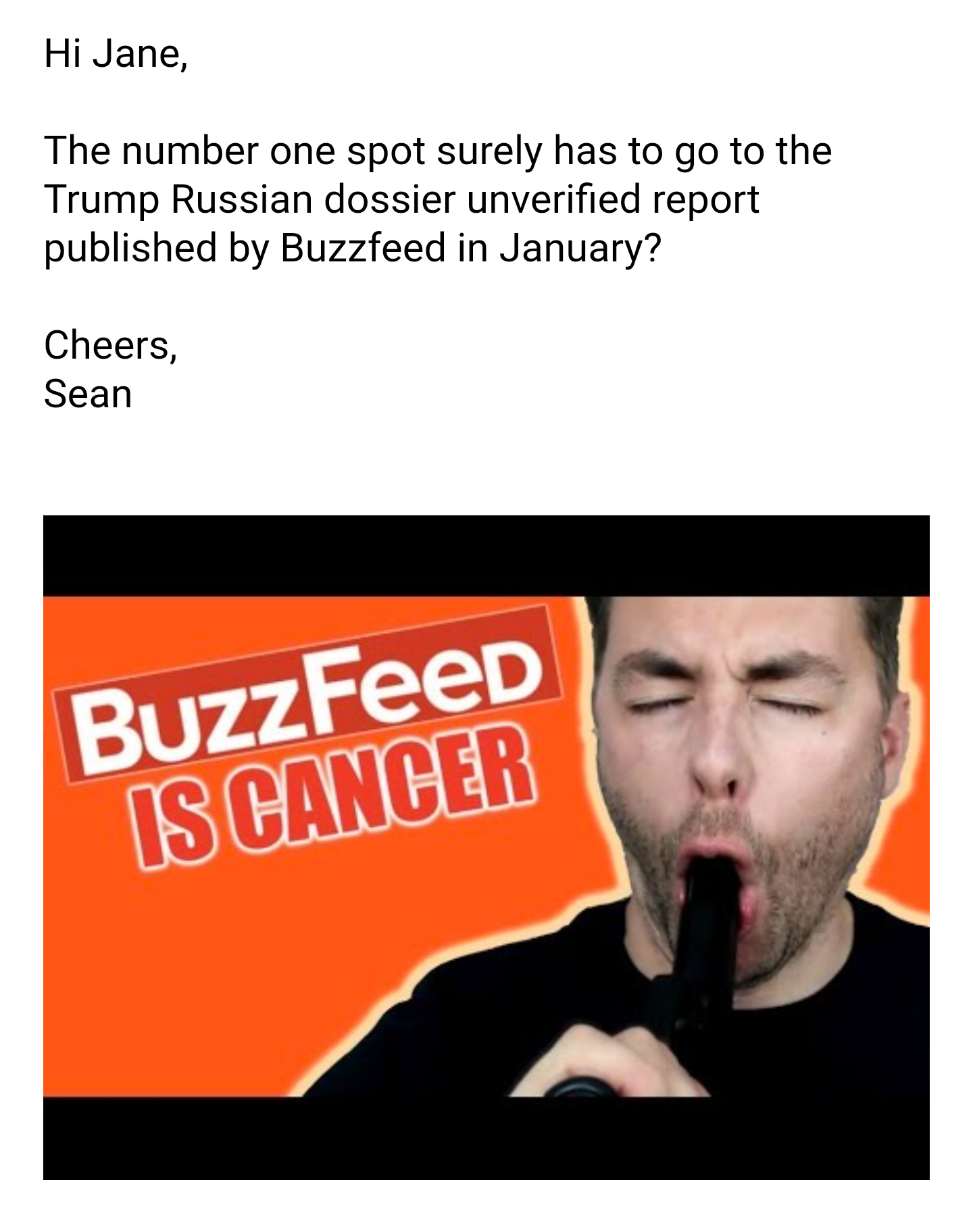 Fake news networks
Even though Facebook has made its effort to stamp out false stories well known, many new sites emerged in 2017 to publish hoaxes and false stories. Some of these sites were new projects from existing fake news publishers; others were newly launched domains by new players. Of the 167 sites analyzed in 2017, 119 were not present on the 2016 list. (Note: A PolitiFact list published in April includes seven fake news sites that would have qualified for our 2016 list if we had known about them at the time.)
One big 2017 success was a Cleveland man named Korry Scherer. He launched a new network of at least 19 create-your-own-fake-news sites this year, and he had five fake stories in the top 50. BuzzFeed News previously reported on him and another man who both run websites that enable anyone to write a fake story, add an image, and then share it to Facebook. In one case, an Indian restaurant in London almost went out of business after a fake story about it serving human meat went viral.
"Initially I never really set out trying to mess with fake news," Scherer told BuzzFeed News at the time. "This prank site for the most part is people making stories that affect them and their friends ... I definitely took advantage of online hoaxes and viral hoaxes over the years, I can't deny that. It's a way to make money."
Another 11 create-your-own-fake-news sites, with domains such as React365.com, 12minutos.com, and Actualite.co, are owned by Nicolas Gouriou, a man based in Belgium. His first such site was started in 2015 and he now operates them in multiple languages. He scored five hits on the top 50 list this year, of which one was in English, three were in Spanish, and one in French.
Lyons from Facebook said the company recently took steps to prevent people from using these sites to spread hoaxes, rather than to simply prank their friends.
"We give them far less distribution as a genre, but we still enable you to see them on people's profiles," she said.
Another big network to emerge in 2017 is a group of sites that appear to be local newspaper websites but are filled with fake stories. These sites have domains such as borderherald.com and abcnews-us.com, and specialized in fake viral stories tied to different locations. "Tainted buffet at Jacksonville strip club blamed after severe diarrhea incident on stage," is one story that made the top 50 list. These sites have been reported on by Lead Stories and others, and after racking up impressive Facebook engagement this year the sites were taken offline.
This chart shows that these networks join World News Daily Report and Your News Wire as the publishers with the most stories on the top 50 list. (The Celebtricity network is another network of fake news sites that was exposed by BuzzFeed News earlier this year.)
Most common publishers/networks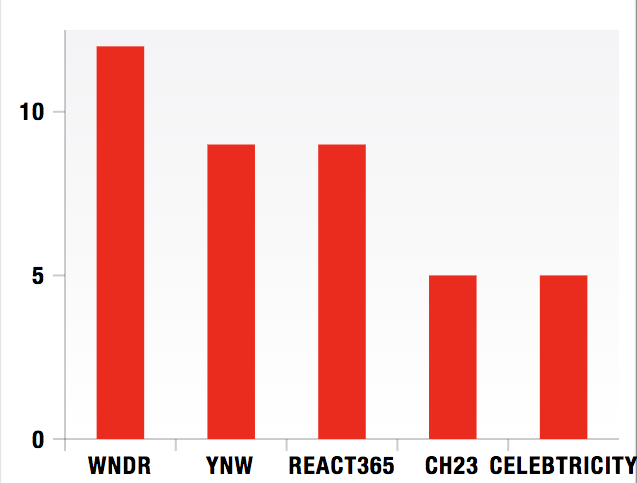 Copycat hoaxes
Along with new networks, another key trend in the 2017 data is the existence of copycat sites run by young spammers based in Eastern Europe, among others. A site called Redcountry.us earned almost 250,000 engagements for a false story claiming that Sharia law had been banned in all 50 states. (The article page consisted of nothing more than that headline, a user poll, and tons of junky ads all over the page.) That site is registered to Marko Cvetkovski, who lives in Veles, Macedonia, which BuzzFeed News previously reported has become a hub for pro-Trump websites run by local spammers. They often plagiarize fake news from US-based sites.
At least three sites that BuzzFeed News analyzed for this story are registered to people in Macedonia. The owners of these sites consistently copy and paste fake news stories from other sites. Their favorite frequent source of material is a group of sites run by a self-described liberal troll using the online moniker Busta Troll.

His real name is Christopher Blair and he lives in Maine. His sites include Thelastlineofdefense.online, Ladiesofliberty.net, and Reaganwasright.com. He had one hoax in the top 50 list, "BREAKING: NFL Fines Pittsburgh Steelers $1m Each For Skipping National Anthem," which was published on Thelastlineofdefense.org. Blair claims he is creating fake news aimed at American conservatives to expose their gullibility. Earlier this year he grew tired of seeing his articles plagiarized by Macedonians and began reporting them for copyright violations, which resulted in some of their websites and Facebook pages being shut down.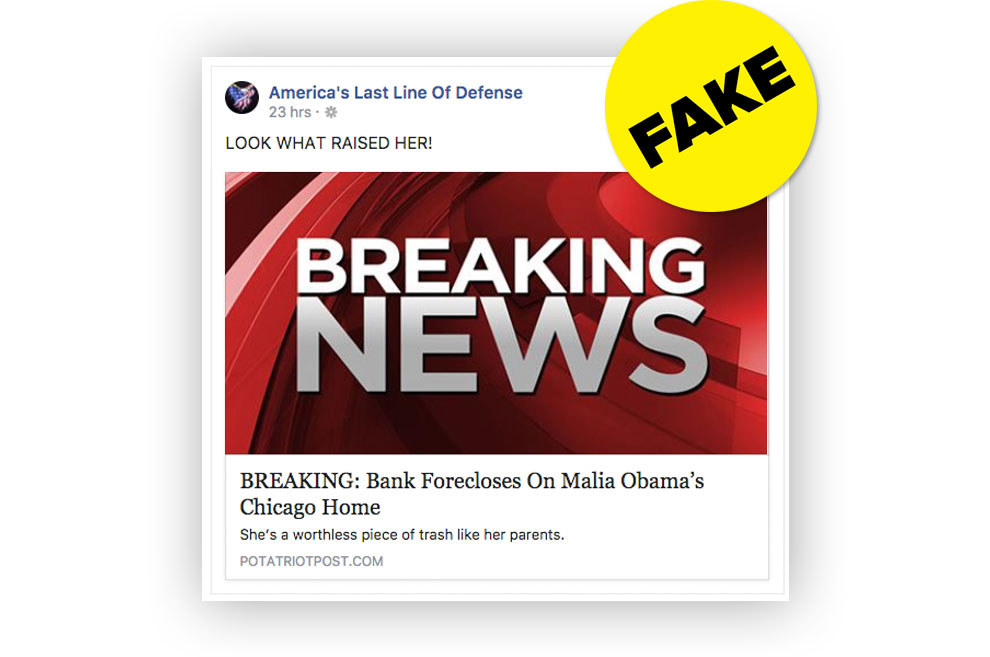 Blair points to that as evidence his approach is effective in shutting down sources of misinformation. "Keep an eye on those 'fact-checkers' who still won't admit that this operation is far more effective than anything they've managed to do," he wrote in a recent Facebook post.
Copycat version of hoaxes and false stories were far more prevalent in 2017 than 2016, according to data and the experience of BuzzFeed News covering fake news both years. In some cases, multiple versions of the same hoax can each independently achieve significant engagement on Facebook. For example, a hoax about an accidentally cremated morgue employee appears in the top 50 list from two different publishers.
The year's biggest fake news hit on the list, about a babysitter "inserting a baby in her vagina," was copied by at least 39 other websites, according to data in BuzzSumo. These copycat versions generated just under 90,000 Facebook engagements, while the original earned 1.3 million.
As BuzzFeed News previously reported, this is a trend with viral content. A source familiar with Facebook's misinformation initiatives said the company is aware of the problem, and is rolling out tools to address it.
"We are beginning to roll out improvements to identify more duplicate and similar articles," the source said. There will also be a way for fact-checkers to simultaneously review several articles about the same subject, they said.
Part of the challenge is that while it takes virtually no time to copy and paste a hoax into a new post, the fact-checkers working with Facebook can take up to three days to review flagged content.
The social network recently announced it will surface fact checks in the related articles module in the News Feed, which will also make it easier to debunk a copycat story. This also marks the end of a system that saw a disputed label applied to links in the News Feed that were deemed false by at least two fact-checkers. Now a false story will have a fact check shown as a related article as soon as the first fact check is live.
The debunking challenge
Links with more shares, comments, and reactions typically get more clicks and, correspondingly, drive more traffic to their publishers. But there's no way to know exactly how much traffic was sent to the stories in the top 50 list by Facebook.
One difference between fake news sites and fact check sites is that longtime, reputable sites such as Snopes receive a significant amount of traffic from search engines like Google. Snopes and PolitiFact also show up very high in search results.
"We're helping people on Facebook understand what's true and what's misleading, false or propaganda."
It's therefore entirely likely that Snopes and PolitiFact attract more traffic overall than fake news sites. However, engagement on Facebook is also a way of identifying the relative exposure of a piece of content on that platform. The more engagement a hoax receives, the more people have been exposed to it, even if they only see the headline and image.
Though fact checks themselves get far less engagement, Facebook says its algorithms immediately begin to suppress the spread of a false story once it has been debunked by a checker. An announcement last week also means a wider range of fact checks will begin showing up as related articles in the News Feed, which the company says will also help give users more context about links they see.
Aaron Sharockman, the executive director of PolitiFact, told BuzzFeed News the past year has been a learning process for Facebook and for organizations like his, but he is optimistic about 2018.
"I think we've learned a lot since we started working with Facebook and made a lot of progress, but I don't think anyone would say the tool is perfect," he said in an email. "It's important to remember that we launched the fact checking tool just five weeks after the election, so we're basically learning to walk and talk and chew gum all at the same time.
"Fact checking works and we're helping people on Facebook understand what's true and what's misleading, false or propaganda. I can only see that as a positive development," he said.
How we got the data
Over the past three years, BuzzFeed News has maintained lists of sites that publish completely fabricated stories. As we encounter new ones and debunk their content, we add them to the list. To produce this story we used that list and also looked PolitiFact's April 2017 list of sites they found to publish completely false stories.
We reviewed each URL in the PolitiFact list and only added sites that, according to determinations by two BuzzFeed News reviewers, consistently publish completely false stories. These determinations were based on a review of each site's homepage on a day in December, and by using BuzzSumo to look at the site's top-performing content in 2017.
Our 2017 site list contains 167 websites. Last year's list contained 96 sites. If a site was taken offline prior to the start of 2017, we did not include it in the 2017 list.
With the 2017 list of sites in hand, we used BuzzSumo to identify the top-performing content on Facebook for these sites between Jan. 1 and Dec. 9. (The 2016 list was generated by looking at top-performing content between Jan. 1 and Dec. 28 of that year.) That data was downloaded and put into one spreadsheet. We sorted the content by total Facebook interactions — shares, comments, and reactions — and identified the top 50 stories with the most engagement. (Click here to see each year's site list and top 50 list, as well the code we used to analyze them.)
We also compared our 2016 site list to PolitiFact's list of websites, and found seven sites that would have qualified for our 2016 list had we known about them at the time. We also found that there were three stories from those seven sites that would have made 2016's top 50 list. They would have added roughly 700,000 engagements to the 2016 total, which was not enough to change the conclusion that 2017's top 50 fake news stories generated more engagement on Facebook.