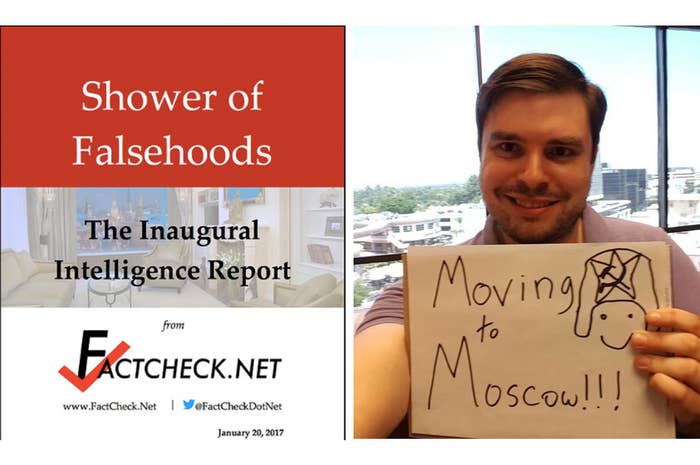 An American working in Moscow is playing a key role in an effort to support President Donald Trump by "fact-checking" claims about Trump's alleged connections to Russia.
Clint Ehrlich is a visiting researcher at the Moscow State Institute of International Relations (MGIMO). He gained attention during the US election campaign for repeating Kremlin talking points in an opinion piece published in Foreign Policy that outlined the view that Hillary Clinton genuinely wanted to start a war with Russia.
Now, Ehrlich is back. Domain registration records and document metadata show that he played a key role in creating both an anonymous website, FactCheck.net, and a recent report it published claiming to reveal "exclusive evidence that casts doubt on the recent, highly publicized allegation that Donald Trump was compromised by Russia's foreign-intelligence services."

When reached by BuzzFeed News, Ehrlich confirmed that he was the person behind the site, saying the project was "exactly what it purported to be."
After the publication of this story, the site posted a response "officially announcing" that Erlich is its editor-in-chief.
The FactCheck.net report aimed to refute information contained in the dossier compiled by a former MI6 agent that US intelligence used to brief Trump and then-President Barack Obama. Ehrlich was critical of the decision to publish the dossier, which contains explosive but unverified claims about Trump, and has been sending tweets that question some of the allegations in the document. Similar refutations are present in the FactCheck.net report.
When it launched earlier this month, FactCheck.net claimed to be run by a "group of experts" working to expose the "bogus claims about Mr. Trump and Russia's government." Nine days after announcing its presence on a bare-bones website with no identifying information, FactCheck.net published a PDF called "Shower of Falsehoods" that claimed to expose key inaccuracies in the Steele dossier. (The title is likely a play on both a RAND Corporation report about Russian propaganda, "Firehose of Falsehood," and the the most eyebrow-raising of the allegations contained in the dossier.)
The resulting PDF cited no sources and said its authors are "a coalition of national-security professionals from the United States and Russia who have joined forces to expose 'fake news.' Our work is a public service, which is not financed or directed by either state."
"I was the primary person involved in writing the content of the report, but the project was a collective effort that drew on the expertise of likeminded professionals, both for sourcing and analysis," Ehrlich said in an email to BuzzFeed News. "Some of those people work inside Russia's foreign-ministry and/or intelligence community, but the site was not created with the approval of anyone in Russia's government."

Asked for the names of some of those who worked on the report with him, he said, without elaborating, that many of them worked with him inside the MGIMO. Ehrlich said he would ask if any were willing to speak to BuzzFeed News directly, but added, "your site does not have the best reputation in Russia."
Upon its release, someone with the username FactCheckDotNet began submitting a link to the report in different Reddit subgroups to try and get attention for the work. One redditor was immediately skeptical of a site that mimicked US fact-checking site FactCheck.org, and said that it was making big claims with no evidence or authors to back it up.

The redditor, DrJackMegaman, subsequently opened the PDF report and saw the author was identified as Clint Ehrlich. "Next time, clear the author section of the PDF," the redditor said in his post.
The PDF was subsequently removed from the thread by the FactCheckDotNet account. Soon after, the PDF and two associated blog posts were also removed from FactCheck.net. (The posts are still viewable in Google Cache.)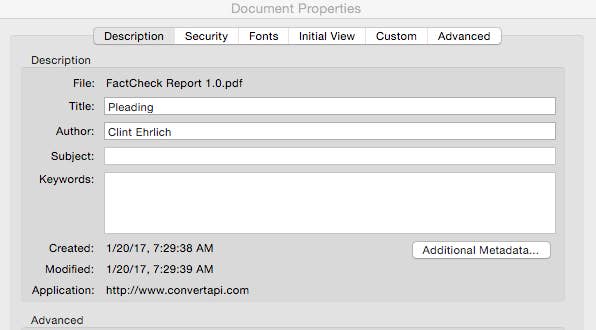 The man behind the DrJackMegaman account provided BuzzFeed News with a screenshot of the author information he found in the PDF. He says he is a 35-year-old based in New Jersey who has worked with computers for a long time. He became suspicious about the quality of the information and its source after seeing it pop up on Reddit, he said. So he began looking into the site and PDF.
"Once I found his name, I Googled it, and just copied his Twitter info and posted it [to Reddit] because I was still so angry," he told BuzzFeed News. "I think it was just my breaking point with this whole election. I can't fight against political injustice on a national scale but I could fight this guy."
A cached link to the PDF did not include the same author information, so BuzzFeed News examined historical registration records for the FactCheck.net domain to confirm its owner. Records from DomainTools show that "Clinton Ehrlich-Quin" became the registrant of FactCheck.net in August of 2014. That's the full name often used by the same Clint Ehrlich based in Moscow, and the address listed for the domain registration is the location of a law firm owned by his father. (Another domain used by Ehrlich also listed his father's law firm address; however, there is no evidence the law firm itself had involvement in these websites.)

Also, the email address used to register the domain is the same one that's publicly listed as the owner of ClintEhrlich.com, as well as 18 other domains, including SelfControlHelp.com and SelfControlIsHot.com. Ehrlich had previously told BuzzFeed News he owned a supplements company that sold a product called Self Control.

After Ehrlich became the owner of FactCheck.net, the ownership information was soon made private. It has been under the same privacy protection since then.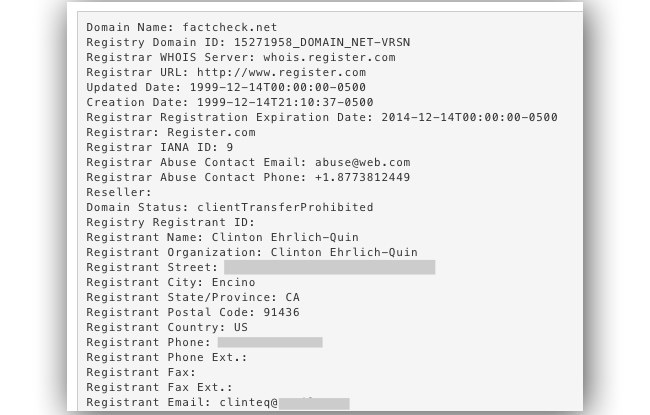 Ehrlich now estimates that he paid roughly $1,000 for the domain name back in 2014.
"I'm not hiding the fact that I like Russia," Ehrlich previously told BuzzFeed News. "I feel like my views about international relations are something I can say [in Russia], because I agree with a lot of what the foreign ministry has to say and I value the culture and the people."

He also objected to people reading into his motives: "If I express my sincere convictions and that lines up with things Moscow believes, I'm a propagandist."
As for the "Showers of Falsehoods" document, Erhlich says: "I stand by all of the information in the report 100%. I took it down because it became clear that a different approach was needed to get people's attention in a productive way."
The approach of FactCheck.net is similar to that of PropOrNot, an anonymous group that claims to be made up of "concerned American citizens with a wide range of backgrounds and expertise, including professional experience in computer science, statistics, public policy, and national security affairs."
Its mission is to expose online sources and propagators of propaganda aimed at Americans, with a particular focus on Russia. The group faced strong criticism after it released a PDF report that included a list of websites it said were sources of Russian propaganda, without providing evidence of any direct connection to the Kremlin. Its members remain anonymous.

FactCheck.net in its response to this article took issue with the comparison to PropOrNot. "We dare to challenge the orthodoxy of both sides," the post that also announced Ehrlich as the editor-in-chief reads.
So, yes, there are rival groups in the US and Russia claiming to expose propaganda and false information from the other side, while offering no evidence to back up their assertions. Welcome to 2017.