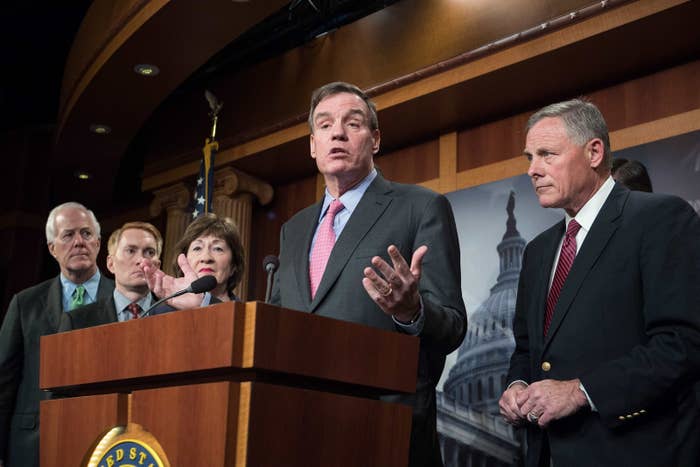 In a letter sent today to the Federal Trade Commission, Sen. Mark Warner warned of the growing danger of digital advertising fraud and what he says is the inattention and "willful blindness" of Google and other major players to fraudulent and criminal activity.
"I am writing to express my continued concern with the prevalence of digital advertising fraud, and in particular the inaction of major industry stakeholders in curbing these abuses," reads the letter sent today to FTC Chair Joseph Simons.
Warner's letter comes as a result of a BuzzFeed News investigation published Tuesday that exposed a massive ad fraud scheme involving more than 125 Android apps and websites, and which one source estimates stole hundreds of millions of dollars.
"I am greatly concerned with recent reporting from Buzzfeed, detailing a massive digital advertising fraud scheme that depends, in large part, on a network of compromised Android apps," he wrote.
Warner, a Virginia senator and the vice chair of the US Senate Intelligence Committee, is applying pressure at a time when the digital ad industry is also facing scrutiny from law enforcement. The FBI is pursuing a criminal investigation of media buying practices, and federal prosecutors in Manhattan have begun issuing subpoenas, according to the Wall Street Journal.
The Manhattan district attorney is also investigating the companies that operate Newsweek and International Business Times after a February BuzzFeed News story revealed some of their sites were engaging in ad fraud. This comes as part of a larger DA investigation into the alleged financial fraud that has so far resulted in a 10-count indictment.

An estimated $19 billion will be stolen by ad fraudsters this year using techniques such as having bots load web or in-app pages in order to generate revenue from ads.
Warner's letter takes particular aim at Google, which runs the Android mobile ecosystem and related Play app store that were exploited by the scheme outlined in this week's BuzzFeed News story. Google also operates advertising networks used by the fraudsters to earn money.
"At the very least, it seems that across a number of its products Google may have engaged in willful blindness, all while profiting from this fraudulent activity," Warner wrote.

Google investigated after being alerted to the scheme by BuzzFeed News and has so far removed more than 30 apps from its Play app store, and estimates that the scheme stole close to $10 million using ad networks run by the company. It published a blog post to outline its findings and says it continues to investigate. (Other ad networks that helped these apps and websites earn money have not yet offered similar public disclosure of internal investigations.)
Google declined to comment on Warner's letter. A spokesperson previously told BuzzFeed News, "We take seriously our responsibility to protect users and provide a great experience on Google Play. Our developer policies prohibit ad fraud and service abuse on our platform, and if an app violates our policies, we take action."
Warner previously raised concerns about ad fraud in a 2016 letter coauthored with New York Sen. Chuck Schumer. He noted that since then the amount of money being stolen by fraudsters has only grown, and users continue to be put at risk by major technology platforms and providers being "caught repeatedly flat-footed" in the face of known threats.
Warner's letter compares ad fraud with the way Russia exploited social media and related technology to interfere in the 2016 presidential election. He argues they both exploit a digital ecosystem that's easily abused and manipulated by bad actors.
"In the same way that bots, trolls, click-farms, fake pages and groups, ads, and algorithm-gaming can be used to propagate political disinformation, these same tools can — and have — been used to assist financial frauds such as stock-pumping schemes, click fraud in digital advertising markets, schemes to sell counterfeit prescription drugs, and efforts to convince large numbers of users to download malicious apps on their phones," he wrote.
Warner concluded by asking the FTC to "look closely at these reports, including the extent to which major ecosystem stakeholders engage in willful blindness to fraudulent activity in the online ad market."