A little more than a year ago, Sarah Palin's Facebook page began serving its more than 4 million fans a steady diet of links to news stories on Sarahpalin.com, the former governor's very own conservative clickbait site.
But in October a puzzling pattern emerged with the links shared on her page. The content was the same, and written by the same authors, but the domain wasn't sarahpalin.com. That month saw the Palin news operation move to sarahpalinnews.com, according to data from analytics service SimilarWeb. Two months later the links shared on her Facebook page included sarahpalinblog.com and govsarahpalin.com. By January sarahpalinamerica.com and officialsarahpalin.com had arrived. February gave birth to the awkwardly named sarahpalin-blog.com.
Same content, same writers, same big Facebook page driving nearly all the traffic — but constantly shifting domain names. Why?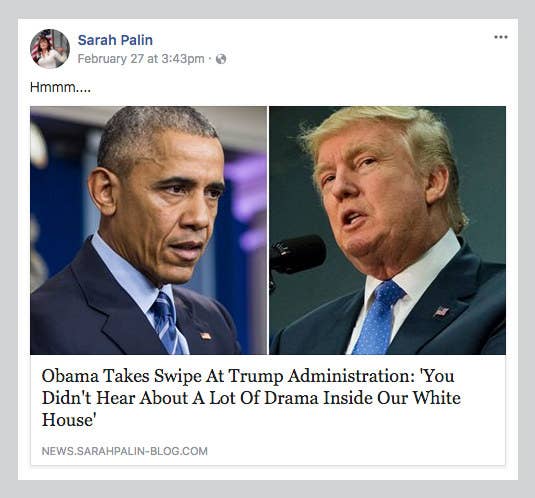 It turns out Palin and her publishing partner, Young Conservatives LLC, are using an increasingly popular tactic of quickly hopping from one domain name to another in order to blunt the impact of Facebook's recent News Feed algorithm changes. It's also used by publishers as a way to stay one step ahead of blacklists used by brands and agencies to keep their ads off controversial or inflammatory websites. (This tactic unintentionally reinforces another key fact about Facebook: People don't seem to notice or care about the URL attached to a particular link being shared on a Facebook page.)
"Once any site is found on a blacklist due to fraud, hate, fake news, or a variety of reasons and see monetization impacted, they drop the domain, acquire a new [one] and start over using a lot of the same content," Marc Goldberg, the CEO of TrustMetrics, a company that evaluates online publishers and apps for quality, told BuzzFeed News. "This is a common practice among all sites, not just limited to news. Sometimes they keep the domain dormant for a period of time and then use it to try and get back into the ad ecosystem with another trick."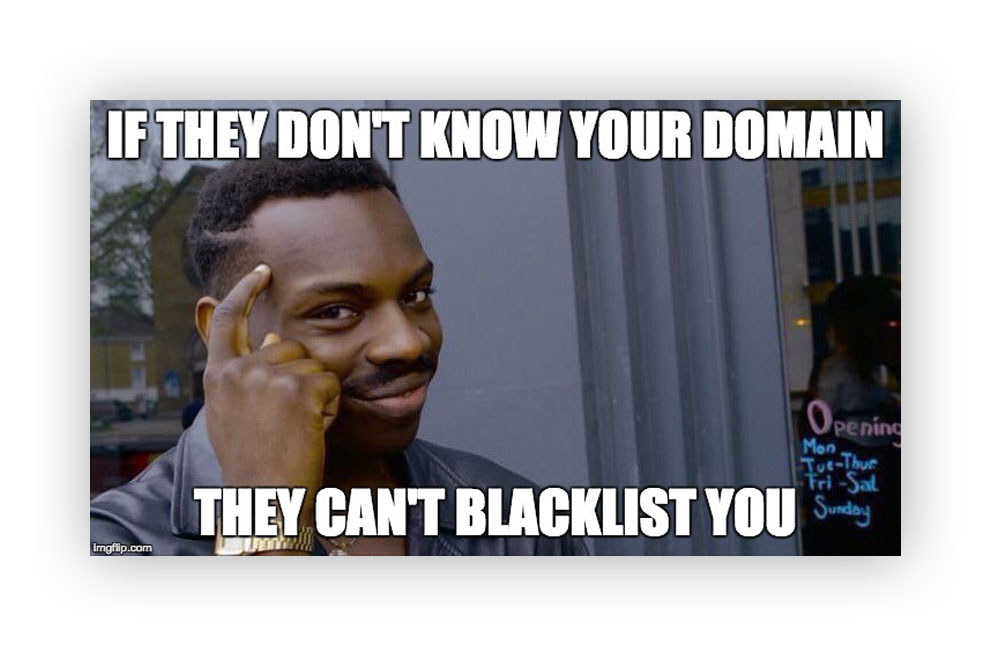 Young Conservatives LLC works with Sarah Palin on her websites and Facebook page, and it has also been using domain hopping for its own properties. The company's once-flourishing YoungCons.com domain is no longer being shared from its Facebook page with more than 1 million followers. Instead, the page is constantly cycling through domains such as americanewscentral.com, americanewsalert.com, americanewshub.com, digitalpoliticsdaily.com, digitalpoliticalnews.com, digitalnewsalerts.com, and breakingpoliticalalert.com, among others.
The company said in a statement to BuzzFeed News that it's trying to adapt to Facebook algorithm changes that began affecting its sites as of August 2017. Though Facebook made a January announcement to say it will begin showing less content from pages in the News Feed, many publishers actually saw a drop in referral traffic beginning at the end of last summer.
"Facebook has recently made changes that negatively affect publishers and we are testing different ways to try and combat those changes," said the statement from the company, which was founded by former Dartmouth College students Joshua Riddle and David Rufful.
The company declined to comment on Sarah Palin or its other partners. BuzzFeed News sent a request for comment via the contact form on Palin's site and via email but did not receive a reply.
Alexa Traffic Rank Patterns For Sites Shared By Sarah Palin's Facebook Page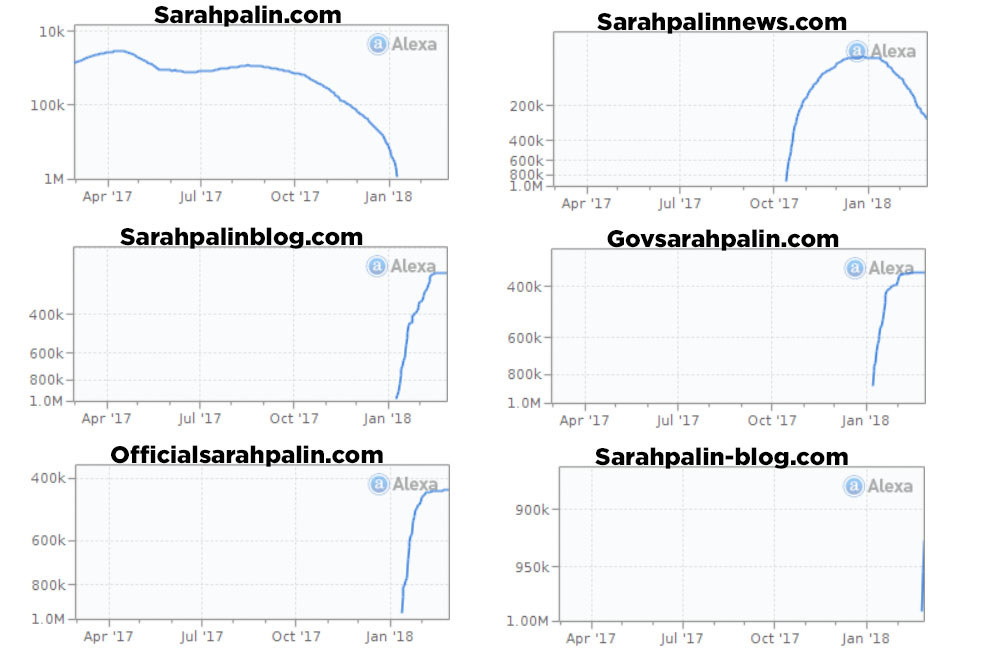 Cyrus Massoumi, a former conservative news publisher who now runs a liberal news site, said switching domains helped him raise Facebook referral traffic after it sagged. He said domain hopping is necessary due to the mysteries of algorithm changes, and what he sees as a lack of communication from Facebook.
"Publishers have found that their domains are often penalized by Facebook's algorithm over policy changes that they don't announce publicly. As a result you can see your traffic go from 300K people a day to 100K overnight," he told BuzzFeed News. "Then, after setting up a new domain the traffic almost instantly returns to exactly where it was."
Facebook declined to comment specifically on domain hopping. But a spokesperson told BuzzFeed News that the company's goal "is to make sure that we're consistently valuing those who publish accurate high-quality content and enforcing against those who repeatedly publish spam and false news. To do this, we're actively working to generalize our policies and algorithms."
The spokesperson also pointed to the company's recent announcement of an effort to identify "trusted sources" of information that will see their content prioritized in the News Feed.
Along with trying to mitigate algorithm changes, domain hopping can also be used to stay ahead of ad blacklists aimed at keeping brands off sites publishing hate speech, misinformation, or inflammatory political content. Some ad platforms are now taking additional measures to block publishers using domain hopping.
"Constantly changing the URLs does appear to be keeping them ahead of domain blacklisting, so platforms like ours have blocked the entire seller ID, meaning if you're a company selling ads on behalf of these sites, you're blocked from selling ads on any site through our platform," said Ken Van Every, senior business development manager for publisher relations at DataXu, a company that provides software to help marketers purchase ads.
Other domain hoppers
Conservative sites aren't the only ones shifting domain names. Occupy Democrats, the most influential liberal partisan Facebook page according to a BuzzFeed News analysis last year, hasn't updated occupydemocrats.com since October.
In May it purchased washingtonjournal.com for $75,000 from an entrepreneur and domain seller named Michael Mann. Soon after, Occupy Democrats began to place its latest content on that domain and share it from its Facebook page. That led to tens of millions of visits to the site between May and August, according to SimilarWeb.
But that traffic spike also caused C-SPAN, which holds a trademark for "Washington Journal," to take note and begin a legal process to claim the washintonjournal.com domain. The resulting arbitration process found in favor of C-SPAN and as of today the domain redirects to the Washington Journal section of its site.
"In this case, as in several others before it, C-SPAN used the law to protect our reputation for straightforward, nonpartisan coverage of public affairs," Bruce Collins, C-SPAN's corporate VP and general counsel, told BuzzFeed News.
Occupy Democrats now uses washingtonpress.com as its primary domain. The company did not respond to a request for comment from BuzzFeed News.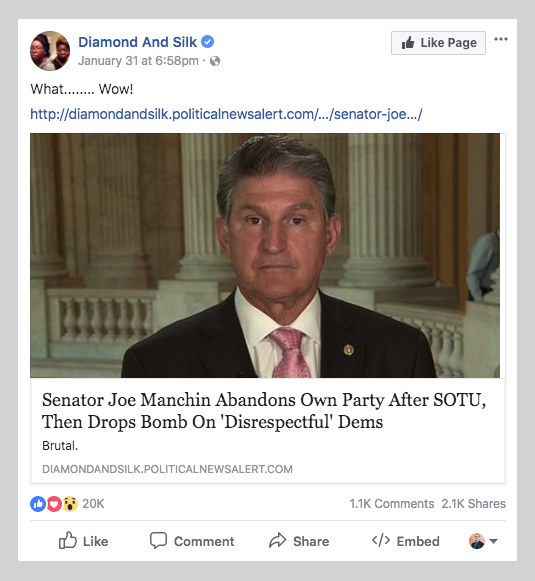 Along with Sarah Palin, Young Conservatives LLC works with other large conservative Facebook page owners, such as Allen B. West, Diamond and Silk, and Stacey Dash. All of them operate associated conservative news sites, and all of them have been domain hopping in recent months. In each case, their most recently shared sites are subdomains of URL's owned by Young Conservative, such as staceydash.americanewshub.com or diamondandsilk.americanewsalert.com.
Allen West's main domain until last fall was allenbwest.com, a popular conservative news site. But as of October allenwest.com (without the "b") suddenly began getting significant traffic before falling off by the end of the year. Now West's Facebook page with its more than 2.7 million fans primarily shares links to allenwestblog.americanewscentral.com. It too will likely change soon, as West's site has since January 2017 used more than a dozen different domains with his name in them, according to an analysis of URLs shared from his page. BuzzFeed News sent a request for comment via the contact form on West's site but did not receive a reply.
Though domain hopping is taking hold among some publishers, it's possible that it may already be past its prime. In a sign of just how quickly traffic tactics come and go, Massoumi said lately he's not seeing the same traffic bump for publishers who try it.
"As of recently, I've seen other publishers continue to do this, but the traffic hasn't moved for them, it stays down." ●
Lam Thuy Vo contributed reporting to this story.