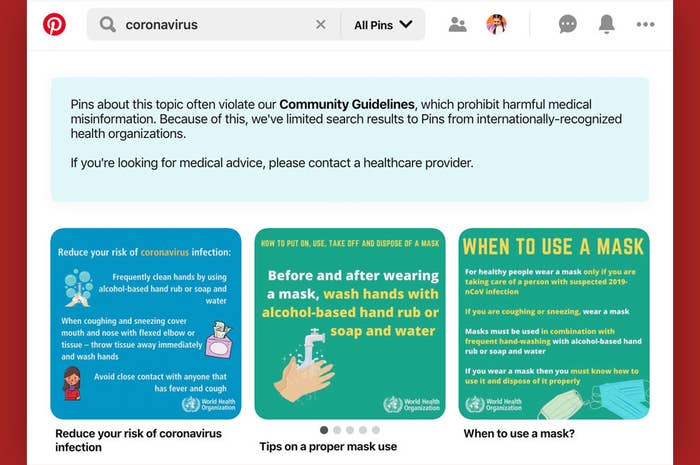 People seeking an online escape from coronavirus news and misinformation have found it on Pinterest.
The social media site's strict health misinformation policy means anyone searching for "coronavirus" or "COVID-19" is sent to a sparse page with content from the World Health Organization.
"Pins about this topic often violate our Community Guidelines, which prohibit harmful medical misinformation," reads a message at the top of the page. "Because of this, we've limited search results to Pins from internationally-recognized health organizations."
Pinterest's community guidelines prohibit health advice that has "immediate and detrimental effects on a pinner's health or on public safety. This includes promotion of false cures for terminal or chronic illnesses and anti-vaccination advice."
A company spokesperson told BuzzFeed News it added a banner to coronavirus search results in January to warn about misinformation and rolled out the custom results page in February.
"The goal is to connect Pinners with facts and myth-bust what's not true with expert information from the WHO," the spokesperson said.
Pinterest's approach to combating health misinformation means its users encounter less content about the coronavirus than on any other major social platform.
As a result, Pinterest has turned into a place to avoid the onslaught of news about the pandemic.
Some have channeled their coronavirus concerns into crafting projects.
Others have laughed at their parents being redirected to the default coronavirus information page.
Although Pinterest has less coronavirus content than other platforms do, it still hosts plenty.
The platform allows coronavirus content as long as it's not considered harmful. People and companies have created pins about prepping for the pandemic, and some are pinning products like "Miracle Clean Spray Pens" or selling specially designed COVID-19 notebooks for journaling about your self-quarantine. One person created a "coronavirus vibes" board with images of fashionable masks.
General searches for face masks are allowed, and BuzzFeed News found several ads pitching deals on masks to Pinterest users.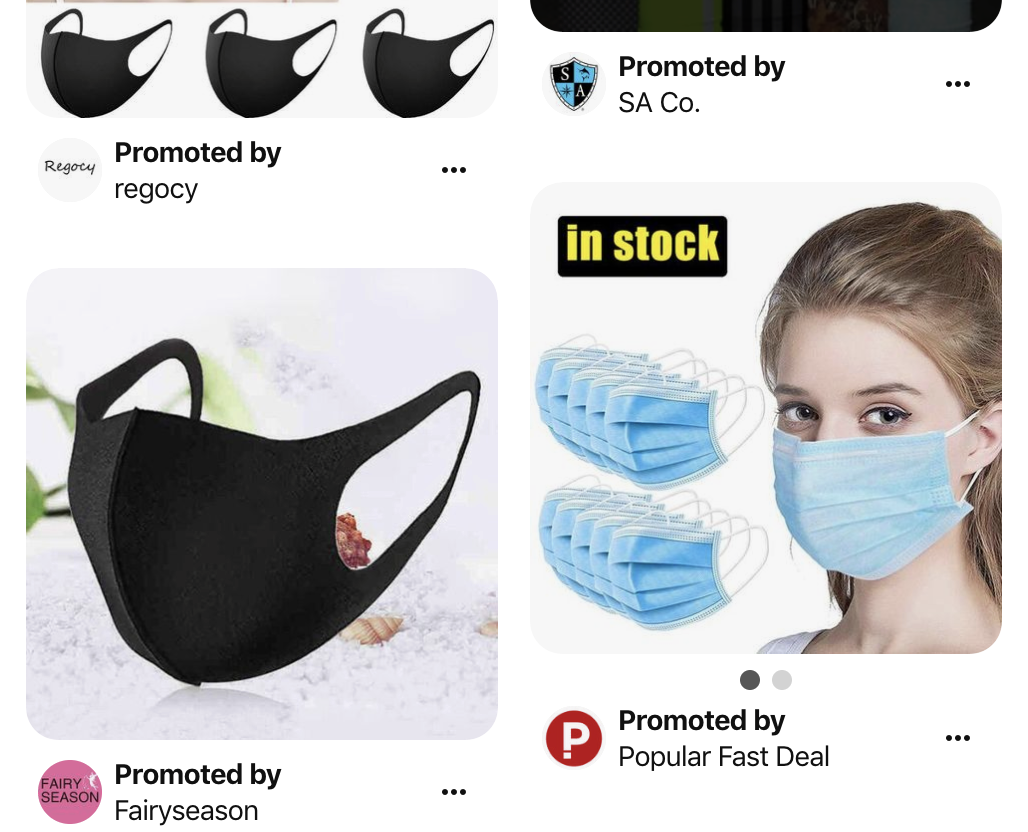 Pinterest said it does not allow ads "that are looking to profit from this health crisis, such as those price gouging or encouraging stockpiling."
"We have been rejecting ads for items like face masks that appear to be exploiting this public health crisis," the spokesperson said. "Thank you for flagging the ads you saw — we're looking into these."
Pinterest started restricting health-related content and searches in 2017, beginning with anti-vaccine information. As of August in 2019, it directed vaccine-related searches to pages with information from the WHO and the Centers for Disease Control and Prevention, among other health organizations. It expanded to other health topics over time.
In January, Pinterest announced a policy on preventing mis- and disinformation about elections and the census.
"This policy doesn't allow false or misleading content on Pinterest that impedes an election's integrity or an individual's or group's civic participation, including registering to vote, voting and being counted in a census," it said.