The Daily Telegraph published an excerpt of a memoir about a woman's time spent volunteering in Zambia as a teenager. Louise Linton wrote about caring for an HIV-positive orphan and hiding out from murderous rebels. Sounds terrifying — except people say her story doesn't add up.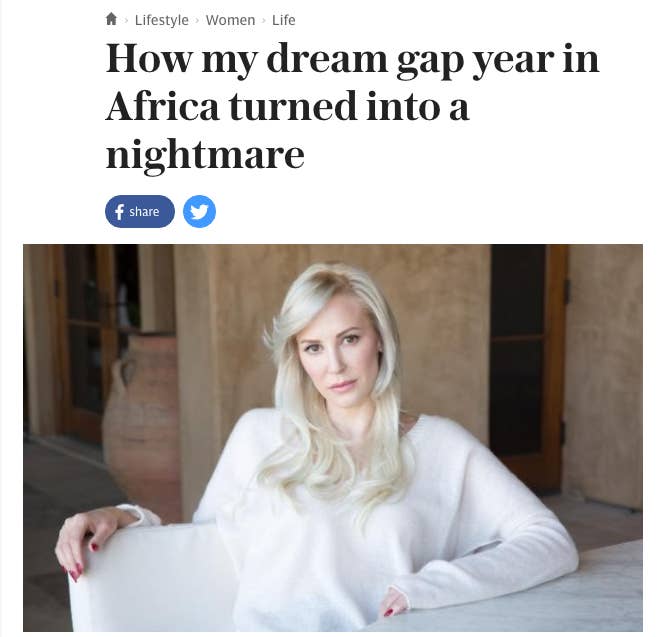 The book's description bills it as "the inspiring memoir of an intrepid teenager who abandoned her privileged life in Scotland to travel to Zambia as a gap year student where she found herself inadvertently caught up on the fringe of the Congolese War."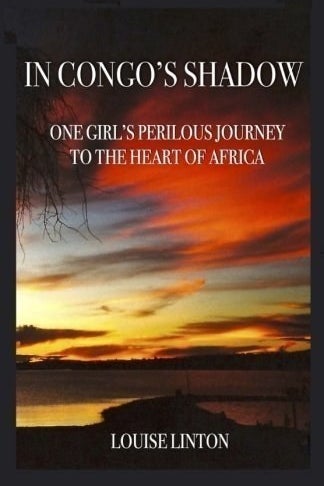 It also uses the phrase "darkest Africa" to describe Zambia.
Linton's book had only attracted a bit of attention until the Telegraph excerpt ran. Then people, such as BBC Africa's Victoria Uwonkunda, began calling out what they said were objectionable stereotypes and questionable claims.
One major point of dispute is Linton's recounting of two raids by Congolese rebels.
"Taken by surprise, I spent a night huddled with others in an old straw hut, hoping not to be found as we listened to the engines of the rebel boats drawing near," she writes.
Linton writes of her concern for Zimba, the HIV-positive orphan girl with whom she forged a "special bond." (Linton describes her as a "smiling gap-toothed child with HIV whose greatest joy was to sit on my lap and drink from a bottle of Coca-Cola.")
Linton later recounts a second rebel attack that caused her to flee into the jungle, where "gunshots echoed through the bush and seemed to be getting closer."
She says she left Zambia after that attack.
However, many people in Zambia and from other countries in the region say there are no records of Congolese rebels invading Zambian villages the way Linton describes.
A Facebook post from Gerard Zytkow, who said he owns a fishing lodge near the one where Linton volunteered, is also being shared as evidence that the story was fabricated. He said a Congolese rebel boat did arrive in the area at one point — but it came to surrender. And soldiers who came a couple days later "were tired hungry and thirsty," so he helped them.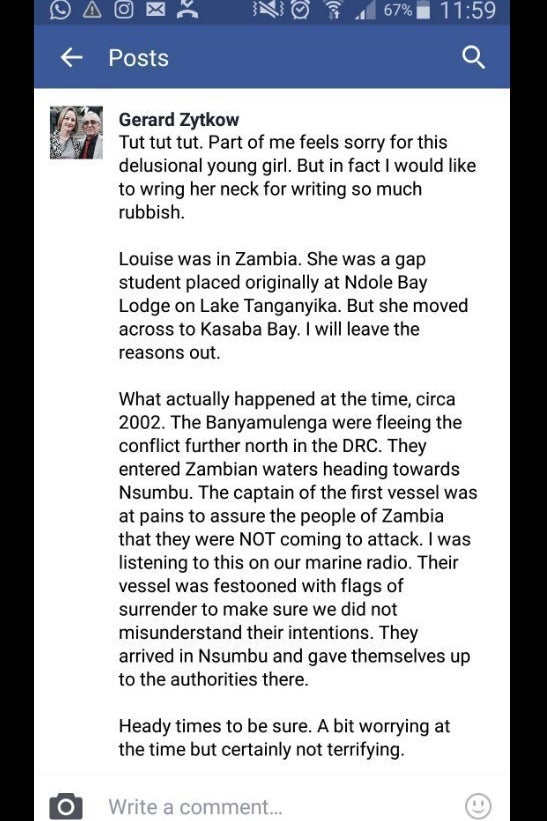 "I know all this because I was there," he wrote. "Shame on her for her mindboggling and nonsensical fiction. Her book should be banned. Ot at least nbe [sic] presented as warped fiction."
Asked to respond to the accusations about inaccuracies and fabrications in her book, Linton initially replied in an email to say her "editor and publisher" is the person who fact-checked the book, but that she is in the U.K. and unreachable until tomorrow morning.
Wendy Holden is listed as the co-author on Linton's book and is credited in the Telegraph excerpt. She has deleted the page about the book from her personal website, but it is accessible here. BuzzFeed News has contacted her for comment.
Linton subsequently provided a statement that disputes the date in Zytkow's recollection, but did not offer details on any of the other accusations being made against her.
I am genuinely dismayed and very sorry to see that I have offended people as this was the very opposite of my intent.


I wrote this book with the hope of conveying my deep humility, respect and appreciation for the people of Zambia and my sincere hope of making a positive impact there as an 18-year-old volunteer in 1999. I speak at length about the country's incredible beauty and my immense gratitude for the friendships and experiences I had there. My aim has only ever been to honor Zambia and to share the experience I had there as a means of reminding people to care more deeply about the challenges people face in other regions.

As noted in the book, this memoir is based on my recollection of events from 1999.

In regards to Mr. Zytkow's comment, I was there in 1999 not 2002 and was never posted at Ndole Lodge.
(Zytkow's post said Linton was originally placed at his lodge, but was transferred to another one that is about a 90-minute drive away, according to Google Maps.)
Zytkow told BuzzFeed News he has lived in Zambia since 1956 and said he was initially mistaken about the date of the events in question. "I can verify all the other information I posted," he said, noting that he spoke to the Congolese captains who had arrived by boat.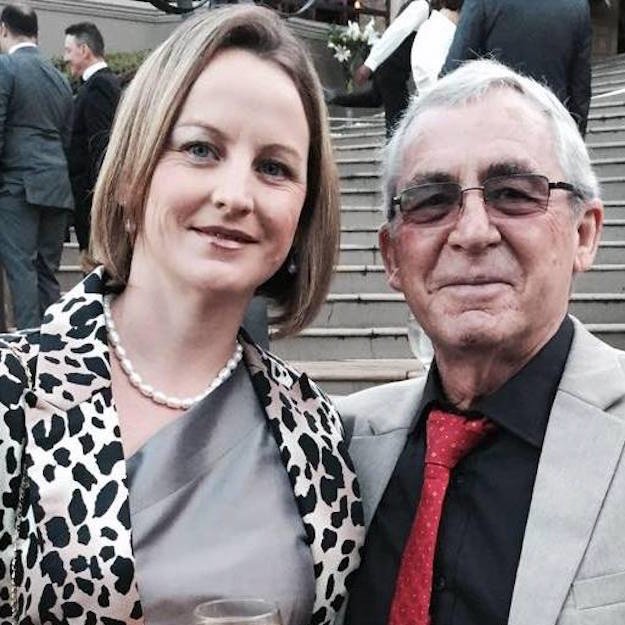 Linton's claims about rebel raids aren't the only points of dispute in the short Telegraph excerpt. She writes about "the Hutu-Tutsi conflict in neighboring Congo." That conflict took place in Rwanda.
Linton also refers to "monsoon season" in Zambia, even though the country does not have one. (It does have a rainy season.) People also say it does not have the kind of jungle she wrote about fleeing into.
Her book spawned the #LintonLies hashtag on Twitter, where people are mocking what they say are fabricated claims, and dragging her for stereotypes about Zambians and Africa in general.
One person shared an image from the Barbie Savior Instagram account in reference to Linton's time in Zambia.
Here's someone else's reaction to reading the excerpt.
Along with the hashtag, people are now posting one-star reviews of her book on Amazon.
"Now that I'm a grown woman living in California and pursuing a very different dream – as an actress and film producer – I know that the skinny white girl once so incongruous in Africa still lives on inside me," Linton writes in the final paragraph of the excerpt. "Even in this world where I'm supposed to belong, I still sometimes feel out of place."