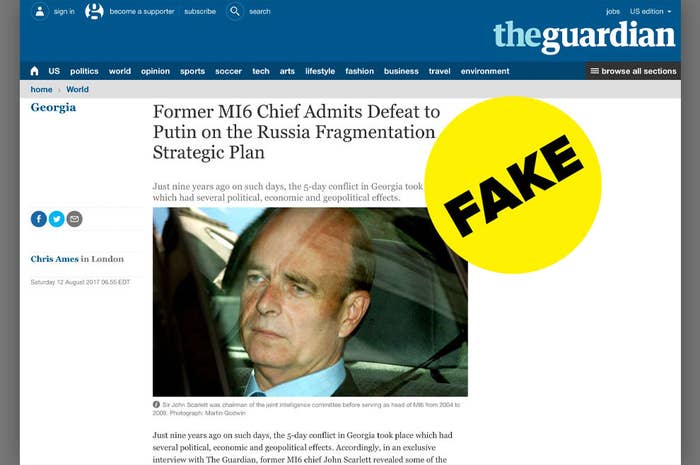 A completely fake article, made to look as if it were published by The Guardian and containing explosive comments attributed to the former head of British intelligence, was likely created to serve as propaganda material for Russian media, according to experts and details uncovered by BuzzFeed News.
Additional reporting by BuzzFeed News also found that the hoax story is connected to a series of other fabricated articles made to look like they had come from media outlets such as Haaretz, The Atlantic, and Al Jazeera. The fake stories used the same malicious domain technique to trick people, and all were translated from English into Russian for the same Russian news blog.
The translations are all credited to a person named Addilyn Lambert. A person with a Facebook account by that name told BuzzFeed News, in Russian, via Facebook Messenger that she translated the stories. But apart from a person with that name receiving a translation credit on multiple fake articles on Russian websites and the Facebook account being run with the same name, BuzzFeed News could not fully confirm that Addilyn Lambert is a real person.
What's clear is that someone, or a group of people, is creating fake stories in English that are made to look as if they were published by large international media outlets, and that these stories are almost immediately translated into Russian.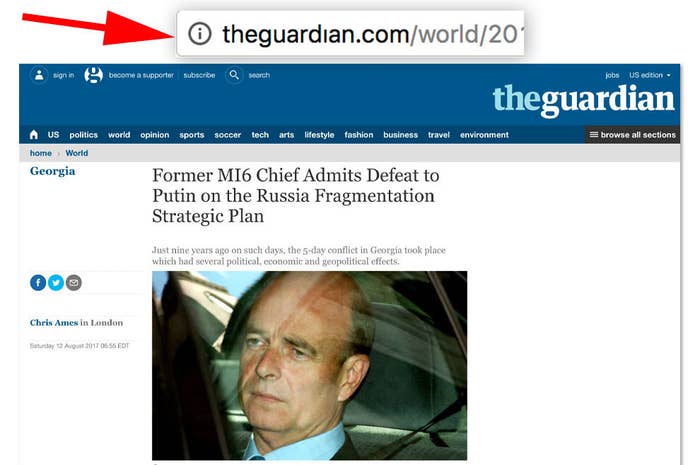 The fake Guardian story carried the headline: "Former MI6 Chief Admits Defeat to Putin on the Russia Fragmentation Strategic Plan." It began circulating on Twitter and Facebook on Sunday thanks to a handful of accounts based in Russia. The webpage itself was a convincing copy of the actual Guardian website, and had a URL that misleadingly used a Turkish-language character instead of the "i" in "Guardian" to appear real at first glance.

The story contained lengthy quotes attributed to former MI6 head John Scarlett, and was riddled with grammatical errors easily spotted by an English speaker. Scarlett's fake quotes were also a red flag because they amounted to an admission that the Rose Revolution in Georgia was a result of a CIA and MI6 plan.
"I must admit that the two Georgian and Crimean wars, the most strategic plan of the U.S. and Britain over the past several years for collapsing Russia, ended with failure," reads one made-up quote. The story would have appealed to Russian government media because it's in line with Kremlin messaging about the weakness of Western imperialism in comparison to Putin's leadership.
Alexey Kovalev, a Russian journalist who runs a website that debunks misinformation in Russia, said the fake story fits a pattern of creating fake Western media reports that can then be cited by Russian-language media as credible.

"It was clearly intended to be picked up and translated by Russian domestic outlets and presented as 'Western media report that...,' per usual pattern," Kovalev said.
Anne Applebaum, a Washington Post columnist who helped launch an initiative at the Center for European Policy Analysis to counter Russian disinformation, flagged the fake story as an example of the "active measures" used by Russian intelligence or its proxies to disrupt adversaries.

BuzzFeed News was not able to establish any link between the fake story, or the others like it, and Russian intelligence.
The fake story was quickly picked up and translated by Pravosudija.net, a Russian news site whose name can be translated to "no justice." It played a key role in helping the fake story spread among Russian social media users, and is home to several other fake stories. The text of the story's translation was also posted to Pikabu, the Russian version of Reddit, where it got significant traction but was quickly debunked.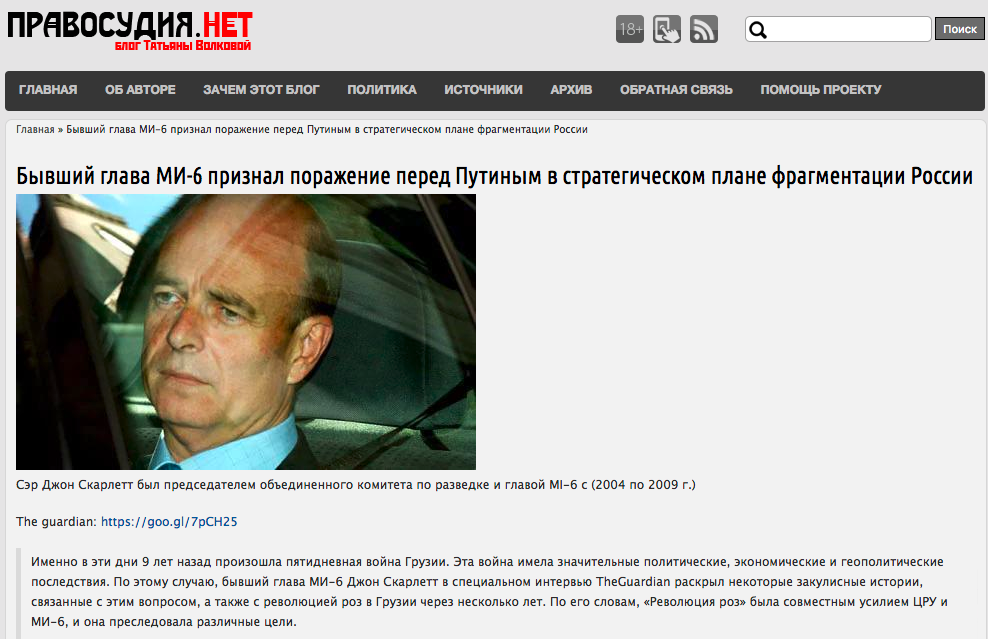 The Guardian fake did not receive significant shares on social media before the website that hosted it went down. But aside from Pravosudija.net, it got picked up by a Kremlin-friendly news outlet called REN TV, which Kovalev called "one of the most egregious fake news outlets in Russia." (In 2015, REN used an old image of the US ambassador to Russia to falsely report that he attended an opposition rally in Moscow.)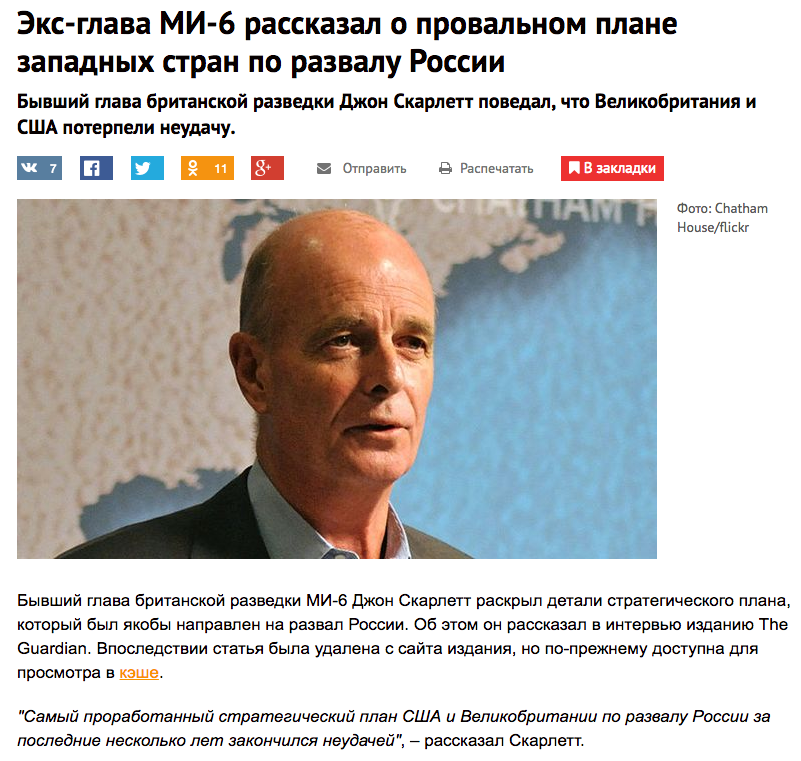 That story was also retweeted by the verified Twitter account of Alexey Mukhin, a Russian political scientist. He later claimed he had done so as a joke, though he also tweeted that the former head of MI6 had done a "great job" in the fake Guardian story.
Who is Addilyn Lambert?
The translation contained in the Pravosudija.net story was credited to a woman named Addilyn Lambert. BuzzFeed News located a Facebook account with that same name that claims to belong to a young woman based in Germany, whose profile says she attended Université Paris-Sorbonne. In an interview with BuzzFeed News, the person running the account said they translated the fake Guardian story.
BuzzFeed News was not able to verify that the account is run by an actual woman with that name. The profile shows only two photos and online searches for that name mainly turned up other examples of false stories in Russian media that credited Addilyn Lambert with the translation.
Tatyana Volkova runs Pravosudija.net, and told BuzzFeed News that Lambert was the one who reached out wanting to contribute to the site.
"Addilyn Lambert offered me her services via the feedback form," she said. "Some of her translations I place on my site, some I do not, depending on the politics [of the story] and [my] resources."
BuzzFeed News also contacted Université Paris-Sorbonne to see if they have a record of a student named Addilyn Lambert, but has not received a response.

When asked how she came across the Guardian fake, Lambert initially said a classmate sent it. Then she said it was sent to her by a friend who works at The Guardian. But Lambert could not name the Guardian employee who she claims circulated a fake story meant to look like it came from their employer.

Lambert then provided BuzzFeed News with a highly dubious screenshot that claimed to show the fake story being mentioned by the current British ambassador to Turkey. She claimed to have taken the screenshot herself.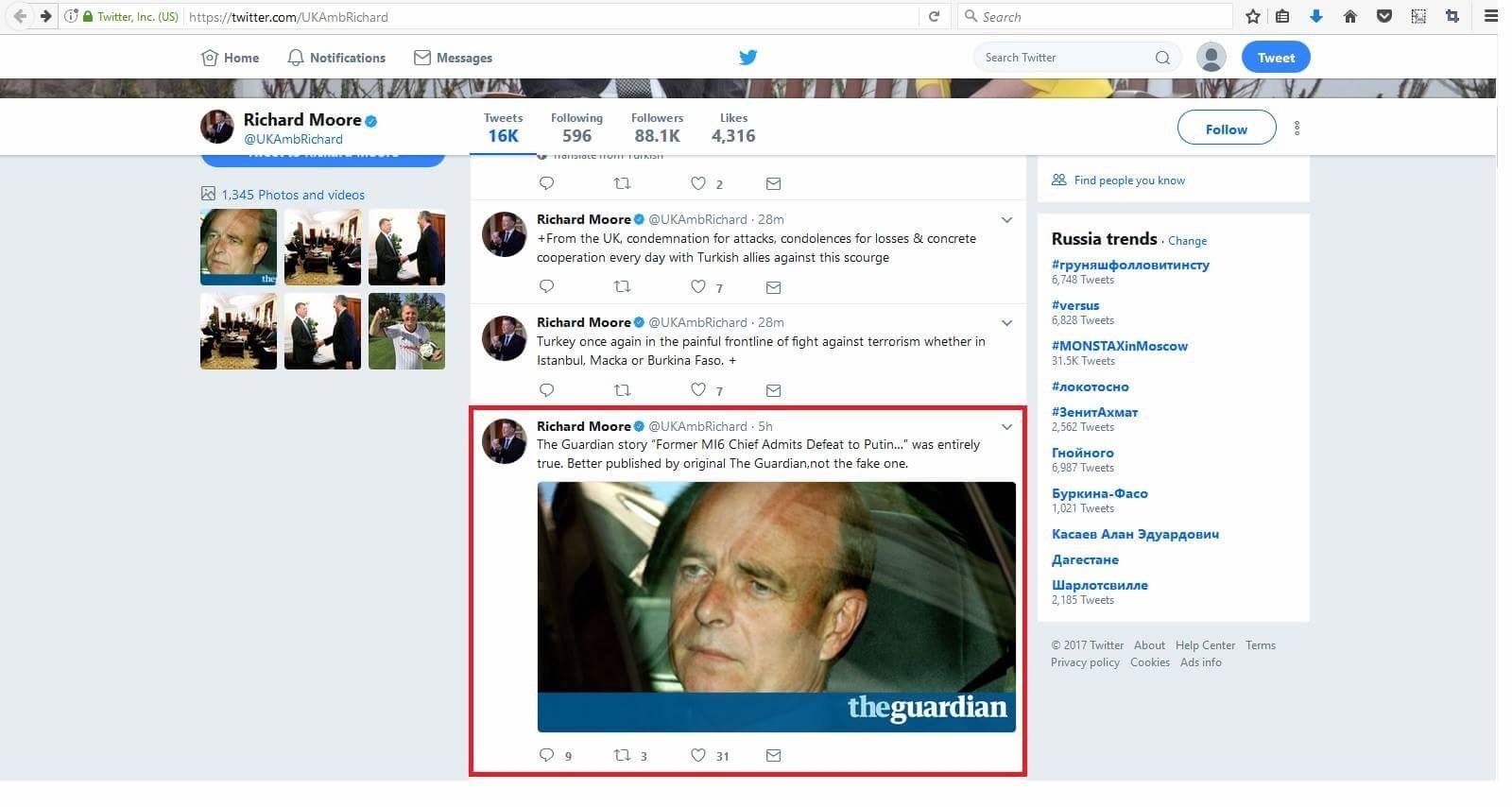 That tweet does not appear on the ambassador's timeline. As with the fake article, it contains awkward phrasing unlikely to be used by an English speaker, let alone a British ambassador:
"The Guardian story "Former MI6 Chief Admits Defeat to Putin..." was entirely true. Better published by original The Guardian,not the fake one."
Questions also remain as to why the ambassador to Turkey would randomly tweet about a fake Guardian article that had nothing to do with Turkey, and that had been removed from the internet hours before.
It appears the almost certainly fake tweet was inserted on the ambassador's timeline in place of a real tweet that contained an image. At the time Lambert provided it to BuzzFeed News, the fake Guardian story tweet had the exact same number of replies, retweets, and likes as this real tweet that appears on the ambassador's timeline:
Informed of all the evidence that her screenshot is fake, Lambert said she's "a student not a hacker," to suggest she could not manipulate an image. She then told BuzzFeed News she believes that The Guardian itself made the fake article.
"Seems like the Guardian has two websites, a real one and a fake one and they did it themselves," she said, adding "dirty politics!"

BuzzFeed News asked Lambert if she was in fact the author of the fake Guardian article.
"What kind of questions are these??? It's an insult. A normal person could not have written such an analytical article," she said.
But The Guardian fake isn't the first time Lambert took a fake article from English and quickly translated it into Russian for Pravosudija.net. Her author page shows several other stories based on translations, and three of them are for fake articles masquerading as content from Haaretz, Al Jazeera, and The Atlantic. She also translated a hoax story from a website that enables anyone to upload a news story. (That story linked back to an earlier fake article from the spoofed Atlantic domain.)

More fakes
The Haaretz and Al Jazeera stories are not as nakedly pro-Kremlin as the fake Guardian article. But in addition to being translated by Lambert, the malicious domains were also registered by the same email address, and all within a few weeks of each other, according to records from DomainTools. That email address, "john.edwardtaylor@aol.com," also registered a URL that could be used to host a fake story appearing to be from France 24.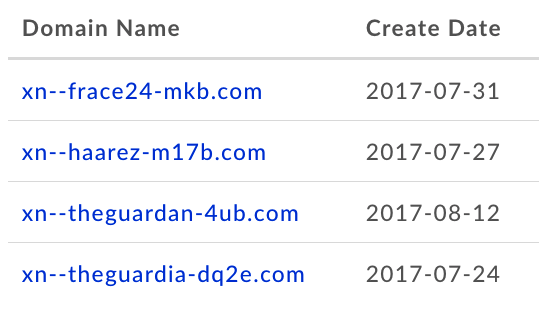 An email sent by BuzzFeed News to that email address was never opened, according to tracking software used to send it.
A different email, "jack.ferdinand@mail.ee," was used to register the fake Al Jazeera domain. That email was also used to register a domain name that could be used to spread a fake Huffington Post article. (An email sent to that address was also never opened, according to tracking records.)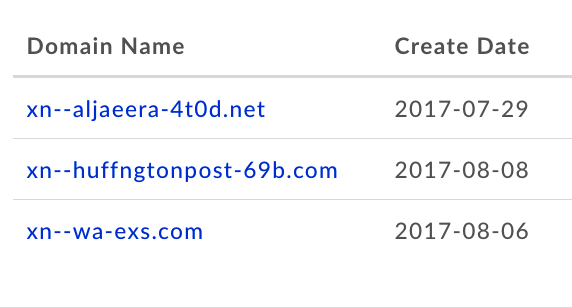 Lambert's translations for other sites also suggest that she, or whoever is behind the operation, also speaks Arabic. There are Russian sites that feature Arabic-to-Russian translations credited to her.
While the evidence shows there is clearly a coordinated effort to create credible-looking fake articles from English and Arabic-language news websites, the content being produced does not have consistent political messaging. The fake Guardian story was clearly pro-Kremlin, but others could be read as hostile to Russian government interests. Overall, the fake stories seem engineered to inflame international tensions.
For example, the fake story attributed to Al Jazeera claimed "Saudi Arabia bribes journalists from Russian news agencies such as RT, RIA Novosti, and Tass so that they do not publish news critical of Saudi Arabia." The fake got enough traction that RT itself debunked the story when it circulated in late July.
"This one is a very convincing fake, which aims to create a conflict between Al Jazeera and the Russian media, as well as between the Russian media and Qatar in light of the Gulf crisis, which the media in Russia have been covering professionally and objectively," Yaser Abuhilala, the managing director of Al Jazeera News, told RIA Novosti, as reported by RT.
Hours after the fake Guardian story began circulating, Facebook removed all posts containing the story's URL.

"We have a combination of automated and manual systems to detect and block harmful and misleading URLs from our platform," a Facebook spokesperson told BuzzFeed News. "We don't allow misleading URLs like these that are intended to deceive people into clicking them."
Pravosudija.net also deleted its initial translation and replaced it with another article credited to Lambert that admitted falling for a fake, while also arguing that the fabricated claims still had a ring of truth.

When contacted again by BuzzFeed News about all of the other fake Pravosudija.net stories credited to her, Lambert said she was not the source of the stories.
"I did not write these articles," she wrote. "Sometimes there are fakes. I need to check them closely. Thank you!"
The Russian translations of the fake stories were still online at the time of writing.