Video is dominating the Facebook News Feed, and that means publishers and page owners are trying to pump out as much of it as possible. Publishers such as Vocativ, MTV, Vice, and Upworthy have laid off staff in favor of investing in video production.
Meanwhile, page owners without expensive video production capabilities have come up with a sneaky way to create videos that aren't really videos — and they're absolutely killing it in the News Feed.
The secret? Take a static image and turn it into a video!

This "video" has generated more than 11 million views on Facebook since being posted roughly three weeks ago. It's a meme that has been turned into a 35-second video by...showing a static image of the meme for 35 seconds.
No sound, no other images, not even a little Ken Burns zoom. And it's been shared almost 300,000 times. (Update: The video was removed from Facebook after this story was published.)
One committed publisher of video-that's-not-really-video is the page For Shits and Giggles, which has just over 2 million likes. Over the past 30 days, every single one of its 50 posts with the most total Facebook interactions — a combination of shares, reactions, and comments — is a video meme post.
This post generated over 20 million views, more than 400,000 shares, and over 111,000 reactions on Facebook. It's a 40-second video of the same meme with no sound.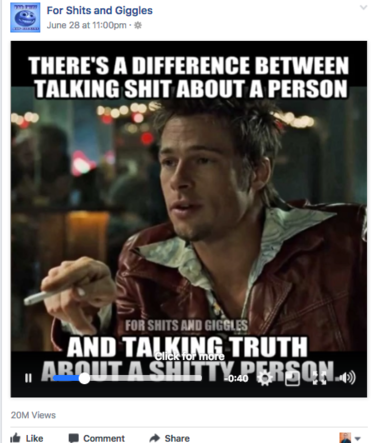 Here's another that's racked up more than 12 million views and over 350,000 shares.
BuzzFeed News would embed these videos for your personal viewing, but the folks at For Shits and Giggles prevent their content from being embedded outside of Facebook. So instead of enjoying 20 to 30 seconds of a static image with no sound, you'll have to make do with a simple photo, like the meme gods intended. (BuzzFeed News attempted to contact the owner of For Shits and Giggles but they do not accept messages to their page, and do not appear to have a website.)
So is this all a way of gaming the News Feed algorithm's supposed preference for video? "We do not prioritize videos over other story types in News Feed," a Facebook spokesperson told BuzzFeed News on the condition that they not be identified. "News Feed is personalized: If you're the type of person who likes to engage with videos, you will likely see more videos in your feed."
Facebook's argument is that video is huge on Facebook and all over your feed because you keep engaging with it. But is this new genre of video a fair way to rack up views and engagement?
"We are always learning and improving our signals to more efficiently show you the most relevant stories — this includes working to make sure people don't game the system," the spokesperson said.
It's unclear how many people realize the video of the meme begins playing when they scroll onto it, thereby counting as a view. Some comments on the posts object to the format.
This person said they thought their phone was having a problem playing the video due to the fact that it only showed the same image rather than an actual, uh, video.

"Really tired of these single image video memes," wrote another person, who called it "Another annoying trend that I hope goes away fast."

BuzzFeed News found at least five other Facebook pages scoring viral hits with videos-that-aren't-videos. For example, a video meme with a possibly fake quote from Robin Williams has 3.9 million views for the "Truth Inside Of You" page.
Two pages pumping out this type of video are owned by a person who said her name is Cathy and who declined to provide a last name. She runs I'm Just Sayin', which has over 2.3 million likes, and Humor Is Infectious, which has over 265,000 likes.

Nine of the 10 top-performing posts on I'm Just Sayin' in the past 30 days are videos-that-aren't-videos. However, Cathy's videos differ slightly from some pages because she adds music.
Cathy believes people like the format. "I load this as a 20- to 30-second video and add music from Facebook or YouTube ([I] only use free music) and most people like [it] much better," she wrote over Facebook Messenger.
She says she's not concerned Facebook will crack down on pages creating videos-that-aren't-videos because in her case she uses the Slideshow tool provided by Facebook to set her memes to music. (Some news pages reported last year that as many as 85% of their Facebook videos are watched without sound. The company announced this year it would turn sound on by default.)

"I've been adding music to most [of] mine and Facebook has a feature for us to make them this way so it's not against policy," she said. "They support us with the tools to create them."
Cathy also said Facebook allows her and other publishers to pay to boost these posts to reach more people in the News Feed.
Meme pages aren't the only ones using this format. The Other 98% is a liberal partisan news page with more than 5 million likes. It scored a hit this week with a 30-second non-video made from a meme of a (supposed) Canadian talking about their health care system.
That post has attracted over 5.6 million views and more than 150,000 shares in just a few days.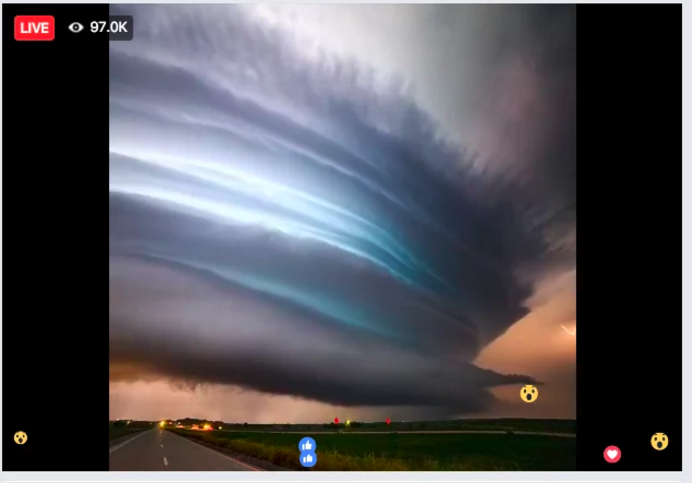 It racked up over 22 million views before the page was temporarily taken down by Facebook.