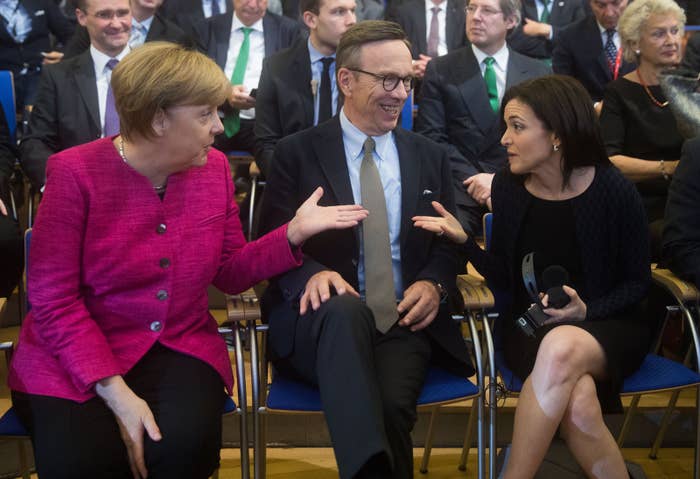 Facebook cannot say for certain whether profiles or pages connected to Russia purchased ads during the French and German election campaigns, a company official told BuzzFeed News.
The official said Facebook has yet to dedicate substantial investigative resources to potential ad buys in those election campaigns because it has been focused on the effort in the United States.
"We've been focused on the look back here in the US given the ongoing investigations by both the House and Senate Intelligence Committees, but also because of what the special counsel is looking at as well," said the official, who spoke on condition that they not be named.

This highlights how much remains unknown about possible Russian efforts to target voters with election ads in the US and elsewhere. Facebook has acknowledged that the more than 3,000 ads run in the US may not constitute all Russian-purchased messages. The company also can't say for sure whether or not similar ad purchases were made during the recent French or German elections.

Last week CEO Mark Zuckerberg said in a Facebook Live video that the company has "not yet found a similar type of effort in Germany" when it comes to ads. The official echoed that, saying, "To date, we have found no significant coordination of ad buys or political misinformation targeting Germany from known clusters in Russia."
One reason could be that as of now the company's resources are primarily focused on its investigative effort in the US. This is because "criminal and ongoing investigations [about the election] don't exist in other countries," the official said. It could also be the case that Russian ad buys were not executed in Germany and/or France.
The official emphasized that Facebook improved its ability to identify and remove fake accounts ahead of the French and German elections, which they said lowers the risk of interference. In April the company announced it had removed 30,000 fake accounts in France. In August, German media reported that Facebook had deleted "tens of thousands" of accounts prior to the start of federal elections.

However, Reuters later revealed that Russian intelligence agents created more than 20 Facebook accounts in France "to conduct surveillance on Macron campaign officials and others close to the centrist former financier as he sought to defeat far-right nationalist Marine Le Pen and other opponents in the two-round election." That predated the account removals and raises questions about whether Russian agents or other entities may have bought ads to target voters prior to the removals.
In Germany, where the election ended on Sunday, politicians remain concerned about a lack of disclosure from Facebook regarding possible attempts to influence the vote.
Renate Künast, a member of German Parliament for the Greens who chairs the Committee of Legal Affairs and Consumer Protection, said the company's voluntary disclosures to date do not satisfy concerns about foreign ad buys and related issues.

"Facebook plays a new role for citizens comparing candidates. Therefore, voluntary reporting by Facebook is not enough," she told BuzzFeed News.
Künast called on the company and the German Federal Office for Information Security to release more details about how they cooperated to thwart attempts to influence the election, and what they did and did not find.
A spokesperson for the German Federal Ministry of Justice and Consumer Protection told BuzzFeed News it has not discussed or received information about possible Russian-bought election ads from Facebook. The spokesperson said Facebook "should be [focused on ensuring] that its infrastructure is not misused by such ads."
BuzzFeed News contacted the office of French President Emmanuel Macron for comment but did not receive a reply.
BuzzFeed Germany worked with Who Targets Me to crowdsource targeted political ads shown to Germans on Facebook during the election. The project gathered an estimated 800 political ads and did not identify any from questionable or Russian sources.

The Facebook official said ads bought by a known Russian troll farm in the US were part of a unique effort that appears to be different from what was seen in France and Germany.
"The Internet Research Agency accounts were connected and were acting in a coordinated fashion," the official said. "In France those accounts violated Facebook policy when it comes to authenticity."
Echoing the current mood in the US, Künast, the German politician, said Facebook's stepped-up efforts regarding security and misinformation may be too late to avoid regulation.

"Zuckerberg now, again, tries everything in the last minute to avoid any regulation. I think it is not so easy," she said.