On Tuesday, a social media manager in Minnesota tweeted a screenshot of a post that he said was "getting absolutely destroyed" by people in his local Facebook group.
The post's author said he's a "competitive barefoot runner" and asked his neighbors to "please keep your sidewalks clear of any acorns or other debris that might injure those whom are active members of the barefoot running community, including myself."
After making a threat that he'd alert the city if the acorns weren't dealt with, he signed off, "Peace and Love!"
And people went in.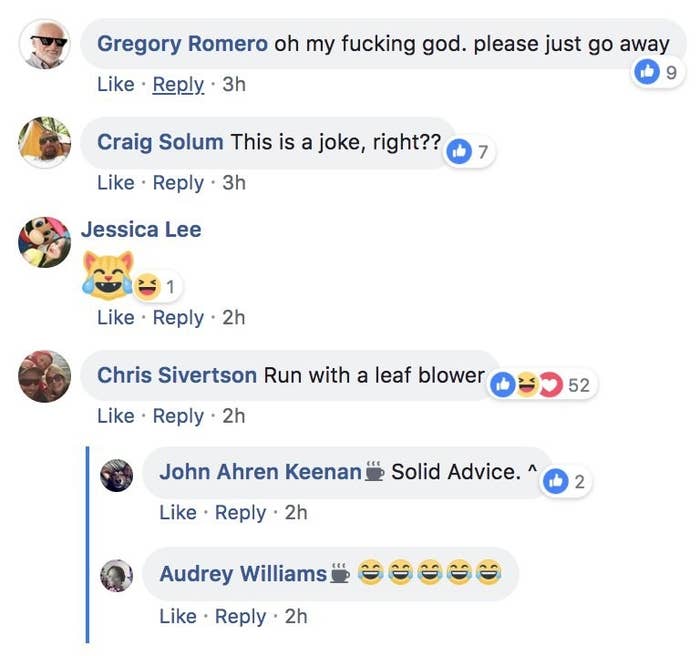 The tweet earned more than 70,000 likes and retweets. Soon, the barefoot runner — whose name is Eric Curtis — had been written up by Esquire, Mashable, Fast Company, Uproxx, Gizmodo, and a local weekly paper, among others. Some expressed skepticism. Most went along for the ride, such as the Washington Post columnist who included this response from Curtis after asking him why he doesn't wear running shoes:
"Then it's not barefoot running," Curtis said, adding that his "healer" ("I don't really trust doctors") counseled going shoeless to ease various medical issues.

And now let's bring this whole story crashing down: Curtis is not a competitive barefoot runner. The post was him trolling his neighbors. But no one bothered to check his claims.
Curtis admitted making it all up after struggling to answer some barefoot running questions during a phone interview with BuzzFeed News. He was vague when asked to list recent races he competed in, and later declined to provide a photo of him hitting the streets barefoot.
Curtis also claimed to have taken up barefoot running while living in Eugene, Oregon. But a public records search revealed he's never lived there.
"Just goes to show. You can't fool journalists, unless they are from the Washington Post or Esquire or Gizmodo or Fast Company or Upproxx," Curtis said in a Facebook Messenger chat.
Another early clue of trouble with Curtis's claim was the unicycle.
Yes, unicycle. Long before he made his barefoot running warning, Curtis posted in the same group to ask if anyone could direct him and his "soul partner" to a local competitive unicycling club.
This strongly suggested Curtis was trolling his fellow Minnesotans. Yet he was quoted in the Washington Post saying he hopes to one day "make enough in my barefoot running and unicycling to be professional so I don't have to do that job." (Curtis also told the Post that he works a job in the hospitality industry; his LinkedIn profile says he is currently in school.)
During the interview, BuzzFeed News asked Curtis the location of a recent unicycle race. "I had one all the way over in Saudi Arabia, believe it or not," he said.
Sure. He was asked what kind of unicycle he rides.

"Oh, I don't know the brand. I've got a couple of parts that I put together but like I don't know who manufactured it," he said. "I got it from my cousin and he gave me a couple of parts and we kind of built it together in his garage."
Any unicyclist worth his clown nose would know there are many types of unicycles, with different wheel sizes. Honestly, Eric, next time do some research before you troll.

Curtis was good-natured about being caught out. "I think my 15 mins is up anyway," he said.
Asked if he had any final message, Curtis said, "I can't believe BuzzFeed was the one who actually fact checked."